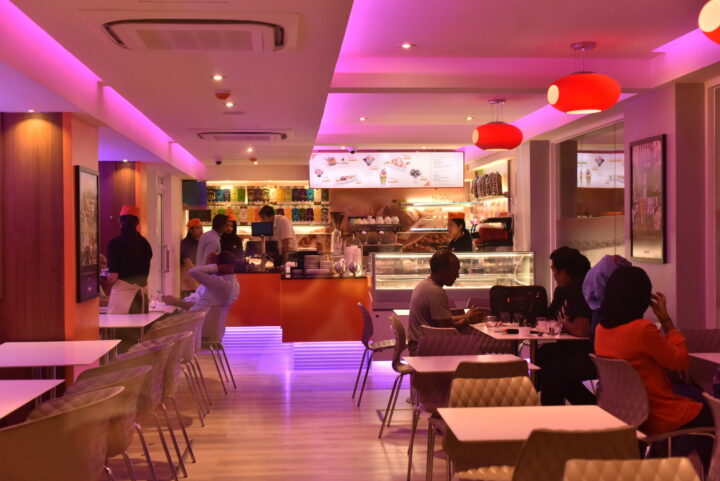 City Investments: The Story of a Baker
City Investments is a group of companies which caters to the food and beverage community in the Maldives. Having started business in the early 2000's, Chairman Ali Faheem has worked tirelessly for the company to become what it is today.
Founded by Ali Faheem (Chairman) and Mohamed Latheef (Managing Director), the duo was later joined by Abdul Latheef (Director). The company opened their first business outlet City Bakery in 2002, which has grown to become the leading Bakery establishment in Male' with the extension of three Bakery outlets and restaurants.
"I first opened the City Bakery in Male' back in 2001, in hopes of offering the finer pastries and breads to the local community. I had previously worked at a souvenir shop in a resort, and had tremendously enjoyed the pastries at resorts," Faheem began. "It dawned on me that people in Male' didn't have access to such goodness, unless they were brought back from resorts."
"When I worked at the resort, I always took a 3 month holiday to travel around Europe because I had always enjoyed their food, cultures and way of life.  Some of my favorite places were France, Germany, Spain, Portugal and last Austria." Faheem explained. "This was when I came up with the idea of opening a pastry shop or a bakery in Male'." My previous boss from Austria agreed to help invest to make a bakery in Male. I travelled to Munich for a short workshop on running small business like bakery, and upon my return back to Male I opened City Bakery, at Sosunmagu in 2001.
The people welcomed the bakery in Male', and within a short period of its opening, became a success. At the time, Faheem himself stood behind the cash register, baked bread experimenting the peoples need for tomorrow, washed dishes, and now proudly explains that top businessmen in Maldives used to frequently visit the place to compliment him on the success, and of course the delicious pastries, and fast services offered at the Bakery.  City Snacks, his second venture, was opened shortly after this.
Running a bakery and a small café was no easy feat. Faheem hired more people in expanding his business. "I rented a small office space to manage our finances and audits. At this point we had started providing our breads and pastries to inflight catering services, and really needed to audit everything that went through us. It was challenging at first, but we had built a good team, and I am very lucky to have such a dedicated team working with me." Faheem said.
After the success of the City Bakery and City Snacks, someone suggested that I rent a land space to expand my business. I decided to open a kebab stand, and brought machinery from Germany, one of the best quality machineries in the business. "Unknowingly, I had purchased the finest in the business and that is what kept me in the business. I offered quality kebabs to the people. I had a good business serving to the airline crews. A few years later, I shut down the kebab stand, and built City Garden – café/restaurant."
City Garden was initially opened near the Bank of Maldives on a small plot of land. Once again, Faheem, along with the other members of his now grown staff built tables and chairs and put the café together. Because of its prime location near government offices and ferries, City Garden would get a lot of regulars who would come in for a quick coffee and their signature sandwiches.
The company then expanded City Garden to include a fine-dining area, which attracted more customers.
"Our signature sandwiches were inspired from my visits to Europe. A lot of onions, fresh leaves, tuna/chicken and tahini sauce would combine to give customers a unique, but delicious taste. The whole ambience of the cafe was inviting. People laughing, talking and catching up over drinks.
City Bakery takes pride in creating the well-known "Submarine" bun which has caught the heart of many in the local community to a very special recipe.
We are  one of  the leading  suppliers of high quality bakery items prepared to international standards to some of the renowned catering operators such as Maldives Inflight Catering, Marybrown and Burger King to name a few.
The most recent addition to the City family is City Gelato. The team moved away from 'ice-cream' to offer people an alternative. Gelato, a type of low-fat ice-cream with a milk base, has gained tremendous popularity within the short period of their opening.
Other projects undertaken by City Investments include the City Innovative Hygiene. Launched in 2013, the company offers a full-fledged cleaning service programme for housekeeping, kitchen, and laundry. The special cleaning product brand – Hagleitner – is brought from Austria and are used by upmarket hotels in Europe.
A man of loyalty and honesty, Faheem says the secret to his success is first and fore mostly, staying true to one's self. "Even if someone else wanted to start a bakery, I would always help them. I did not ever see them as competition or have fear that they might put me out of business. It has always been my motto to help people in need and to help them grow by whichever means I had at my disposal. I feel that there is nothing to lose from helping others gain, so I always make it a point to help them."