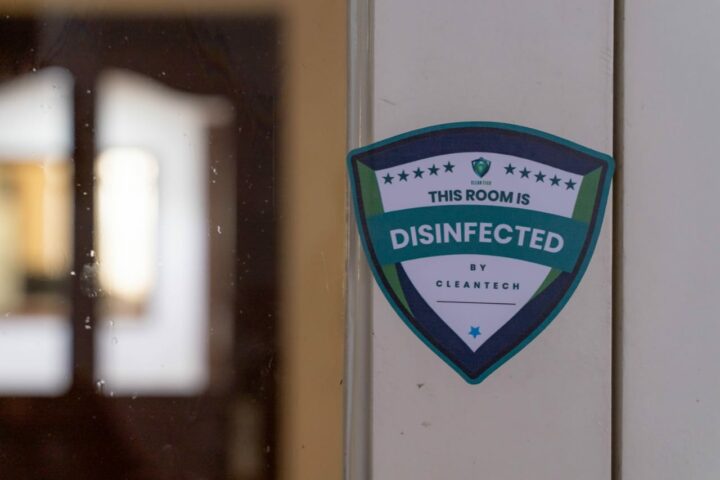 Cleantech, Disinfection Services During COVID-19
Originally established in 2016, Cleantech is specialised in chemical-free disinfection and deep cleaning. However, following the COVID-19 outbreak, the company has scaled up to cater for industrial grade disinfection and deep cleaning of kitchens, offices, resorts, gyms, medical facilities and even aircraft.
Cleantech's team of Maldivian staff are highly experienced and perform under the strict supervision of managers who are certified in "Disinfection and Infection Prevention". Some of its prominent clients include all major banks (BML, BOC, SBI & MCB), Coca Cola Co., Lily Enterprises & Shipping, and VB mart to name a few.
The chemical disinfectants used by Cleantech are in accordance with WHO and US-EPA guidelines on list of compounds approved for dealing with a COVID-19 contamination; with the added benefit of being non-toxic and eco-friendly. Cleantech also uses state-of-the-art equipment such as ULV foggers and micro-steam machines to ensure that delicate electronics and paperwork remain unaffected during the process.
In partnership with sister companies abroad, Cleantech manages to source the highest standard of PPE (Personal Protective Equipment) manufactured by globally renowned US industrial giants, such as DuPont, Honeywell and Ansell. This ensures that our staff are 100% protected and ready to deal with high-risk areas, with direct exposure to any biohazards.
"I believe that our key strength lies in the stringent internal protocols and checklists that our team follows for each and every project. Having confidence in the results of our work is of immense importance, especially in times such as these. The quality of our work speaks volumes to our clients, who can rest assured in the safety of their employees and customers alike", said M Bassam Adam, Manager Disinfection and Infection Protection.
In addition to chemical disinfection, Cleantech offers specialist Steam Cleaning service – which sterilises hard surfaces and furniture using micro-steam, leaving zero chemical residue. This is especially important for those suffering from allergies and breathing complications. Steam Cleaning is also effective at removing hardened grease stains, mould, and even dust mites.
Cleantech has the permits to operate during the lockdown and offers free site inspection for resorts and any location within the capital region. For more information please contact us any time at 7779413 (Cleantech Maldives is a subsidiary brand of Reinvent Maldives Pvt Ltd).
To download a set of Cleantech corporate leaflets; please click: https://forms.gle/yqL94tKJSKqaJCft6