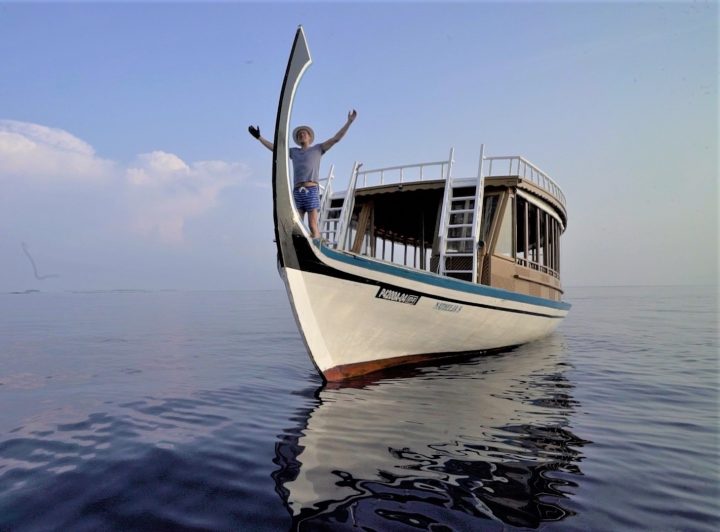 CNN's Richard Quest Discovers a World of Wonder in Maldives Resorts
CNN anchor Richard Quest recently visited the Maldives and discovered how these islands have become a role model for the world. While other countries have been locking down, this Indian Ocean archipelago is being hailed as one of the world's safest destinations. As such, it is becoming a magnet for the ultra-wealthy with private jets, as well as visitors from countries who allow their citizens to fly around the world currently, due to its stringent entry policy and its efficient testing at the resorts.
Since the Maldives reopened its borders to conventional travellers on 15 July 2020, the country has become extremely successful as a destination, with arrivals totalling over 300,000 in this year to date.
This, notes Richard, is what sets it apart from other nations around the world.
"The secret of the country's success as a safe destination to travel to right now, lies in its geography," the Brit revealed. "I was quite surprised to find out just how many individual islands there are, and each island is its own bubble. This remoteness has played a huge part in allowing the Maldives to reopen during the pandemic. What they have done is very clever and has shown great ingenuity to pull it all together.
"It is a lot easier to control Covid when you can control a smaller number of people entering and moving around. When visitors are travelling between bubbles, it is easier than trying to manage the entire population."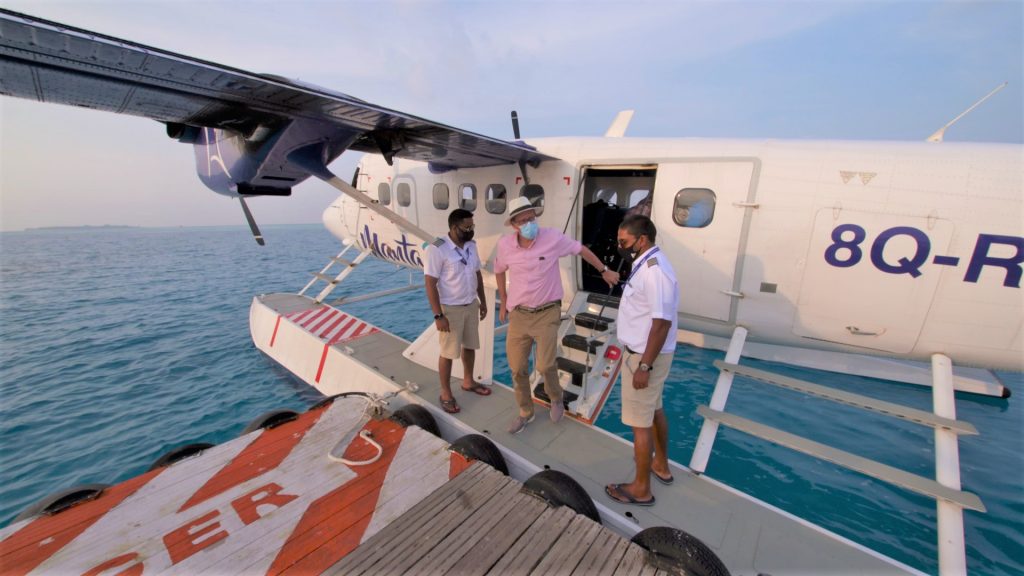 In Richard's view, the Maldives' success is also down to setting up 'an infrastructure of safety' and is a role model for the industry to follow. Since reopening last summer, many of the islands have operated continuously, essentially in an environment where each island is its own resort in its own bubble.
He said: "They limit cross-contamination going between them and have introduced rigorous testing before people get there, as well when they arrive. The airport is where visitors are coming in, so they are stringent there and are then extremely strict when visitors arrive onto the resorts.
"I think the industry has learnt that you must be diligent and stringent in your requirements and how you go about it, and the Maldives has proven it is possible and has been incredibly careful to keep Covid under control."
Due to this strict testing and island bubble policy, Richard and his crew, who were in the islands for a week filming Quest's World of Wonder, were limited to staying only on three resorts – Reethi Beach, Kurumba and Soneva Fushi. As a result, the filming focused on a 'world of wonder of resorts.'
Richard said: "Reethi Beach was a wonderful experience; Kurumba is very close to the airport and has a rustic feel and excellent facilities, and then there was Soneva Fushi which was quite remarkable as I was privileged to be given an overwater villa which was heavenly.
"Each resort is different, but they share the beautiful environment and present a superb standard of accommodation. In each, the food was fabulous, particularly the fresh fish, which was quite remarkable.
From the three resorts he visited, Richard observed that the pandemic had repositioned the Maldives at the upper end of the luxury destination market.
He said: "It is a roaring success at the upper end of the market. Those visiting the Maldives right now are mainly the ultra-wealthy and those who can afford to stay in the five- and six-star resorts. They are the ones who have had enough of Covid restrictions and so have flown themselves off to the Maldives on long workcations."
While staying at Soneva Fushi, Richard met some guests have been there for as long as five months.
He continued: "One resort manager told me when they reopened that there was not enough space to park the private jets coming in, so they had to land on neighbouring islands.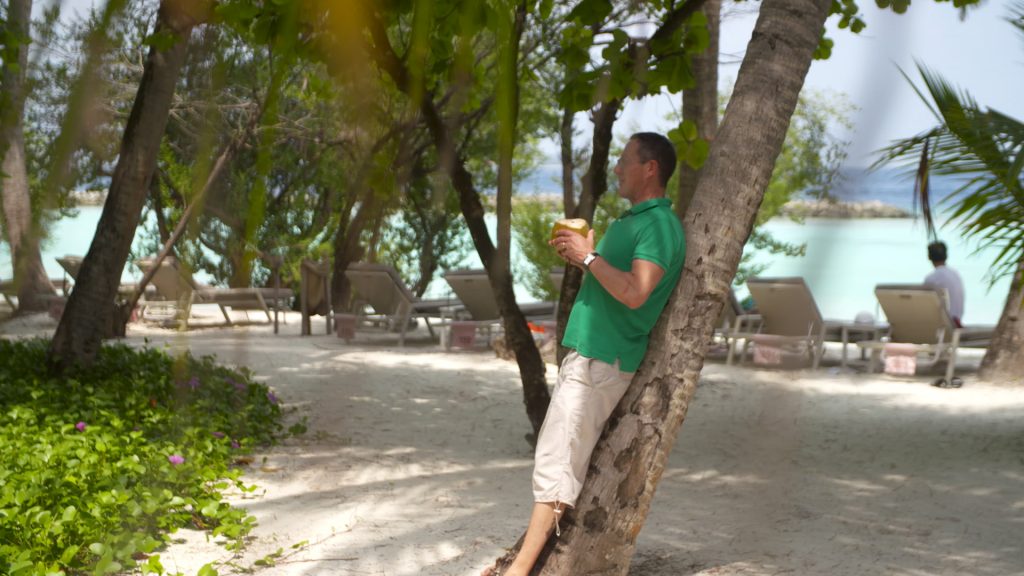 "The Maldives have been phenomenally successful at the top end of the market. On the luxury resorts, everybody I spoke to observed that visitor numbers are higher than expected. Some resorts are even doing better than 2019, which was a record year for the country."
By contrast, he notes that another nearby luxury destination, Dubai, has been less successful due to its urban environment.
"When it reopened at Christmas, Dubai thought it had necessary Covid-safe measures in place but soon found out it hadn't when numbers of Covid cases went through the roof," he said.
Indeed, in the Maldives, Richard believes that the pandemic has seen the luxury market fare better than the mid and lower end of the market. He says that some resorts in that segment are 'hurting' and operating at 30-40 per cent capacity, while some are only at 20 per cent.
He said: "I am not surprised because the people they are attracting cannot afford to go away, they are bogged down by restrictions and don't have the time or money to suddenly go away for five months. They cannot afford two weeks quarantine, so it is not surprising there has been a complete bifurcation of the traveller profile now.
"Where I think there is potential for growth is to first lower the level of visitors and make the Maldives more accessible further down the food chain. Once travel resets, you must have people coming back in again at all price points. That will only happen when people in all countries are vaccinated and then you are going to see the lower-end market visitors return."
Richard quoted Universal's philosophy of a bed for all and he said: "Right now the Maldives is paying lip service to this, they need to concentrate on the lower end to bring them back into the country".
Vaccinated tourists no longer need a PCR Test to visit the Maldives. Another unique offering that the Maldives is working on is a vaccination vacation, where visitors can fly in and have their Covid injections on the resort, but Richard notes that the problem is the gap in time that is needed between the first and second jabs, pointing out that people are not going to stay for 12 weeks or more.
"Overall though, the tourism proposition that these islands give is excellent and beyond comparison – and it should be because the Maldives is not cheap. These resorts are extraordinary because each island is its own cocoon, providing a beautiful way to live.
"In the post-Covid world, I believe ordinary people wanting to travel will be considering factors like how they are going to get there, what measures have been put in place for safety, what sort of arrangements have been made, do they need a vaccination passport, and do they need to be tested?
He added: "Going forward, the clarity of the instructions will have to be clear and destinations like the Maldives will also need to use pricing to some extent to stimulate the market – even though people are wanting to travel – as competition between resorts is going to be fierce."
In the future, Richard believes that business travel is not going to return to anything like the level it was pre-pandemic. However, he believes leisure travel is where it is going to be huge as there is pent-up demand.
He said: "People want to go on holiday. At this time, when people are tired, they want to rest, and they want to let their minds quieten, so the moment they can travel, they will. The Maldives is a superb destination, and a unique proposition people may just treat themselves to – having been, I highly recommend it.
"The Maldives is a destination I have always wanted to visit, and I decided now was the time to do it, given its policy of admitting visitors with a negative PCR test. And while it's a long way from New York, with a 14-hour flight to Doha with Qatar Airlines and four hours onwards from there, it is quite straightforward for Americans to visit.
"Velana Airport was quite busy, but security and safety were paramount, and it was very well done. From the new terminal they are building, to the efficient set-up with structure, it is a real success story.
"And as a plane enthusiast, I loved to watch the seaplanes and I adored going on the float plane and the custom of the barefoot pilot was quite cute."
The 30-minute special episode of Quest's World of Wonder was first aired today at 1:30pm HKT (10:30am Maldives time).
Upcoming Airtimes:
Sunday, 25th April at 10:00am and 1:00pm HKT
Monday, 26th April at 5:30am HKT
Saturday, 1st May at 6:00pm HKT
Sunday, 2nd May at 9:30am HKT
Monday, 3rd May at 1:00am and 11:00am HKT
Tuesday, 4th May at 3:45am HKT
Wednesday, 5th May at 3:45am HKT