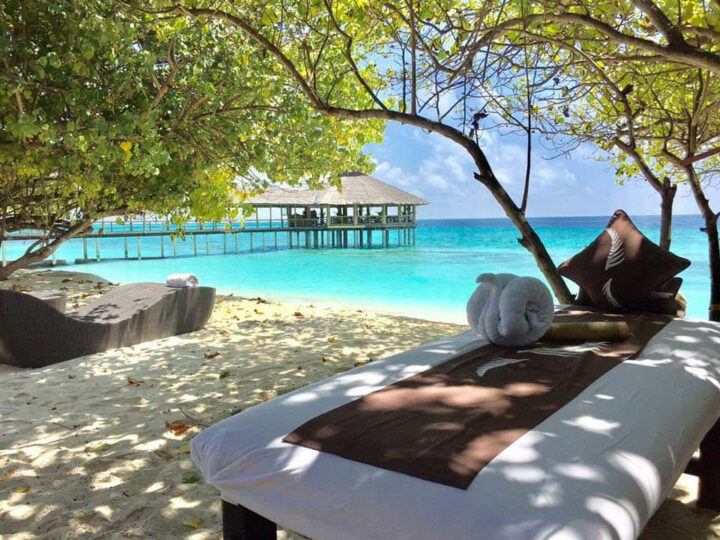 Coconut Spa: Rest and Relaxation, the tropical island way
Coconut Spa first opened its doors in the Maldives almost two decades ago, in December 2002. Yet, its unique brand of beauty and cosmetic therapy, inspired by a fusion of Balinese and Indian Ocean island cultures, is still as fresh today as it was then.
Coconut Spa at Reethi Beach Resort blends seamlessly into its surroundings, nestled among the lush native foliage, just opposite the well-kept gardens. The atmosphere is that of quiet elegance, with its spacious rooms flooded with muted natural light, hardwood floors and an unassuming décor. Yet the spa boasts all the facilities needed to unwind, relax and enjoy your treatment of choice. At Coconut Spa, you are truly spoilt for choice of treatments. Customers can pick from a variety of massages, body and hair treatments, pedicures, manicures, facials, as well as a wide range of spa packages and couples treatments for those looking for a full day at the spa, or enjoy multiple treatments over a few days.Highly skilled Balinese therapists welcome and guide you through your pampering experience. At the Coconut Spa, all treatments are tailor-made; customers are asked to choose from four different themes of aromatherapy, made exclusively from natural plant essences and extracts, which forms the basis for all of the treatments on offer. A traditional Indonesian blend of citrus and mandarin, focuses on re-energising and rejuvenation, while vanilla and ginger emphasise the sensory experience.
Coconut promote a feeling of harmony and balance between mind and body. Finally, a soothing blend of lavender and ylang-ylang is perfect for those suffering from jetlag or simply looking for a serene, calming experience.
Guests looking for immediate stress relief have the option of choosing shorter thirty-minute massages such as the Discovery Massage, focusing on points of the body where the most tension is accumulated, or the Kayu Massage, which uses wooden elements for more targeted pressure and deep tissue relaxation. However, it is for those looking for something a little bit more indulgent, that the Spa truly sets itself apart, with their comprehensive range of treatments lasting from fifty-minutes to almost two and a half hours of complete relaxation from head to toe.
With the Coconut Spa Signature treatment, spa-goers can experience a rejuvenating combination of five different massages on the menu, ideal for those who would like a little bit of everything in one session. Clocking in at ninety-minutes from start to finish, the Signature treatment begins with Shiatsu, a therapeutic massage originating in Japan, based on traditional Chinese medicine. Shiatsu uses pressing, kneading, and stretching techniques, and is performed without oils through a light cover over the body. Next is traditional Balinese massage, with a unique combination of natural essential oils of your choice. This massage uses long strokes and palm pressure to stimulate blood circulation and stress relief, followed by warm stone massage, placed on your back and palms of your hand. The heat of the stones, combined with the gliding movements to move the stones along the muscles, promotes a sense of deep relaxation and relief. Then, the treatment moves on to Swedish massage, which incorporates warm oil and Lomi-Lomi, to leave your body both relaxed and energised at the same time. Finally, topping off this luxurious treatment is reflexology, a complementary therapy which applies gentle pressure to the feet and hands, giving a sense of well-rounded all-encompassing sense of ease and well-being.
Another combination therapy on offer is the fifty-minute Four Hands Massage, which, as the name indicates is provided by two therapists working together. This treatment incorporates shiatsu, traditional massage, and Lomi-Lomi, to give your entire body a sense of being restored and re-energised.
The anti-cellulite treatment, also combines multiple treatments in one, including a body scrub, mud mask, and massage using a range of natural ingredients.
Coconut Spa may have made a name for itself with their bespoke Balinese treatments, but in addition to their classic treatments, the Spa also provides a number of traditional Indian massages, including a warm oil massage inspired by Ayurveda, and Shirodhara.
And for those looking for treatments that will leave the skin exfoliated, moisturised, and refreshed, Coconut Spa also has a number of body scrubs on offer. Each scrub uses fresh ingredients, based on a chosen theme. And if one is in the mood for something a little more exotic, the Spa also offers a Papaya Body Wrap, which uses freshly blended papaya and a signature red clay for that glowing fresh look.
From the moment one steps into the Coconut Spa at Reethi Beach, sat comfortably in the verandah listening to the waves softly lapping on the beach, all the way through to the end of the treatment, the service and care are second to none — an experience not to be missed.