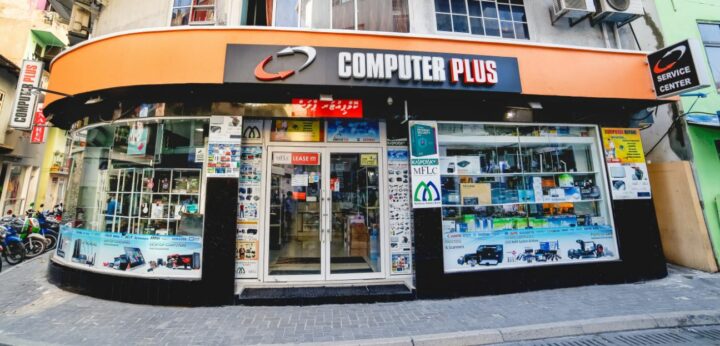 Computer Plus – providing IT solutions, for today and tomorrow
Computer Plus – a leading IT solutions provider, is an enterprise founded by Mohamed Shafeeq – a software engineer by profession. Shafeeq came about to form the company through his work in software development, including Point of Sale systems, stock management systems, booking management systems and other software solutions targeting the tourism sector.
"I started my career as a software engineer in 1987. My very first software was the SM-Stock Manager – a POS system, which in two years was used by 22 clients," said Shafeeq, speaking to Hotelier Maldives about how his career began. "I also developed various other software, which was used by some 72 clients, most of which were tourist resorts.
"I think I was the first person to develop and install a commercial software in the country. My target was never recognition or fame, but I took it as a job and career."
Shafeeq later developed the Travel Bag – a reservation entry system, digitising work which had previously been managed manually. The system integrated booking inquiries, money remittance, accounts, outstanding and bed capacity data into one easy-to-use software.
"The reservations entry system was used by most of the leading tour operators in the country at the time, including Sun Travels, Skorpion Travels, Inner Maldives, Season Tours, Lifsham Travels, AAA Travels, and Go Maldives, to name a few."
It was his unwavering commitment to providing IT solutions to the tourism industry that steered the way to form Computer Plus. "It was a friend who suggested I enter the computer hardware business, as I had already been recommending hardware solutions for my resort clients," he explained.Computer Plus came into existence as a little establishment, in a small 12 by 16-foot outlet, in October 2000. The first shipment of goods were small items, including memory cards and other small components.
"I got my first suppliers from newspapers and magazines, from Dubai" he went on to explain. "The first shipment seemed more like 'gifts laid under a small Christmas tree'. It was that few."
Since inception, Computer Plus has flourished into one of the leading IT solutions providers, dealing in computers, laptops, related hardware and other peripherals. It now employs over 20 staff.
"Our staff are very knowledgeable. I insist they master the details of each and every product so that they can answer any questions our clients might have. That is the level of customer service that I believe is our hallmark. It is what makes us stand out from our competition," he said.
Computer Plus is the authorised business partner of Acer products, and also the dealer of many other renowned brands including Dell, Microsoft, Hewlett-Packard, Compaq, ASUS, Intel, Samsung, and LG, to name a few. It also supplies POS Systems, in addition to printers from popular brands like Hewlett Packard, Canon, Epson, Panasonic, Toshiba, Brother and Lexmark, and also toners, ribbons, and other items.
The Computer Plus Service Center repairs desktop and laptop computers, printers and other hardware. "We employ three technicians who are specialised in three areas of expertise; computer repair, motherboard and component repair, and repair of printers and other products."October 6, 2013, was a fateful day for Computer Plus, when nearly all the merchandise was destroyed in a fire, costing over MVR6.5 million in damages. "We had to start from scratch following the fire. It felt like extinction," said Shafeeq, describing the horrific experience, but with an optimistic mind. "We haven't fully recovered since, but we're striving hard."
As a supplier of all computer related hardware and networking solutions, the majority of the company's clients are government offices, state-owned institutions, and tourist resorts. As Shafeeq explained, most of their purchase orders are substantial, and their biggest challenges are space constraints and financial issues."We supply products on 60-days credit to our corporate clients. When payments are delayed, and in most cases they are, we are faced with many pressing issues, especially since we have to pay large sums as taxes.
"We need to work together to ensure the business is mutually beneficial for all parties," he said.
Despite all these challenges, Shafeeq and his team have only one thing in their focus; to provide a comprehensive product line and total solutions to their clients. Their extensive product catalogue, coupled with their dedicated staff, is what is driving Computer Plus towards becoming one of the leading IT solutions providers in the country.