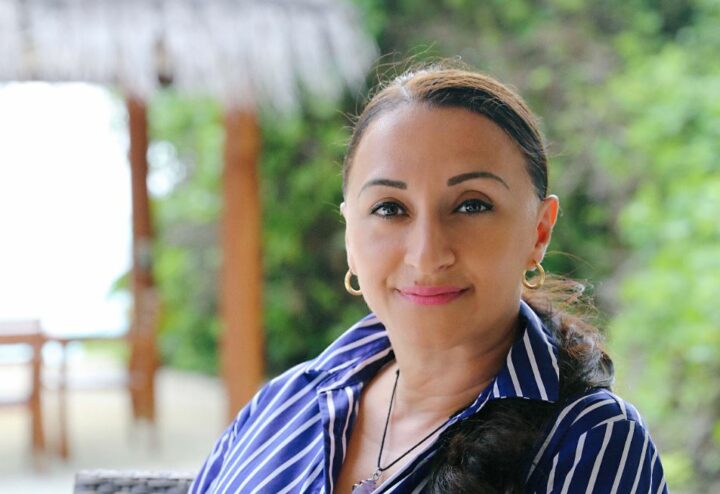 Women in Hospitality: Khumar Askerova, Group Director of Sales & Marketing, Lily Hotels & Resorts
Born in Azerbaijan, a country situated in the South Caucasian region of Eurasia, Khumar Askerova's father was an honoured artist and her mother, a doctor. Now the Group Director of Sales & Marketing at Lily Hotels & Resorts, Khumar was raised in an artistic family, which had an impact and made her follow the traditions of her country, where she studied classical piano for seven years and performed with the National Philharmonic.
Before her spell at Lily Hotels, Khumar served as the Cluster Director of Sales & Marketing of Autograph Collection of Hotels by Marriott International. Hotelier Maldives sits down with Khumar to seek her take on the industry and her passion for hospitality.
Hotelier Maldives: How did you develop an interest towards the hotel industry?
Khumar Askerova: Upon completion of a master's degree in Business Administration at State University, I joined Hyatt, which at that time was the first and only international hotel chain represented in Baku, the capital, by two corporate hotels—Hyatt Regency and Park Hyatt—in a role of Marketing Communications Manager. Two years later I moved to Brazil for several years and was associated with this brand for more than 13 years of my career.
My saying is: "never plan tomorrow, swing as it takes you in life," meaning that I haven't had an interest towards the hotel industry at that moment. What was striking indeed and still keeps me on is the environment and the good lessons that I soaked up from the great tutors as I moved from one hotel to another.
HM: When did you enter the industry? And where have you worked before joining Lily Hotels? Is this your first job here in the Maldives?
KA: Following six years I was with another great hotel brand, Marriott International, and proud to say that was part of a glorious team as we launched five new different brands of Marriott's portfolio, including two ski resorts, which enhanced my skills in revenue management, designing sales strategy; as I developed with Marriott I gained an excellent organisational, presentation, negotiation and multitasking experience.
I'm an adventurous person that always seeks for new projects and business enterprises at some point I decided to become an entrepreneur in the art industry, and it was on one of those days when I came across the job posting by Lily Hotels seeking for the Group Director of Sales and Marketing. And I said to myself: let me give it a try… I truly believe in the saying "be careful of what you wish for"? A year before joining Lily Hotels I said to a friend of mine: "if I have had half a million dollars on my bank account, I would have escaped and settled on the Islands" No! I do not have half a million dollars on my account, but who cares – I'm on the Island, and who knows, maybe the second part of my wish will come true one day.HM: Why did you choose a career in sales and marketing?
KA: Over so many years that I have been with sales and marketing, I realised that I cannot see myself doing any other job. I like it because it's exciting and unpredictable! Perhaps the most common complaint echoing around the office and especially on the Island is "I'm bored". When you are expected to spend several hours a day working you cannot underestimate the power and job satisfaction of the unpredictable and unexpected.
Each call made, each guest or client you host will be to a different person and each represent a different challenge. With "marketing" it covers a broad spectrum of roles – analysis, research, branding, creative design, consulting, promotions, to name a few. And again, as we mention "creativity"- it allows you to be creative and to come up with new strategies that could win over prospective customers. It requires a lot of networking and personal skills to develop effective materials, e.g. graphic design, videos, event arrangements, etc.
HM: July marked your first anniversary since you joined Lily Hotels. Why did you choose to join Lily Hotels and the Maldives, and how would you describe your journey?
KA: I have never been to the Maldives, even though I'm a frequent traveller and have been to many places on earth, but to be honest, the Maldives was never in my list of destinations that I wished to travel for my vacation. Mostly because I always had a wrong perception about the destination thinking that it is meant for lazy vacations, lying by the pool or on the beach and enjoying a picturesque scenery of the paradise.
Now I understand that I was totally wrong – it's a great place for families with kids as it offers broad varieties of water activities and excursions, as well as for couples and honeymooners as they may enjoy their privacy and explore local islands around, savour tropical cocktails and delicious seafood from the Indian Ocean, go snorkelling or diving around the house-reef, watch the sunset and much more.
HM: Lily Hotels believes you're an important part of the company's bid to strengthen its all-inclusive plan. How have you assisted in further promoting the company and its two resorts?
KA: Lily Hotels has been a pioneer in implementing an all-inclusive concept (we name it the PLATINUM PLAN) in the Maldives and it proved to be an effective business model, as we see many other resorts following that. The PLATINUM PLAN concept which recently has been introduced to the guests of Hideaway Beach Resort has generated strong demand in certain markets; "Platinum" as it says is known to be a noble metal which tends to be valuable, due to the rarity, same for the "PLATINUM PLAN" concept in both resorts – defines it to be exceptional, exclusive which will bring Hideaway to the new level of luxury.HM: What are your management philosophies? What does it take to be a good sales and marketing director?
KA: The fact that both resorts have very low turnover amongst the associates proves the effectiveness of the management philosophy which has been set for a positive attitude and working environment which influence manager's approach to motivating the staff. The way the top management views its subordinates and communicates affects their behaviour.
People are quite addictive to be surrounded by those with spirited and passionate energy for their job; in my role as a Group Director of Sales & Marketing, I have people not only based on the Island reporting to me, there are quite a few selling resorts remotely and based in different countries overlooking respective markets that they are accountable for, I'm sharing my energy and passion with everyone and as a result I find its' contagious and benefiting.
Being able to work with others in a way that inspires them to do their best is the key to success. For me being a good Director of Sales & Marketing means satisfying both executive echelon and the customers, as upper floors want you to hit certain financial objectives, while the customers want to be satisfied by whatever it is you are promoting. By mastering this balance Is key to excelling in this position.
HM: What are you doing different, that other properties and brands are not?
KA: In a competitive industry, it is crucial to determine what sets you apart from other available options on the market. Having smart marketing and exciting technology alone will not have keep customers wowed – the exclusive PLATINUM PLAN that we offer is of real value and a great experience and if you want to hear the statistics that "speak louder than words", on TripAdvisor Lily Beach Resort has been ranked amongst 20 best All-Inclusive Resorts in the world and we have the highest ratio of repeated guests amongst competitors in the Maldives.
A concept of an absolutely hassle-free vacation with included premium alcoholic drinks, French selected Taittinger champagne, daily replenishment of minibar, excursions, water sports and activities, extensive buffet serving over 20 types of French cheeses for breakfast, lunch and dinner, a-la-carte dining experience in other restaurants, fresh juices and even four brands of cigarettes! It is also a professional and talented team which is the company's backbone with a positive attitude, that exceeds guests' expectations.
HM: Do you believe that the industry poses challenges to women? What is your advice to other women looking for a career in the hotel industry, especially the sales and marketing field?
KA: I do not believe that at all, as I meet a lot of successful women, who have achieved eminence within this industry. For those that have made up their mind and willing to start a career in the hotel industry I would advise getting as much education and training as they can.
Women often suffer from a crisis of confidence in the workplace, and another piece of advice is to develop self-confidence, listen to your intuition and always follow your dreams, they tend to become true. Being a woman is another duty and it's a key to balance work and family. And, always find time for yourself and be a Lady; Coco Chanel once said: "a girl should be two things: classy and fabulous".
HM: Finally, can you tell us a little bit about your interest and talent of music? And do you believe music can play a role in improving the guest experience?
KA: I get an incredible inspiration from music. Apart from being a graduate and a professional piano player, my only child's name is associated with music – her name is Aria and the definition of the word is a melody sung by a single voice in Opera with or without instrumental orchestral accompaniment. There is a saying that "music from the past evoke such vivid memories".
So true, I had requests from the guests staying in our resorts to record the music which is incorporated in the guest in-room experience, some of them left feedback thanking us for the song that takes them back, giving the feeling of those unforgettable sandy beaches as they walked bare feet, visualization of the turquoise waters of Indian Ocean.