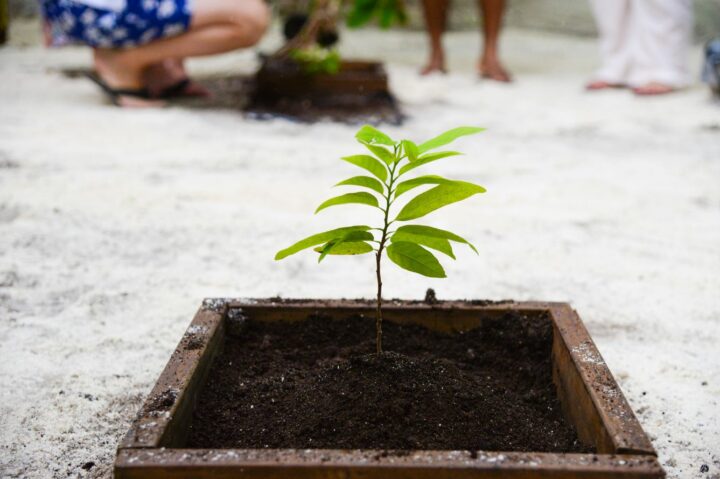 Corporate Social Responsibility: Care in the Community
It enriches a hotel's image, but Corporate Social Responsibility is not easy and it can only be made successful with great passion and communication, as Hotelier Maldives discovers. CSR is now integral to the DNA of good hoteliers because many hoteliers care about making a positive impact on the lives of the people in the community in which they operate.
It has also been established that many CSR measures save money, whether through developing human resources, conservation or just increasing efficiency in general. Another critical factor is that an increasing number of guests are concerned about the social and environmental policies of the hotels they stay in. In response, hoteliers have upped their CSR game and now the challenge is not only to create initiatives that are worthwhile, but ones that inform guests, train potential employees, and aware and aid the public through the projects.
Universal Foundation, the social responsibility arm of Universal Enterprises Pvt Ltd, believes CSR is an important component of a sustainable business. "A business cannot exist in exclusion of the society, so it is important that every business has a mechanism to give back to the society," says Iyaz Waheed, President of Universal Foundation.
Where CSR projects are not aimed at generating monetary benefits, there are areas such as environmental efforts in strictly reducing, reusing and recycling which sometimes lead to commercial benefits. "However, our CSR projects are not aimed at generating any monetary benefits. We look at the social benefits of the programmes and the positive impact it has on the lives of the people," Iyaz explains.
The effects of these initiatives, the ones that are done well, benefit more than hard numbers on a financial report. The advantages such as staff efficiency and willingness to work can also be attributed to CSR. Mohamed Visham, the Project Manager at Coastline Foundation—the CSR wing of the Coastline Group—believes one of the biggest benefits is the "effects on the staff."
"We have identified several effects on staff such as increased engagement and better performance. Commitment to the organisation has increased and employees feel happy in identifying themselves with their workplace. This has already increased the creativity of our employees," he explains.
And then there are awards that can be used as a part of the hotel's PR campaign. Ali Fulhu Thuthu Foundation, Coastline Foundation, Universal Foundation and Villa Foundation, all renowned in the country, have won local awards, have been recognised for best practices, and the founders and management teams have been nominated for several CSR championship awards.
So, the business advantages are transparent, but they are by no means easily achieved. Getting the community involved takes time and effort, and is essential to CSR success as Iyaz explains. "The higher community engagement is important in twofold; it will help reach out to a larger number of the population. Also, it will make the programmes more efficient, where a higher impact could be made from the money spent," he says.
Additionally, one of the most important tools for CSR exposure is social media. Visham is in no doubt about the use of social media regarding CSR, calling it a "key tool". "Social media is used to promote our educational courses and training programmes, and to gain exposure among interested parties in the industry. One of our most successful social media campaigns was to promote our open days in the atolls, to get prospective trainees, through Facebook and Twitter," he explains.
Ali Fulhu Thuthu Foundation
The AFT Foundation has supported over 400 projects from 2009 till the end of 2016 and has seen major growth in their collaborations with atolls and islands in analysing the proposals received for developmental, agricultural, educational, environmental, health, sports, entertainment, and cultural projects that would positively reshape the lives of the communities. Aiming to provide equal opportunities for every Maldivian, this family venture was initiated in honour of the late Moosa Ali, otherwise known as Ali Fulhu Thuthu.
Case Study 1
Develop integrated water supply and sewerage disposal facilities in Dhiffushi Island of Kaafu Atoll.
Objective: To design and build an integrated water supply system and sewerage disposal system for a population of Dhiffushi Island of Kaafu Atoll.
Strategy: AFT Foundation has placed significance on improving healthy living standards at the centre of their efforts and has spent funds – in collaboration with Meeru Island Resort & Spa and Altec Maldives Pvt Ltd – to design and build an integrated water supply system and sewerage disposal system for a population of 1300 people Dhiffushi Island.
Results: US$4 million has been spent on the project which is set to be completed in November 2018.
Case Study 2
Fully-funded construction of mosques.
Objective: To support the Ministry of Islamic Affairs by funding the construction of seven mosques.
Strategy: AFT Foundation has placed importance on local Island Councils' requests by fully-funding the construction of seven mosques altogether – out of which one project was entirely initiated by the foundation.
Results: US$3.3 million has been spent on the seven mosques which were all completed in the third quarter of 2017.
Case Study 3
Award scholarships to students from UWC affiliates around the globe.
Objective: To award scholarships to students from UWC affiliates around the globe including Canada, Norway, India, the United Kingdom, the United States, Italy, Bosnia & Herzegovina, Hong Kong, Swaziland, Armenia, Costa Rica and the Netherlands.
Strategy: An average of two students, aged 16-18, is awarded the scholarship annually through the foundation resulting in a rigorous holistic education programme of two years resulting in the obtainment of an International Baccalaureate Diploma, equivalent to GCSE Advanced Level (A-Level) certificate.
Results: A total of 51 scholarships awarded to students.
Coastline Foundation
The Coastline Foundation is focused on adding value to human capital in the industries from 2013 onwards and aims to help the needy by way of medical, educational and infrastructure requirements. The foundation has launched training programmes at the Technical & Vocational Education Centre (TVEC), in Kihaadhoo Island of Baa Atoll.
Case Study 1
Training programmes at the Technical & Vocational Education Centre (TVEC).
Objective: To develop youth with substantial technical skills and empower adults with non-formal education for employment opportunities.
Strategy: Coastline Foundation has provided for educational opportunities with accommodation in a five-acre campus facility, which delivers competency-based assessment. Prospective students are sponsored by the Coastline foundation or other corporates.
Results: To be determined.
Universal Foundation
Universal Foundation has formalised the work carried consistently by Universal Enterprises Pvt Ltd over the last 40 years, sponsored hundreds of students through international scholarships and supported many worthy organisations in fundamental matters relating to education, health and community care.
Case Study 1
Assisting in the development of specialist doctors.
Objective: To ensure there are Maldivian specialist doctors trained in all areas of specialities.
Strategy: Provides an open application policy for doctors who want to study abroad to get specialized in a medical discipline. Also, approaches government hospitals and local doctor's community to sponsor interested candidates.
Results: Over 35 doctors have been fully sponsored to get specialised and serve the country. Five more doctors studying abroad at the moment.
Case Study 2
Helping children with special education needs.
Objective: To improve the facilities at Jewel Centre at Imaduddin School, and to improve the skills of the teachers in Special Education.
Strategy: Partnered with Imaduddin School and provided them with state-of-the-art furniture, and equipment needed for the special education needs of the children. Also, partnered with the National Institute of Education to organise training for teachers from 19 Atolls in Malé, and brought a specialist trainer from Malaysia for the training.
Results: The Jewel Centre is now a model education facility for children with special needs. Teachers from other islands and schools come to the centre for exposure and experience. The teachers' refresher training is fully endorsed by the Ministry of Education.
Case Study 3
Discover Hospitality Programme.
Objective: Aims at youth who wish to start careers in the hospitality industry and especially targets school dropouts between the ages of 16 and 18.
Strategy: Partnered with Villa College and Universal Resorts to deliver the programme. The model adopts combined classroom training together with four-month internships at resorts. The participants who complete the programme are certified by Villa College and are employment-ready.
Result: The programme was completed by 35 students, in two batches, and they are now working in the industry.
Villa Foundation
Villa Foundation, a philanthropic charity organisation that administers the charity activities of Qasim Ibrahim—the founder and chairman— has since 2003 been aiding and assisting community and social development in education, health, welfare, public infrastructure development and provides support to NGOs, institutions or individuals.
Case Study 1
Enhance human resource development through higher and further education.
Objective: To provide scholarships, grants and loan aids via the Villa Scholarship scheme and Qasim Ibrahim Donations (QID-loan schemes).
Strategy: Since 2000, Villa Foundation has a scholarship scheme, for which only Maldivians are eligible, which covers tuition fees, appropriate living and allowance and requires scholars to pay back 50 per cent of the costs incurred. The QID loan scheme gives grants and loan aids which require scholars to repay the full loan.
Results: More than 2600 students have benefited from Villa Foundation and 2000 Villa scholars have graduated under the Villa Scholarship scheme and QID loan scheme.
Case Study 2
Welfare service and medical treatment to needy Maldivians.
Objective: Give donation and assistance for medical treatments at home and abroad.
Strategy: Give medical treatment, mainly in India, with full medical packages inclusive of travel, food and accommodation, medical consultation and treatment inclusive of hospitalisation in Thiruvananthapuram, Cochin, Mumbai, Vellore, and Madras in India, and in Bangkok, Thailand.
Results: More than 700 patients per year have benefited from treatments for cancer, cardiac surgery, kidney dialysis, organ transplant and bone-marrow transplants.
Case Study 3
Nationwide information technology initiative.
Objective: Enhance computer literacy of students in island schools.
Strategy: Donate computers, computer tables and accessories to island schools and institutions working for the development of small communities. Some schools have established computer labs and are presently making full use of these facilities.
Results: Over 1000 computer systems were donated to island schools and institutions with high levels of awareness created on the use of computers in studies.