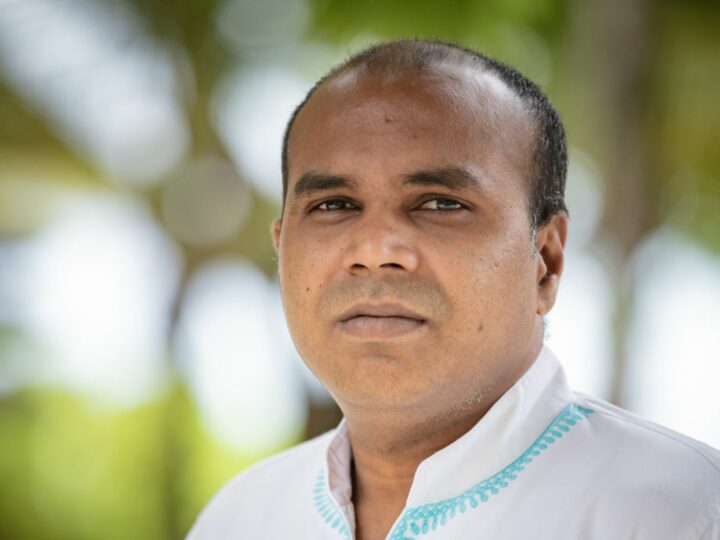 A Day in the Life of Ahmed 'Mujey' Mujuthaba
Ahmed Mujuthaba, commonly known as Mujey, has been working in the hospitality industry for over 17 years. He started his career in Constance Moofushi as a receptionist in 2000 and moved to Human Resources in 2007.
Originally from Hithadhoo Island of Addu City, Mujey approaches hospitality with the belief that hospitality is all about people, and at its core, the main purpose of the job is to make people happy. In his free time, he enjoys playing futsal and watching football.
Mujey is currently the Assistant HR Manager at Constance Moofushi and his responsibilities include talent acquisition, handling employee complaints and related issues, creating HR related material for employees, administering compensation and welfare activities for the team, maintaining policies and HR records and personnel management.
8 a.m. – For me, each day is something to look forward to. I usually start the day with a cup of tea and get ready for work.
8:15 a.m. – Check my emails to prepare for the morning briefing with the other managers.
8:30 a.m. – Managers' meeting.
9:30 a.m. – I have a short daily briefing with the HR team to discuss the tasks for the day.
10 a.m. – I usually do a walk-around in the staff area and check if all areas are clean and tidy. Spending some time with the staff allows me to do some casual talking with the team.
10:30 a.m. – Then comes my daily office work with administrative duties. Most of the days I also see to it that I catch up with managers who are looking to fill vacant positions, finding out their requirements and at the same time getting feedback from them.
12:30 p.m. – Lunch break. I spend some time talking with different staff and get feedback on different areas of the resort.
1:30 p.m. – It's the time for recruitment, when there is a requirement. I evaluate and shortlist candidates and then set up interviews with the managers which also involves sending emails or speaking with the potential candidates.
3 p.m. – Discuss with the team the welfare activities planned for the evening and make sure all are arranged.
4:30 p.m. – Check emails and complete the pending administrative works for the day.
5:30 p.m. – I usually end my day doing planning on creative ideas, activities and events for the team and, of course, a cup of tea.