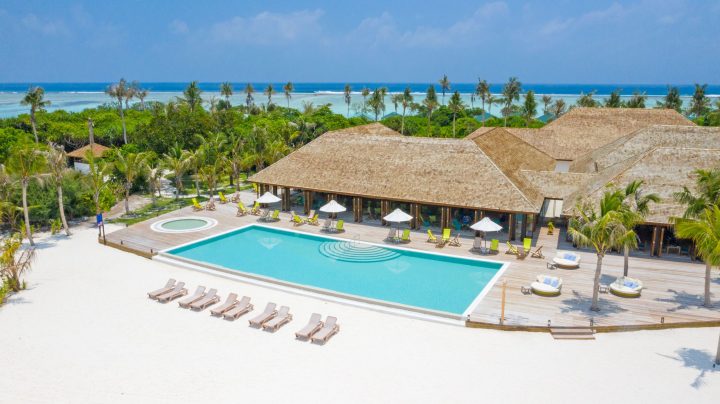 Destination Focus: Lhaviyani Atoll
Lhaviyani Atoll, also known as "Faadhippolhu" since the early 12th century, is a well-known executive division of Maldives. The atoll is formed of 52 islands including four inhabited islands; Hinnavaru, Naifaru, Olhuvelifushi and Kurendhoo with a total population of more than 12,000.
"Faadhippolhu" Your Next Travel Destination
The past few years have brought in a lot of excitement to the atoll with an increase in new resort openings. Lhaviyani Atoll's latest highlight has been the Marriot's seventh property in the Maldives, Le Méridien Maldives in Thilamaafushi, which is scheduled to open during late 2021. This adds to the atoll's list of 10 resort properties, all with colorful reefs and white sandy beaches. Further, a new airport in LH. Madivaru in early 2021 signals a great sign for the tourism industry.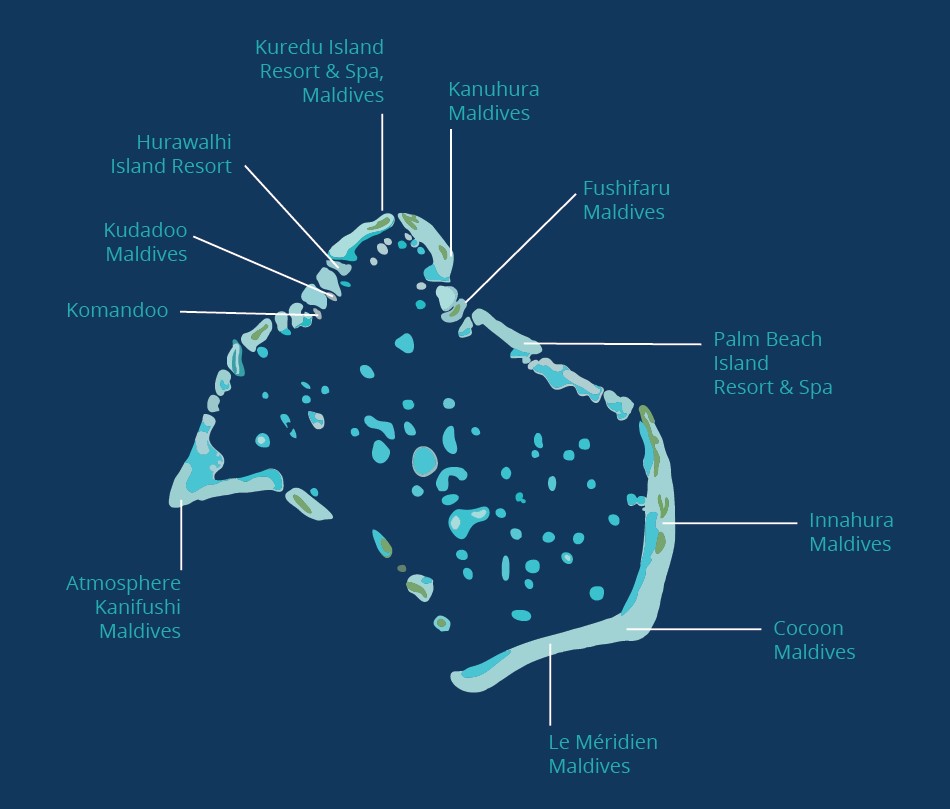 Cocoon Maldives
One of the best Italian designed resorts is just 30 minutes by seaplane from Velana International Airport. Featuring long white sandy beaches and an all-inclusive concept that ensures a completely worryfree escape, Cocoon is popular among couples, families as well as solo travellers alike. With a selection of three Restaurants and two Bars, a sublime spa experience and villas with mesmerizing view of the crystal clear waters, this luxury resort leaves no stone unturned to offer a memorable stay.
Palm Beach Island Resort & Spa
Palm Beach Island Resort and Spa, named after the beautiful groves of coconut palms seen near the endless stretches of white beaches, is located on one of the largest islands in the Maldives. A total of 40 minutes from Male' to Madhiriguraidhoo by seaplane, the resort provides babysitting, airport transfer services, currency exchange services, laundry services, tours with a presidential suite, deluxe room, and a junior suite- all complemented by the amazing Indian Ocean scenery.
Hurawalhi Island Resort
Home to the largest all-glass underwater restaurant in the world, the five-star Hurawalhi resort allows guests above the age of 15 to experience luxury at its finest in mesmerizing views. The journey here takes 40 minutes by seaplane from the Velana International Airport. Its underwater restaurant and luxurious villas has made it a favorite among celebrities as well. Having a world-class meal underwater while watching the beautiful marine life float by is on the bucket list of many travellers.
Kuredu Island Resort & Spa, Maldives
One of the most top-rated resorts in the country, Kuredu Island Resort & Spa shows guests the true natural beauty of the destination while promoting tradition through various cultural nights. With accommodation ranging from Garden villas to Beach villas to overwater villas, guests choose their own perspective to wake up to. The resort offers an excellent choice of accommodation, all inclusive packages and facilities, as well as access to sister resort Hurawalhi's underwater restaurant.
Kanuhura Maldives
The five-star resort combines three private islands to offer the ultimate luxury retreat for free-spirited adventurers. Kanuhura has long been praised for its exceptional variety in dining, with 8 exquisite gastronomic experiences. It also has stunning 80 villas that are either scattered on the beach or situated over the azure lagoon.
Komandoo
Often found on the very top of most romantic resorts lists, this adults-only resort has all-inclusive packages that allow couples to tailor their holidays to exactly what they want it to be. Komandoo is ideal for a romantic escape, surrounded by amazing marine life and stunning island scenery. The winner of Asia's Most Romantic Resort award, Komandoo features both overwater and beach villas with sunbeds, outdoor bathing, and private pools.
Atmosphere Kanifushi Maldives
Kanifushi is surrounded by a large coral reef that gives the best views of marine life for the marine lovers. Known as "The Heaven" for certain adventurous activities like snokelling and diving with mantas and the friendly sharks, the resort offers a charitable all-inclusive package for every visitor. It includes choices for different types of excursions, sunset cruises, beautiful dolphin views and sunset fishing. This nirvana is only 35 minutes by the domestic seaplane from the Velana International Airport.
Innahura Maldives
Innahura is synonymous with laid-back and affordable escapes. While a total of 78 vibrant bungalows line Innahura's sandy beach, on the island awaits delightful buffet dining and the Duniye Spa, for relaxation after a day at the beach. Innahura Maldives has outdoor swimming pools, evening entertainment, a fitness centre and 24-hour front desk with friendly staff.
Kudadoo Maldives
Offering an all-include experience in a small island, Kudadoo Maldives is the destination's only fully solar-powered private island. The resort has unlimited excursions available on an anytime anywhere approach. In the unique cheese and wine cellar, 80 luxury wine labels and 50 different cheeses make Kudadoo one of the best places for gastro-tourism.
Fushifaru Maldives
It takes only a 35-minute seaplane ride from Male' to get to this luxury boutique resort. A world-class resort with sunrise and sunset views that never fails to amaze, Fushifaru is rated five-star for best quality services and products. It features a water sports centre, swimming pool and a spa. The pristine white beaches are the heart of the resort with large sandbanks, ideal to celebrate a birthday, anniversary, or a wedding.
Le Méridien Maldives
Talking about the future of the tourism industry in Faadhippolhu, Thilamaafushi is hiring for the upcoming resort named "Le Méridien Maldives," with 150 rooms and water villas. Spanning nine hectares, this Marriott property consists of six restaurants, a bar, spa swimming pool, kid's club, fitness and dive and water sports centres.