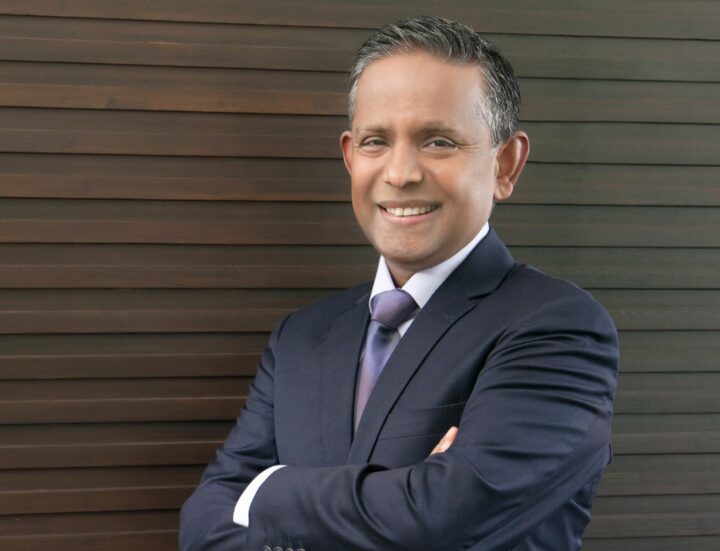 MINOR milestones with Dillip Rajakarier, CEO Minor Hotels and COO Minor International
A bet in a pub ended up in a chain of events that paved the way for Dillip Rajakarier in the growing hospitality industry; present-day he is the CEO of Minor Hotels and COO of Minor International. With a passionate drive, agile leadership and a global outlook on the wares of the business model, Dillip takes us through his success story together with his team that has firmly rooted Minor in the international hospitality umbrella. In this profound insight, he elaborates on how Minor has sustained at a worldwide level with its great potentiality and its future expansion plans that will be designed to bring out a new pool of world-class hospitality talent and skill.
Hotelier Maldives: You were quoted as saying that you "fell into the hotel industry." How did you land a career opportunity in the growing hotel industry?
Dillip Rajakarier: You might not believe this but I landed a job in the hotel industry after a bet in a pub. I was studying my Master's Degree in IT in London when a mutual friend introduced me to the Finance Director at a hotel group who mentioned that they had a glitch in their IT system. The next day I offered to help and sorted what turned out to be a simple problem. He offered me a job on the spot. I agreed to work with him part-time while I completed my degree and the rest is history! Prior to that, I tempted in what is now the Meliá White House hotel in London, since then I have always worked within the Hospitality industry, whether its Hotels or Restaurants, including Monty's Private members' club at Sloane Street, Knightsbridge.
HM: What was your career background prior to joining Minor Hotels in 2007? What have been some of your major achievements at Orient-Express Hotels, Trains & Cruises?
DR: I'm most proud of the fact that during my time with Orient-Express the company grew in terms of both earnings; acquisitions are key markets and of course the share price. It was an all-time high for the company and I am very happy to have been a part of that success story at the time.
HM: You joined Minor Hotels as the Chief Finance & Investment Officer. How would you describe the company and your role at the time?
DR: I was drawn to Minor Hotels as I could see it was, and still is, a company that exudes great potential and capacity for growth. We are led from the top by a driven Chairman who has a clear entrepreneurial spirit which continues to inspire me. I joined because I saw a clear opportunity to participate in leading and sculpting a team that has helped to drive the business to where it is today. I arrived at the right time and seized the opportunity to be part of the huge growth that we have witnessed so far.
HM: In your perspective, what were your qualities that prompted the promotion to the role of COO of Minor Hotels a year later?
DR: The same qualities that I look for whenever I make appointments within my team: passion, tenacity, agile leadership and a global outlook.
HM: You've described yourself to be a "deal maker" by your nature and trade of profession. Could you please elaborate on how you have applied this to Minor Hotels?
DR: Since 2007 we have enjoyed a succession of key growth steps. Elewana, the luxury safari brand, joined the group in 2008, followed by a partnership with Sun International to manage their hotels in Southern Africa in 2014. Oaks Hotels & Resorts in Australia followed soon after in 2011. Tivoli Hotels was acquired fully in 2016, after 12 months of separate stages of negotiations under highly challenging circumstances; which I feel was an example of our strong multijurisdictional deal execution capability. In 2017, a partnership with Corbin & King was forged, this was particularly exciting for me as it enabled Minor Hotels to enter the UK Market for the first time. In November 2018 we also acquired a 10% share in the Global Hotel Alliance (GHA), this helps to benefit both our brands with new technology and our guests via the DISCOVERY loyalty program.
I tend to look for opportunities that arise in companies with aligned core values that are complementary to our own business goals. For instance, the acquisition of a 94% stake in NH Hotels in 2018 was an unmissable opportunity for us to expand our portfolio in markets with no footprint crossover. We balance each other, Minor Hotels is strong on leisure and luxury, NH Hotels is strong on corporate travel. Minor has an established presence in Asia and the Middle East, NH Hotels operates in over 100 cities in Europe and the Americas. NH Hotels and Minor Hotels both share the same economies of scale and shared information enables us to learn from each other. In general, I look to balance the Minor Hotels portfolio with a combination of owned, managed and leased hotels, striking a balance whilst expanding our presence globally. It is what I call a balanced basket of eggs, asset right, not asset-light.
HM: You took on the reigns as the CEO of Minor Hotels in 2011. The past eight years have seen major expansions within the group's core Anantara brand. What has been your vision for Anantara in becoming a leading operator and developer, now with around 38 properties globally? And that of Anantara's sister brands?
DR: My main goal has always been to grow and expand the brand platform with a view to entering Europe and the Americas, which we have successfully achieved in recent years. Another aspiration has been to position Anantara Hotels as a global top player in the luxury market. We were overjoyed to be ranked at Top 7 global luxury hotel brand for Anantara by Travel + Leisure USA and Top 10 by the Telegraph within recent months. Now we will focus on improving these rankings.
For the Anantara brand, providing the best possible experience for our guests continues to be at the core of our ethos. Expanding the brand into key gateway cities is a central goal for the future for Anantara and its sister brands including Avani and Tivoli. We will continue to establish our brands as leaders in their categories. Leveraging cross-brand expertise including from the back of the house to digital practices all with a view to solidifying the brand positioning and strengthening consumer recognition.
HM: What is the secret to leading such a large and successful hospitality group? And what are your management philosophies when it comes to better managing the brand, its companies, and staff?
DR: My (worst kept) secret is to surround yourself with hardworking, passionate individuals. Encourage tenacity and listen to your teams. To foster an environment that nurtures innovation, engaging with ground teams is also crucial. Software is the backbone of any successful business, so it is important to focus on people, both team members and owners, to ensure shareholder value.
HM: Minor Hotels currently operates five properties in the Maldives. Firstly, how has the brand's journey in the Maldives been? And what are your thoughts on the Maldives' market?
DR: The Maldives always has and continues to be a very successful market for Minor Hotels' brands. Anantara was a pioneering player in bringing an international luxury brand to the market. Our Anantara properties in the Maldives encompass the brand's key values, consistently delivering a very high level of luxury. For this, our properties have been consistently awarded top accolades. Conde Nast Traveler US named Naladhu Private Island Maldives Best Resort in the Indian Ocean two years in a row and Anantara Kihavah Maldives Villas was named #1 Resort in the Indian Ocean.
The Maldives has offered a springboard to global development which we continue to utilize. We are still bullish in our approach to the Maldives and will be opening an Avani Maldives hotel in 2020 to add to our portfolio. The future for Minor Hotels and the Maldives is bright.
HM: When it comes to the Maldives, what is Minor Hotels' strategy to differentiate from its competition? And how much of a success story would you believe Minor Hotels' venture in the Maldives have been?
DR: The Maldives, is a competitive landscape with an extremely elevated level of hospitality, so to stand out in this market we focus on our brand ethos and are constantly looking to differentiate ourselves from the rest. For instance, our unique sustainability projects such as coral reef restoration appeal to guests looking to give something back to these stunning destinations. Moreover, Anantara is increasingly focused on wellness programs and has begun to work with international spa and medical spa industry specialists for a distinguished experience in the Maldives. Anantara Kihavah has the most powerful observatory in the Indian Ocean and we rely on the unique, passionate personalities at our hotels to provide an unforgettable experience for our guests, such as our Sky Guru.
We have five properties to offer guests visiting the Maldives which provides an unrivalled diverse and well-rounded experience compared to our competitors. For instance, where else can you experience three different hotels during one stay with access to multiple dining outlets, facilities and brands just a lagoon boat ride or seaplane trip away?
HM: An AVANI Hotels & Resorts' property is currently in the making in the Maldives – AVANI Fares Maldives. When do you expect to unveil the new property, and what are some of the other expansion plans Minor Hotels has for the Maldives?
DR: Avani Fares is a very exciting project scheduled for onboarding in late 2020 and progressing well. Currently, we have no other openings set in stone, but who knows what could happen. We are always open to developing and enhancing our portfolio, so watch this space!
HM: In addition to overseeing Minor Hotels, you are also the COO of Minor International. What roles and responsibilities are attached to your position?
DR: My role as COO involves strategy development and execution for the group. I also lead the Business Unit heads and identify and implement growth opportunities. In a day to day capacity, I have commercial oversight of the IT, HR, Legal and Compliance divisions and also sit on all the boards. Ultimately everything I do is done with the end goal of raising share price and shareholder value.
HM: How will the soft infrastructure of this region benefit from the Asian Institute of Hospitality Management opening next year in Bangkok and Chonburi, in a venture by Minor Hotels and Les Roches Global Hospitality Education? And what do you envision for the project?
DR: We have strategically positioned the two campuses in areas that will best support the needs of Thailand's fast-growing tourism industry, particularly that of the Eastern Economic Corridor. We hope to contribute to bridging the gap between an ever-increasing demand for experienced hospitality leaders and limited domestic supply, the institute will also be offering professional development training for hotel industry professionals. Minor Hotels alone recruits over 6,000 additional staff members every year just to keep up with our expansion plan so we can't wait to work with this extremely unique new pool of world-class hospitality talent and skill in the future.
HM: How do you foresee the future of the company and your role in it?
DR: I foresee further expansion for all of our brands, including growth in new markets and increasingly strengthened teams. Minor Hotels is already a global player, with a local perspective and I look forward to seeing us continue to flourish.
HM: Finally, what is your advice to budding hoteliers and young people with an interest in hospitality who wish to pursue careers in the industry?
I would say the key to success in hospitality is to have ambition, hard work, passion and self-drive. There are many opportunities across all levels of the hospitality industry for self-improvement and to broaden horizons through the living and working abroad, and also in one's home country. At Minor Hotels, we believe in 'people-powered growth' and run several programs aimed at developing natural talent; such as the Ascent Graduate Journey program which offers new graduates a chance to experience paid internships at our hotels around the world. The hospitality sector will continue to grow and develop, so the time is right for young graduates with drive and passion – so go for it!