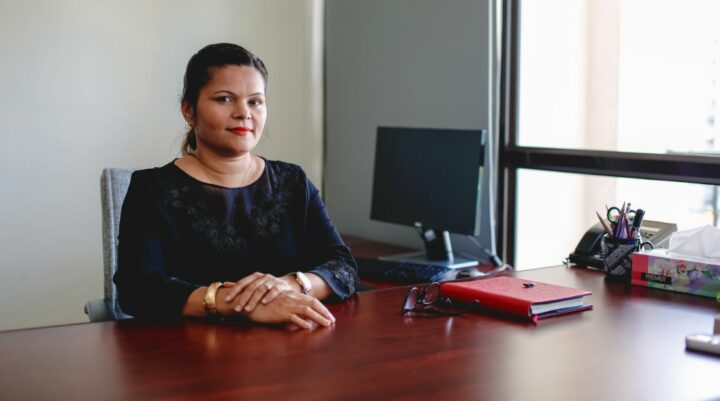 Women in Hospitality: Zeenaz Hussain, Dean, Faculty of Hospitality and Tourism Studies
Zeenaz Hussein, who started her career in the hospitality industry as an Assistant Cook at Paradise Island Resort, now leads the country's biggest training institution for future hotel industry professionals. As the Dean of the Faculty of Hospitality and Tourism Studies (FHTS), she believes she has a responsibility to deliver the much-required resource to further the country's tourism industry, and in turn, the country's development.
What motivated you towards a career in the hospitality industry?
I had little to no idea on the concept of hospitality when I first started my studies at Hotel School (now FHTS), or how it would shape my future. Soon enough, I had developed an interest in the programme, especially the culinary arts. A major source of my inspiration and motivation came from Mohamed Asim – one of my instructors and mentors.
After my studies, I was quite determined to seek more exposure in the hotel industry, which led to my first job as an Assistant Cook at Paradise Island in the garde manger section and later in the hot kitchen. There, I was privileged to work under two extraordinary Maldivian chefs, Ali Fahumee and Mohamed Riyaz, who played a major role in shaping my career.
Back in 1997, while still at Paradise, I was presented with the opportunity to work as a trainee food production instructor at the Institute of Hotel and Catering Services. Since then I have worked at the faculty, except for my time abroad for studies. After serving as the head of the Food Production Department, I was appointed as the dean in 2011.
Tell us about your education in the field. And why did you choose to dedicate most of your career to educating others?
My industry-specific education started off with a General Hotel Services Certificate, followed by a BTEC National Diploma in Hotel Catering and Institutional Operations. I subsequently earned a Higher Diploma in Hospitality Management at KDU, Malaysia; a Bachelor's Degree in Hospitality Management at Victoria University, Australia; and a Master's Degree in Human Resource Management from the University of Westminster, UK. I later completed a further BA (Honours) in European Culinary Management from the IMI, Switzerland.
As to why I decided to become an educator; they say that education is the great enabler. If I could pass what I know down to a young person, that might spark off an interest that would put them on a career path that could change their lives for the better. Knowing that you are making a positive impact on someone's life is an enormous reward in itself.
What have been some of the highlights of your career?
Under my leadership, FHTS has increased the number of programmes it offers. I'm proud of the fact that we were also able to introduce the Maldives' first undergraduate and postgraduate programmes in the field of hospitality and tourism.
Another notable aspect during my leadership tenure is that student enrollment has increased, meaning that an even greater number of young Maldivians are seeking professional careers in tourism.
What has been the driving factor behind your success?
All my achievements owe a debt of gratitude to the mentorship, encouragement and support of a lot of people.
Of course, parents, siblings and my husband are always my strongest backing and helps to retain focus. Then there are mentors and people you look up to, all of whom have inspired me to take on challenges, pursue goals and never settle for the easy path.
I would also like to acknowledge the enormous debt of gratitude I owe to my former bosses at the faculty – Mariyam Noordeen and Ali Saleem, as well as Dr Hassan Hameed, the former Vice Chancellor of Maldives National University, for their support and guidance.
In your perspective, what are the unique challenges of working in a separate resort island? And what does it take to succeed for women in a male-dominated industry?The one-island-one-resort concept in the Maldives means that staff have to be away from their families for longer periods of time, which is hard for anyone – let alone a woman. The challenge is exacerbated for women due to societal pressures.
The other challenge would just be that given that working women in the industry is still limited, one would encounter some challenges and resistance when women are perceived to be encroaching on men's turf.Then there are also the regular prejudices women are subject to – that they are weak or cannot perform under pressure; which is all incorrect and wrong.Women have played an integral and important part in the development of this country and I believe they can and are making an enormous contribution to Maldivian tourism.
Only a small percentage of local women are seen working in the hospitality industry. Why do you think is the reason for this?
Unlike working men, most women in the industry often retire early or move to jobs with more conventional hours due to family commitments. It can't be easy to raise a family while living full time on an island. The disparateness due to geography means that commuting isn't an option and that once a career woman wants to start a family her resort career has to be put on hold.
The majority of the work ahead for resort owners and managers is about working towards changing this negative perception of women in the industry and ensuring to parents that resorts are safe working environments for their daughters.
What is your advice to women who wish to pursue careers in the field of hospitality?
Ideally, a positive attitude and hard work is the key to success in every industry and one's gender should not be an issue even if the job you want is in a resort. My principal advice would be to not let your gender be a factor that hinders you from pursuing your goals.
What are your future plans?
As for the future, I would like to pursue a PhD in Hotel and Tourism Management. I'm really interested in this programme at the Hong Kong Polytechnic University partially because of its interdisciplinary approach to hospitality and tourism studies.
If I get the opportunity to complete my PhD, I believe I would be in a good position to make a meaningful change. It would enable me to contribute towards developing tomorrow's industry leaders whilst contributing to the national dialogue on how best to consolidate the development achievements the Maldives has gained. Job-wise we are currently focused on introducing the Maldives' first Doctoral programme in hospitality and tourism at the Faculty.