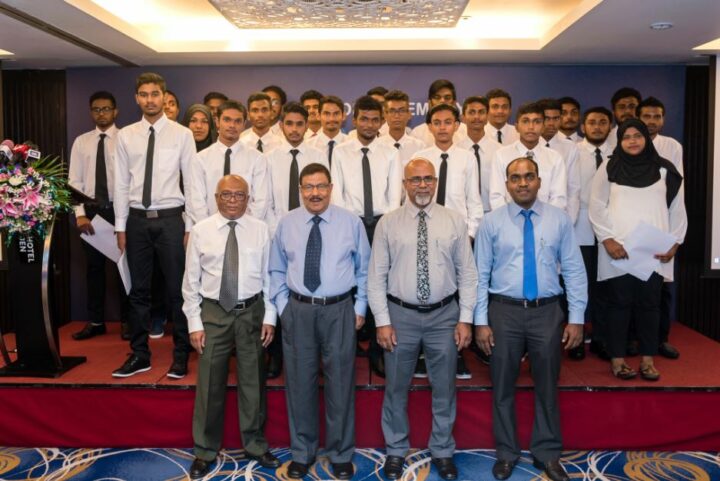 Graduation ceremony of Discover Hospitality Programme 2017 Held at Hotel Jen
Universal Enterprises, in association with Villa College, celebrated the graduation of the first class of the Discover Hospitality programme yesterday at Hotel Jen. This collaborative programme is equivalent to and was awarded Certificate III in Hospitality by Villa College to the graduating class. The ceremony also included awarding of the scholarships and letters of offer for the new participants.
Discover Hospitality is a training initiative in which Universal Enterprises aims to prepare the participants to be ready for the workforce and for further education as well, should they decide to go either way. The course focused on both theoretical and practice-based avenues of the hospitality industry. They aim to prepare work-force ready participants that can lead the future of tourism for the nation. The four areas this programme focused on were core skills required for the workplace, essential skills required for the front office, housekeeping, and food and beverage services.
The attendees of the ceremony were welcomed by Iyaz Waheed, President of the Universal Foundation. He highlighted on the philosophy of Universal Enterprises, which is to gain the maximum social value on every Rufiyaa spent in their various humanitarian projects, either on their own or in affiliation with other NGOs.
This was followed by remarks by Dr Ahmed Anwar, Rector of Villa College, who congratulated and lauded Universal Enterprises for their commitment towards training and educating young Maldivians to make them ready to enter the workforce. "When we work with Universal Enterprises, our students have the opportunity to work for an established hospitality brand that is recognised not just in the Maldives but globally," said Dr Anwar when he addressed the gathering.
The scholarships and letters of offer were awarded by Mr Mohamed Umar Maniku, Chairman of Universal Enterprises. Afterwards, a video presentation on the previous year's programme was screened which highlighted the various areas of education provided both in theory and in practical areas as well.
The ceremony was concluded by words of wisdom from Chairman of Universal Enterprises, Mr Mohamed Umar Maniku, and Deputy Minister of Education Dr Abdul Muhusin Mohamed, who wished the graduates good luck and asked that they persevere in their chosen career paths to succeed.