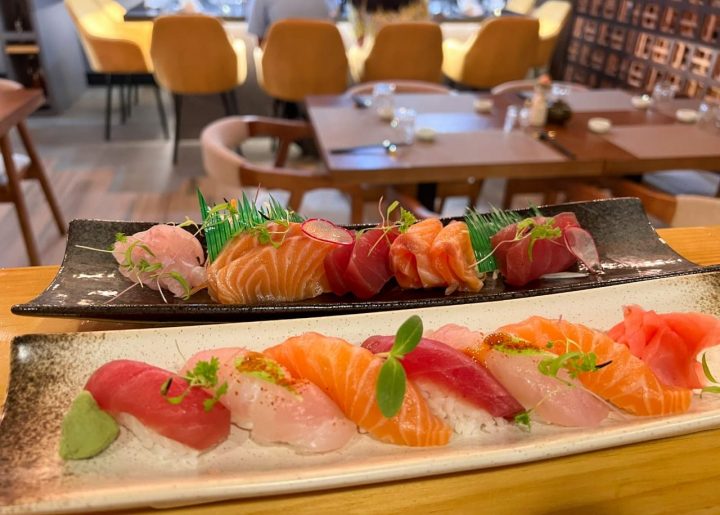 Sushi-zu: New Japanese Restaurant Opens in Male' City
"Sushi-Zu" teppanyaki and sushi restaurant is the latest edition to the dining scene in Male city and is already making its mark as one of "the" places to dine!
Located within Salt Café and Restaurant in the Shinetree Building, Sushi-Zu occupies part of the 6th floor, cleverly hidden behind typical Japanese styled latticed sliding doors which transport you effortlessly into a dining experience more akin to those associated with luxury resorts.
Spearheaded by the charismatic and talented Chef Mohamed Adil, and partnered by Table Top Pvt Ltd, this contemporary Japanese restaurant encapsulates Chef Adil's drive, enthusiasm and passion for fine food.
Beautifully designed with the same painstaking attention to detail Chef Adil applies to his food, nothing in Sushi-Zu has been overlooked. Calm yet tasteful colours merge with hand crafted interlocking Kumiko wood, elegant tableware and staff in distinctive vibrant uniforms, to provide an ambience that is relaxing, yet mingled with anticipation.
Officially opened by Vice President Faisal Naseem earlier this month, booking is highly recommended, especially if you want one of the sought after places at the Teppanyaki table where you are treated to show of flair and dexterity as dainty morsels appear that tantalise both the senses and the eyes with a mere flick of the wrist.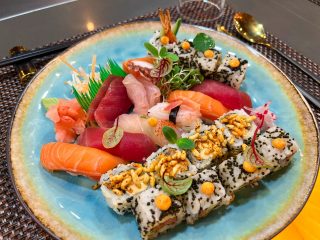 Featured Image: Chef's Sushi Platter, Sushi-Zu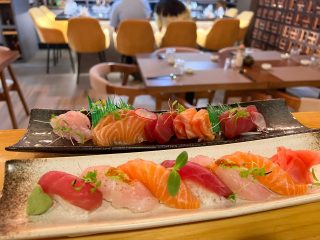 Featured Image: Nigiri and Sashimi, Sushi-Zu
While sushi and sashimi are dishes diners are well versed in, with eye catching platers of a nigiri, sashimi and maki rolls toc choose from, teppanyaki provides an experience where the food is cooked on a hot plate (The Teppan) right in front of your eyes. Diners can choose from an array of fresh seafood, meats and vegetables and have them grilled (the Yaki part) to perfection by one of the teppanyaki chef's (Chef Bhuwan or Chef Lal) who accompanies the process with explanations, conversation and acrobatic showmanship as utensils flip and twirl whilst your chosen fare is expertly prepared and cooked.
Sushi-Zu has two teppanyaki grills, each with seating for eight people that follows the traditional concept of teppanyaki dining. This is where you sit when a seat becomes free, so multiple dishes are cooked in seamless symmetry, reducing the waiting time from diners, and providing the perfect atmosphere for convivial conversation with complete strangers, who by the end of the meal are likely to be new connections or friends.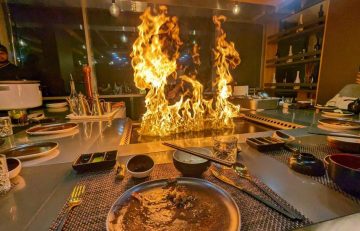 Featured Image: Teppanyaki Grill Table, Sushi-Zu
Offering menus with both teppanyaki and sushi experiences, diners are spoilt for choice, however Chef Adil and his team are on hand to find the perfect solution to a diner's preferences as there is something to suit all palates, and pockets. Ingredients are the highest quality, with locally sourced tuna, reef fish and seafood, whilst Australian and Wagyu Beef are flown in chilled as opposed to frozen. All are accompanied by fresh microgreens and presented with the precision "art on a plate" style that Chef Adil is synonymous with.
To accompany your meal the efficient and attentive staff have a range of speciality mocktails, fresh juices, non-alcoholic wines and filtered sparkling or still water.
As a sweet finale to your meal, Sushi-Zu offers three different dessert options, each with its own unique flavour combination that melt in the mouth. Choose from green tea lava cake, mango and coconut, and yuzu melon dessert. The mango and coconut is Chef Adil's version of a Japanese egg custard, topped with fresh mango, almond crumble, toasted coconuts and edible flowers, making it light, delicious and eye catching dish to complete your meal with.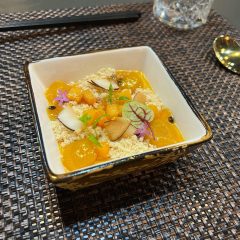 Featured Image: Mango and Coconut Chawanmushi 
In a fitting finish there is an elegant selection of teas to sip and savour, giving you time to reflect on a memorable dining experience and enjoy the atmosphere that is an oasis of calm away from the hustle and bustle of Male city.
For more information, or to book contact Tel: +960 333 6669 Instagram: Sushizumv
Note: Sushi-Zu is currently closed on Tuesdays