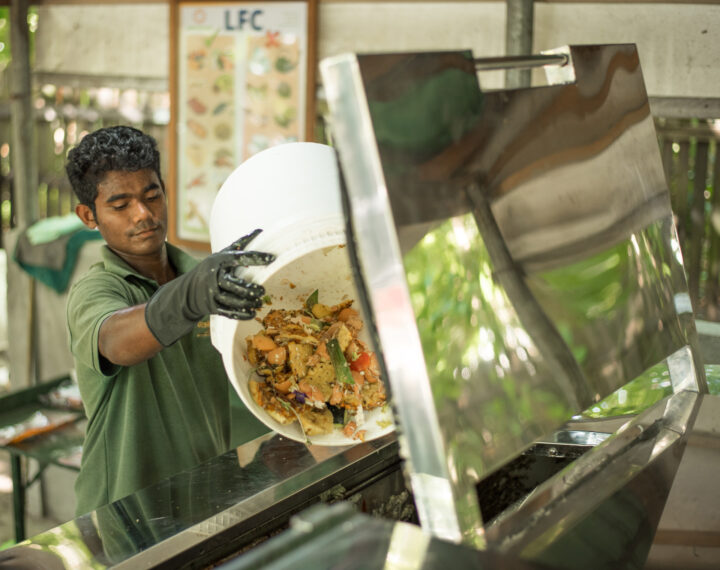 Dusit Thani Maldives: Sustainability meets the Power Knot LFC Bio-Digester
Roughly, a third of edible food produced for consumption is lost or wasted, accounting to 1.3 billion tonnes per year. While there are various methods to safely discard biodegradable and organicn waste, the general practice exercised in a number of hotels and resorts across the country is to dump it in the ocean. While this comes with a number of consequences, hotels and resorts are the most affected, as they rely on the cleanliness of the beaches and reefs to attract visitors.
While composting is one of the most effective means to stabilise and convert ecological waste, Dusit Thani Maldives – the five-star resort that blends graceful Thai hospitality with the unparalleled luxury setting in the Maldives, has turned towards innovation and technological advancements to offset the global problem. The answer to reducing its carbon trail is the Liquid Food Composter (LFC) Bio-Digester by Power Knot.
"At Dusit Thani Maldives, sustainability is in our DNA; we are committed to making sustainability a part of everything we do. Our journey towards a greener planet and a sustainable future come with the support and engagement of our staff, partners and guests," explained Mr. Thomas Weber, General Manager at Dusit Thani Maldives.
The Power Knot LFC Bio-Digester is marketed and distributed in the Maldives by Hospitality Depot Pvt Ltd – a hospitality products and solutions provider. The aerobic bio-digester, which disposes of food waste safely and cost-effectively, is a practical substitute for the old-fashioned discarding of food waste. "Technicians from Hospitality Depot came for the installation and did a commendable job. They also trained our team members; my deputy and I, in addition to eight garden staff who handle segregation of food waste," explained Ajith Kumar, chief engineer at Dusit Thani Maldives.
On any given day, Dusit Thani Maldives has approximately 220 guests and 250 staff, producing 500 kilogrammes of food waste. Dusit Thani Maldives employs the LFC-500 model, a fully enclosed automatic biodigester that safely disposes of a maximum of 500 kilogrammes within 24 hours. It decomposes food waste by using a series of processes in which bacteria breaks down the recyclable materials in the presence of oxygen. The matter that comes out of the machine is grey water that is environmentally safe and can be cleared down the drain. It comes with a colour screen interface and connects to a web-based cloud so that everything related to the machine can be monitored remotely.
How does Dusit Thani Maldives deal with the byproduct? "The byproduct which comes in the form of a liquid is directly connected to the Sewage Treatment Plant, where it is filtered and reused to water the gardens and plants," Ajit explained.
The sustainability practices at Dusit Thani are centred around conserving the environment, protecting all forms of life, building resilient local communities and supporting local economies to promote inclusive economic growth. For Dusit Thani Maldives, sustainability is not just a trend, but an essential way of life.
"Embracing sustainable practices like phasing out the use of single use plastics including plastic straws and bottles and the installation of solar panels, are just simple examples of our persistent commitment to preserving the natural environment. We are working to implement more initiatives to care for our environment," Mr. Thomas Weber added.