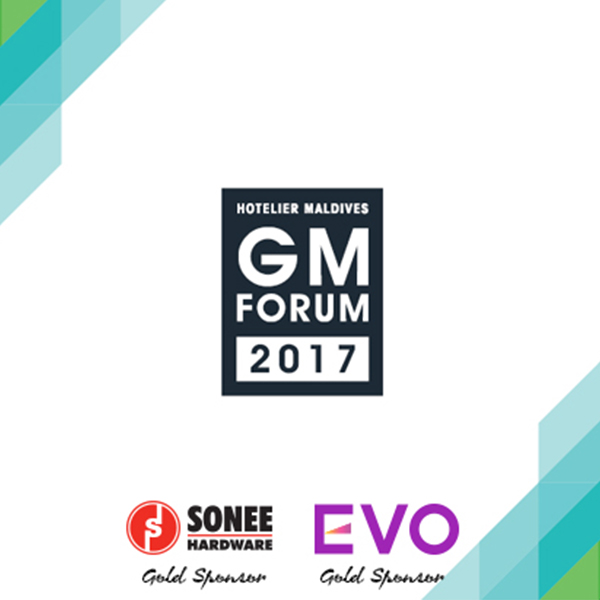 Evo Home and Sonee Hardware sponsor Hotelier Maldives GM Forum 2017
Evo Home and Sonee Hardware have signed on as gold sponsors of Hotelier Maldives GM Forum 2017. The annual gathering of General Managers – the second such forum hosted by Hotelier Maldives – would be held on April 19, at Hulhulé Island Hotel, and will see industry leaders, policy makers, resort operators and owners come together to discuss on an array of pressing issues in today's hospitality landscape.
The forum provides sponsors with direct access to the best of the country's hotel industry. As such, it is an ideal place for sponsors to position their brand, meet potential customers and existing clients and gain access to the General Managers who are key decision makers approving budgets and driving their properties forward.
"It's a great pleasure for Sonee Hardware to contribute to one of the biggest events of the tourism industry. The excitement of sharing the experiences in such a forum is really astonishing. As a leading supplier of building materials and service provider together with our affiliated top international brands take pride sponsoring this event," said Mohamed Abrar, Asst. Marketing Manager of Sonee Hardware.
The event also facilities face-to-face meetings through the networking events, providing sponsors with the chance to make an impression on potential customers. Sponsorship packages ranging from platinum to silver provides sponsors enhanced branding opportunities along with editorial support on all hotelier platforms including print, online and social platforms, in addition to the face-to-face networking opportunities.
Speaking to Hotelier Maldives after the forum in 2016, Winter John Alexander, Manager-Maldives/Seychelles Operation, Ranjanas Ceramics – a silver sponsor of the 2016 forum, noted the importance of the event for suppliers.
"To put some people in the room and hold an event is easy, but to have the right people, right topics and the right atmosphere is different – that is what the Hotelier Maldives GM Forum 2016 provided," he said.
Platinum Sponsor of the 2016 forum, Bestbuy Maldives also noted that: "It was also a great networking opportunity for positioning our brand and meeting with both potential and existing clients."
The GM Forum serves as a networking and knowledge sharing platform and brings together hotel owners, operators, industry professionals, government officials, suppliers, and other industry stakeholders.
For general inquiries and sponsorship requests, please contact Abdulla Navaal on navaal@167.172.155.58 or mobile +960 791 0868.