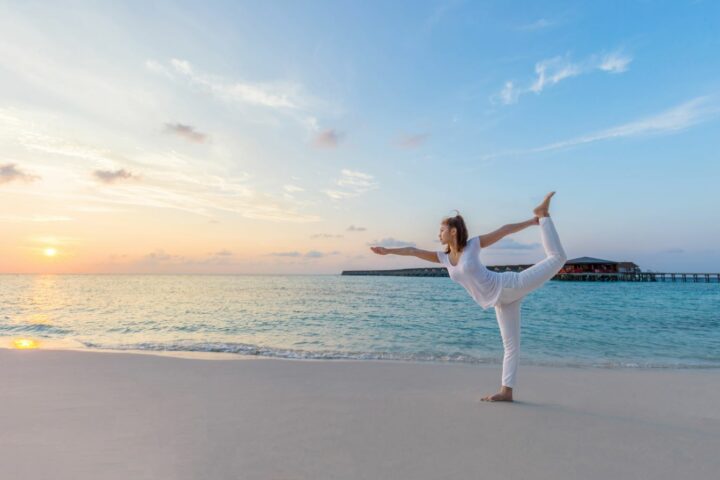 Exceptional wellness experiences in Maldives for 2018
Spa treatments, morning yoga and stretching. It all sounds great, and is offered at all the resorts here in the Maldives. But conscious travellers have evolved past the standard spa experiences and have started seeking more of a holistic approach to wellness, or wellbeing if you will.
Guests have started to take more interest in alternate forms of healing, fitness activities that are more fun than rigorous, and wellness platforms that are beyond yoga. Here we look at some of the exceptional experiences that have been offered in the Maldives this year and some that are coming up soon.
Radiate beauty at The St. Regis Maldives Vommuli
To start off with, yes, beauty has always an important aspect of wellness in this era. Earlier this year, guests of The St. Regis Maldives Vommuli Resort had the pleasure of spending one-on-one time with Katrina Valente, an internationally acclaimed beauty and facial consultant. They had the opportunity to enjoy customised facials, anti-ageing treatments and techniques of Shamanic Reiki healing.The St. Regis Maldives is also renowned to offer holistic and unparalleled spa experiences at their Iridium Spa. With the Maldives' largest heated seawater hydrotherapy pool, the resort is truly channelling the ambience of Maldives and what the environment has to offer.With residencies such as Valente's, the resort is providing unique experiences by exploring the lesser offered aspects of wellness.
Balance the chakras at Gili Lankanfushi
Gili Lankafushi, a name synonymous with wellbeing and luxury, has taken it a step up by introducing a wellness programme for the whole year.Kick starting the programme in March, Jasmine Hemsley took up residency at the resort to mix things up with a revolutionary programme. She led soothing sound bath sessions to help guests switch off their minds, open their hearts and nurture their spirits with waves of therapeutic crystal tones to balance the chakras.Touching on ancient principles of Ayurveda, she also taught signature recipes from her new Ayurvedic cookbook.
In April, guests were treated to the presence of Rebecca Dennis, a specialist trained in transformational breathing which is a technique used to harness the power of conscious breathing to unblock emotions and release tension.Guests were able to enjoy special workshops where they consulted Rebecca on issues such as stress, anxiety, addiction and sleep problems. It's as simple as breathing. August and November will also see the resort host incredible women who are known around the world as unique holistic practitioners.
Feeling fit at Coco Bodu Hithi
Gone are the days when fitness was for a handful of people spending long hours at the gym. Nowadays, people enjoy aspects of staying well by incorporating fitness into their life some way or the other. For those travelling, it's mostly about the experience and how it's woven into their holiday environment.At the five-star luxury boutique resort Coco Bodu Hithi, they have welcomed the fitness element of wellbeing with Carly Rowena. A personal trainer, fitness blogger and author from the UK, Carly took up residency at Coco Bodu Hithi in June to conduct sessions of floating fitness.Her time on the resort was spent guiding guests on bespoke session involving functional movements combined with balance, cardio and core based movements, all performed on stand-up paddle boards in the infinity pool. For those looking to stay active on their holiday and have a good time, this is a fun, active and healthy approach to wellbeing.
Body renewal at COMO Maalifushi
Sometimes, all you need is a week-long retreat to invest in your body, and COMO is offering just that in September. With fitness expert Amy Buck and nutritionist Eve Persak, COMO Maalifushi is opening up a six-night retreat to help guests kick start a healthy life.The planned workouts promise noticeable improvements in body composition and includes aqua fitness, core strength training, Pilates and circuit training. Alongside this will be a range of talks on nutrition, eating right, and personalised dietary recommendations supported by a carefully curated menu for those that take part in the workshop.For guests that find it challenging to incorporate such a lifestyle into their hectic daily routines, their holiday can be a platform to launch such a regimen and truly renew the body while enjoying their time in paradise.Ishrath is a Contributing Editor specialising in wellness at Hotelier Maldives. She is also a freelance writer and content curator from the Maldives, with a passion for travel writing. With a Bachelor's in International Tourism Management and a Master's in Business Administration, Ishrath is keen to keep exploring the Maldivian travel and hospitality scene. Four things she is obsessed with; sunny days, quiet beaches, lone hammocks and coconut palms!