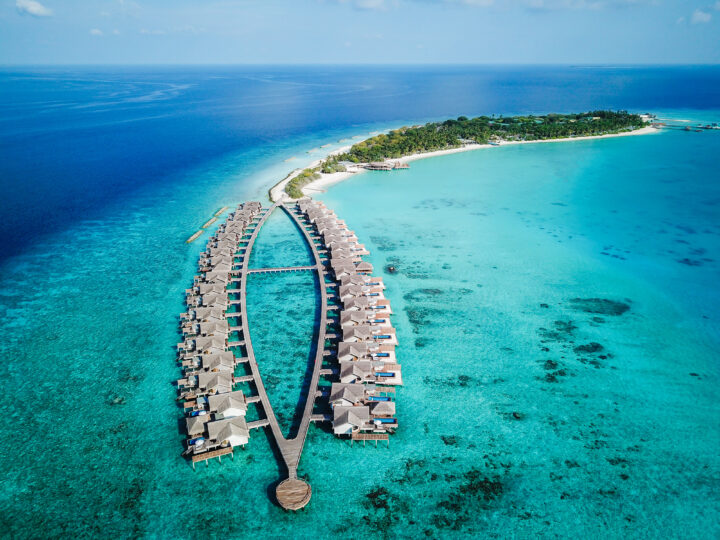 Fairmont Maldives Sirru Fen Fushi: A tropical paradise awaits discovery
Located in Shaviyani Atoll, a 50-minute flight from Velana International Airport, the new Fairmont is just far enough to host you in a place of serenity, peace and harmony with nature. As you approach Sirru Fen Fushi on the seaplane, something about the island catches your eye, and it's not the lush tropical greenery, vast turquoise lagoon or a strand of water villas, it is the elegant pool which goes all the way across the island, 200 meters from one shore to another. Just like that, your attention is captured, and it is merely the beginning of a beautiful journey in this newly opened Fairmont resort.
Nestled amongst an untouched marine environment, with a nine-kilometre-long stretch of reef abundant with marine life, Fairmont Maldives offers some of the most pristine diving locations in the region, unsullied by many of the degradations that other reefs in the regions have endured.Possibilities of face-to-face encounters with the marvels of the undersea is strong, with an abundance of manta rays, eagle rays, sting rays, black tip reef sharks, and over 250 species of fish. One school of manta rays spotted near the island numbered 15, indicating the possibility of a manta ray cleaning station and feeding ground nearby.With 130 beautiful resorts in the Maldives, it is becoming ever more so challenging to surprise the discerning guests, and yet this property has managed to achieve that in numerous aspects. The interior of the villas has a distinct character, with teal coloured doors and nautical theme décor found throughout the resort, it is picturesque, memorable and cosy at the same time.Bathrooms are spacious with absolutely gorgeous copper fixtures and in some villas simply amazing copper baths, which undoubtedly deserve a special mention, as somehow it fits perfectly right in. All 120 villas, on the beach or over water, have a private pool shall you wish not to swim in the crystal-clear sea.As if this was not enough, the resort offers a one of a kind experience in the Maldives to stay in one of the five tented villas, hidden in the jungles amongst Banyan trees, palms and screw pines. The tented villas, which are family-friendly, offers a luxury camping experience and adventure; think of fishing excursions and private chefs to prepare the catch, listen to local songs, magical myths and stargazing tales by a bonfire, and jungle island safaris. With 30% of the accommodation being family-friendly, the resort in well-positioned to welcome the growing audience in the region.
Three of the island's restaurants offer culinary delights day and night. RAHA Market, the dining hub of the resort, presents a splendid buffet breakfast, à la carte lunch, and a themed buffet for dinner, with live stations and super fresh local and imported produce. The AZURE is a heaven for seafood lovers, set over the water, right over the edge of the beach, enjoy impeccably prepared fish or lobster with a bottle of fine wine from the wine cave, followed by an exquisite selection of cheeses from the cheese cave right next door.
Signature restaurant KATA takes the best of the Japanese cuisine and then adds a Maldivian twist to some of the dishes. The rooftop bar overlooking the sunset makes it really an ideal place to have an urban-inspired cocktail or pre-dinner drink, before a culinary event.ONU ONU Bar is a true statement to Fairmont Sirru Fen Fushi's commitment to protecting the environment, it is entirely made of sustainably grown Bamboo, designed in a way to utilise natural ventilation, reduce carbon imprint while looking like an architectural masterpiece. Enjoy a signature cocktail or any other refreshing beverage from an extensive menu overlooking the lagoon or the pool.
The Arts Studio will keep both adults and kids busy, on a rainy day or any time you feel creative.Paint a Maldivian sunset, sunrise or an underwater life scene on a coconut, wooden plaque or canvas. The notion of creative expression and natural discovery is knit into the offering here, from photography workshops to painting to star-mapmaking. Make a unique piece of pottery, jewellery or a dreamcatcher, alone or with your loved ones, for yourself or a gift to take away to your part of the world.The choice is yours, only the thrill of making something beautiful with your own hands is guaranteed. There is also a separate teens club, which is fully equipped with entertainment options and games, as well as an amazing kids' club featuring a jumping net above the main indoor playground area.Find your energy at Willow Stream Spa, the signature luxurious spa brand of Fairmont, which offers a full spectrum of health and beauty services, designed to help you rejuvenate in a peaceful, authentic environment. Holistic products by brands such as Subtle Energies and Harnn are used for the treatments, which combine natural methods with effective modern techniques.
Other wellness facilities at the resort such as the outdoor and indoor gymnasium, group fitness classes, personal training sessions, yoga, mineral baths and open-air Jacuzzi, will contribute to the overall experience of finding your energy centre and feeling your best self.Hire an Azimuth yacht for a private cruise or an adventure with friends; for a quick one hour trip exploring island surroundings; a sunset cruise with the dolphins and champagne canapes; an overnight experience in the Indian Ocean in total tranquillity and with stargazing; fishing rip; or an island-hopping tour to explore life on a local island or an uninhabited one.The Sub Oceanic Water Sports Centre has the latest equipment and gadgets for you to get the most out of the underwater world experiences, with the highly professional staff guiding you all the way.One of the more unique features of Fairmont Sirru Fen Fushi will certainly be the underwater museum of sculptures created by the globally celebrated eco-artist Jason deCaires Taylor, which is the first installation he has created in the Indian Ocean.
Taylor's works are essentially artificial reefs, formed of carefully manufactured sculptures, created using non-toxic, pH neutral marine grade compounds. They are free from harmful pollutants, becoming an integral part of the local ecosystem. Guest staying at Sirru Fen Fushi will be able to snorkel and view the installation as well as contribute to the artificial reef that will grow around it over time.Regardless of whether or not you have been to the Maldives before; if you are after gastronomical masterpieces or simple authentic dining experiences; couple or family travellers; spa and wellness enthusiasts or book readers; living overwater or in the jungle type of explorer of the world; you will surely be amazed by Fairmont Sirru Fen Fushi and what this resort has to offer.
Room Types
Beach Sunrise Villa – 360 sqm + 14 sqm pool area
Deluxe Beach Sunrise / Sunset Villa – 495 sqm + 25 sqm pool area
Two-bedroom Beach Sunset Villa – 750 sqm + 48 sqm pool area
Three-bedroom Beach Sunset Villa – 1,155 sqm + 48 sqm pool area
Water Sunrise Villa – 164 sqm + 19 sqm pool area
Grand Water Sunset Villa – 235 sqm + 19 sqm pool area
Two-bedroom Water Sunrise Villa Sunset Villa – 428 sqm + 36 sqm pool area
Three-bedroom Water Villa – 525 sqm + 73 sqm pool area
Tented Jungle Villa
525 sqm Including 1 95 sqm deck
Activities and Services
Art Studio
Sunset Dolphin Tour
Sunset Fishing (Line Fishing)
Water Sports
Local Island Experience
Local Culture Tours
Castaway Picnics
Overnight Cruises
Plant a Tree
Coral Restoration
Cooking Classes
Destination Dining
Tennis
Beach Volleyball
F&B Outlets
Raha Market Restaurant (main buffet restaurant)
KATA – Flavours of Japan
AZURE – Epicurean Indulgence
ONU ONU (pool bar)
In-room dining