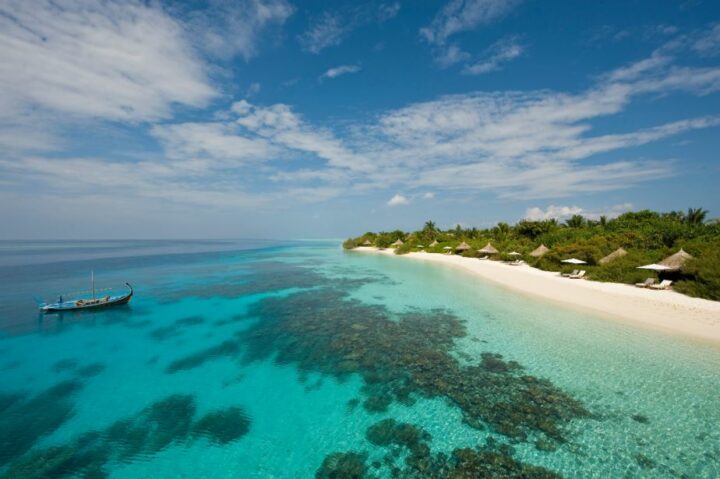 Four Seasons Landaa Giraavaru: A pristine & exotic wilderness refuge
Located in Baa Atoll, a UNESCO World Biosphere Reserve, Four Seasons Landaa Giraavaru is a sophisticated tropical resort that leads the way in sustainable luxury living. Manta ray research programmes and turtle conservation thrive alongside an authentic Ayurvedic retreat and high levels of service on this stunning tropical island in the Maldives.
Soon after I arrived at Velana International Airport the Four Seasons Airport greeter gave me a friendly hello and took care of my luggage. I was connected to the Four Seasons seaport lounge, for a brief wait before a 45-minute flight to the resort. As the seaplane lands near a floating platform, a Four Seasons boat arrives and whisks me to the resort. Upon arriving I was greeted by Guia, the Marketing Manager, who kindly helps me with check-in and escorts me to my room by electric cart.
The resort's spacious entrance is a palm-lined boulevard that leads to its reception. It carries a sense of tropical luxury. The resort's land villas are well-spaced around the island and are freestanding houses surrounded by coral stone brick walls with a mezzanine living room gazebo and a private lap pool in the garden.My villa, a 1,500 sq. ft. land based-villa, felt private and authentic, with its private walkways leading to the beach and its pool gardens amid mature tropical planting. The style of the 103 villas is a striking fusion of traditional Maldivian village atmosphere and minimalistic design; upon entering my villa, I found the space wonderfully friendly and welcoming.The villas are equipped with high wooden ceilings with a spacious sitting area next to one of the most comfortable king-sized beds I've slept on. Behind the bedroom is a large walk-in closet big enough to fit four full-sized luggage. The bedroom is simply decorated with subdued tropical colours and sophisticated local artefacts that blend well with the tropical greenery. The bathroom is sleek and contemporary finished with polished concrete with custom-made bathtubs and indoor and outdoor showers.
A tour of the villas also revealed there are also dedicated Family Villas and Water Villas. The Sunset and Sunrise Water Villas offer unobstructed views of the Indian Ocean, whilst the 8,611 sq. ft., three-bedroom Landaa Estate triumphs with its private 262 ft. long beach, stargazing lounge, two pools, and a vast al fresco living space.Following the tour, Guia takes time to explain the ongoing projects at the Marine Discovery Centre, which works to enrich the guest experience through education, research and conservation of the marine environment. The centre is the base for pioneering research on manta rays and coral reefscaping, leading to knowledge that will help preserve at-risk species. Led by a team of marine biologists from Malé-based environmental consultancy, Seamarc Pvt Ltd, activities in the conservation program guide guests through the alluring underwater world around the islands. The project enables visitors to experience once-in-a-lifetime encounters with a variety of marine creatures while learning about their life and habitat, and even participating in some of the Resort's conservation projects.
She then tells us the story of Juanita, a juvenile Olive Ridley turtle, who was found floating close to Kandooma Resort in South Malé Atoll. She had likely been trapped in a drifting ghost net, causing loss of her right front flipper, and lacerations to her carapace and hind flippers. I was moved to see Juanita's wounds were healing nicely. With the love and care of the staff; Juanita had proven to be a fighter.
Though I had no time to spare for a dive, I was informed the coral reefs are lush and full of life. The Marine Discovery Centre's coral propagation project has an activity that allows you to reefscape corals on a man-made frame, sponsor it with your name and date and place it in the water.  It sounds like a neat experience and a daily help to replenish the resort's own house reef.Landaa Giraavaru is also known for their on-call Manta encounters every year between June and November.  An on-call service is available where guests are provided with a cell phone and call when there is a sighting.  Guests can then take an exhilarating speedboat trip to hotspots such as Hanifaru Bay or Bathalaa to snorkel with mass gatherings of the gentle sea giants that are common in the Baa Atoll.The Marine Discovery Centre is a great place for children to interact with the fish and allows kids to immerse themselves in fun displays and a range of activities, including visiting the Fish Lab, helping the marine biologists transplant coral frames, and learning to snorkel in the Coral Garden amongst the work of the Reefscapers.
Four Seasons Resort Maldives also offers a personal submarine excursion on the DeepFlight Super Falcon 3S, bringing guests up close and personal with the natural wonders beneath Maldivian waters. The three-seater personal submarine is an environmentally-friendly, battery-operated submersible that never lands on the seabed or reefs. One can expect to witness coral formations, tropical fish, and sea creatures such as sharks, dolphins, rays, and turtles at depths of up to 37 meters.With a choice of three vast pools, an outstanding kids club, a teenager's club, tennis courts, free non-motorised water sports and a dizzying range of motorised water sports it's not a place where you can easily be bored.Though famous for its untouched beaches and turquoise waters, the tranquil Maldives also possesses incredible healing power. It is no easy feat to find a more authentic Ayurvedic Retreat outside India than the 3-acre Spa at Four Seasons Landaa Giraavaru that stretches from the heart of the island to the middle of the lagoon. Here, in-house physicians work alongside yoga teachers, therapists and acupuncturists selected for their intuitive and healing qualities from Indonesia, Bhutan, India and other spiritual hubs.
Four restaurants and four lounge bars dotted around the island offer guests a wide choice of destination dining. A lot of people call Al Barakat, the best restaurant of the resort featuring fine-dine Lebanese, Moroccan and Armenian cuisine and a spectacular Shisha bar on the water. Decorated with hundreds of Arabian lanterns; the food here is also excellent if you're looking for the regional specialities of Lebanon, Morocco and Armenia.
A unique way to experience the Maldives is the Four Seasons Explorer: a 39-metre, three-deck catamaran that can accommodate up to 22 guests on a marine and cultural adventure into the undiscovered Maldives, visiting virgin dive-sites, isolated reefs and uninhabited beaches.
Our lavish Lebanese mezze dinner, graciously hosted by Armando Kraenzlin, the Regional Vice President of Four Seasons Resorts Maldives and General Manager of Four Seasons Landaa Giraavaru, that consistently provides pitch-perfect service, was a memorable experience indeed. The resort's Al Barakat Shisha Bar provides the option to have top-notch rose wine and shisha with your legs hanging off the jetty watching the fish and eels below.That said, visit Blu for lunch. Blu was my favourite restaurant.  It overlooks the two-kilometre lagoon and the overwater villas.  It's an Italian cuisine restaurant that you can't get enough of.  The restaurant serves light antipasti, pizza and pasta during the day and fine Italian cuisine in the evening. If you're in the mood for something special, simply ask the staff.They are all unbelievably accommodating at this resort and always do their best to satisfy your hunger. I loved the seafood ceviche and even managed to have it twice.
This is a purely Maldivian resort: wonderfully conceived, delightfully run and home to a truly mixed international crowd. Should you desire more, the resort now runs its own private island, Four Seasons Private Island at Voavah, a completely self-contained creation on a beautiful nearby island that can sleep up to 22 guests in seven bedrooms. It comes complete with three pools, its own sandbank and private yacht (yes, the private island comes with its own private yacht).
ESSENTIAL FACTS ROOM TYPES
Beach Bungalows with Pool
(27 units/interior 75m²/exterior 91m²)
Beach Villas with Pool
(22 units: interior 137m²/exterior 260m²) have a 12m lap pool
Family Beach Villas with Pool
(8 units: interior 164m²/exterior 260m²)
Water Villas
(28 units: interior 86m²/exterior 53m²) and Water Villas with Pool
(10 units: interior 86m²/exterior 67m²)
Two-Bedroom Family Beach Bungalows with Pool
(2 units: interior 159m²/exterior 91m²)
Two-bedroom Water Suites
(2 units: interior 182m²/exterior 200m²)
Two-bedroom Land and Ocean Suites
(2 units: interior 280m²/exterior 400m²)
Two-bedroom Royal Beach Villa
(1 unit: interior 310m²/exterior 890m²)
Three-bedroom Landaa Estate
(1 unit: interior 800 m2/exterior 2000 m2)F&B OUTLETS
Blu Restaurant and Blu Bar (Italian)
Al Barakat (Lebanese and Moroccan)
Café Landaa (Indian, Asian and International)
Fuego Grill
Seabar
Five Degrees North
In-Villa DiningACTIVITIES AND SERVICES
The Spa and Ayurvedic Retreat
Diving
Marine Discovery Centre (MDC)
Reefscapers
Maldivian Manta Ray Project
Landaa's Fish Lab
Landaa's Turtle Rehabilitation Centre
Four Seasons  Youth  Culture Competition
The Baa Atoll Youth Project (BAYP)
Support of the Thulhaadhoo lacquer ware artisans
Support of Kihaadhoo School
Floodlit Tennis Court
Meetings and Functions Rooms
Weddings and Honeymoons
Water Sports Centre
Kids Club
Teen Centre
Gym
Snorkeling
Excursions
Cultural Visits