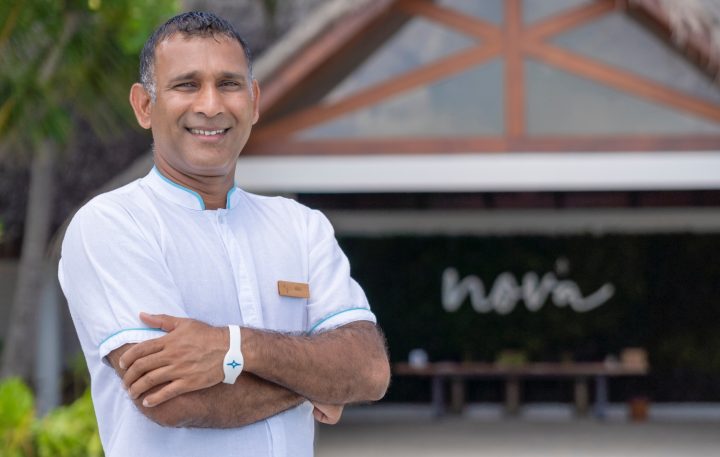 From reluctant student to passionate hotelier: Inspiring journey of Nova Maldives' GM Abdulla Aboobakuru
As a child growing up in the Maldives, Abdulla Aboobakuru dreamed of flying high in the skies as a pilot, instead he planted his feet firmly in the world of hospitality. Now the General Manager of Nova Maldives, Aboobakuru reflects on the experiences that shaped his long career over 24 years working in resorts.
"Two days after my exam finished, I went to Hilton for an interview," he said. "I conveyed my readiness to embrace any opportunity within the realm of hotel management, as long as it allows me to immerse myself in the dynamic and enriching hospitality industry." Lady luck favoured his pragmatism, and he was hired as a restaurant cashier in finance. He began absorbing the ins and outs of resort operations by night, serving guests in food and beverage.
Within 6 months, Hilton (Conrad Maldives Rangali Island) offered Aboobakuru a management trainee program. "I went through training in all departments, including housekeeping, maintenance, kitchen, front office, reservations and HR," he stated. After considering options in finance and food and beverage, Aboobakuru chose the latter. "I'm a people person…that's why I wanted to be in operations," he asserted.
His F&B training complete, Hilton awarded Aboobakuru a scholarship to study hotel management in Australia, on the condition that he return to work for them afterwards.
Stints at three other major resorts allowed Aboobakuru to gain well-rounded operational expertise. "My goal was to become a GM one day," he revealed. After mastering roles in F&B, rooms and front office, an opportunity arose to oversee food and beverage at a prestigious resort known for its culinary experiences.
Two years later, Aboobakuru was promoted to F&B Operations Manager. His capabilities were becoming known, and he was soon tapped to assist with pre-opening preparations at a sister resort. This led to the pivotal role of Executive Assistant Manager Rooms at Kandima. After a year I was offered the Resort Manager role.
Three rewarding years later, Aboobakuru was appointed General Manager at the bright new star among resorts in the Maldives, Nova. He credits his hands-on approach for preparing him for the top job. "It's crucial to invest the necessary time in learning from others, experiencing their perspectives, understanding their challenges, and aligning with their objectives" he advised.
In his current role, Aboobakuru spends 80% of his time engaging with Nova's soulmates (Nova's employees) and guests. "Stay accessible and maintain open lines of communication" he emphasised. "My sense of accomplishment comes from leading the best team on the island. It is through their dedicated support, that we can ensure absolute guest satisfaction via a superior and consistent guest experience. And if, despite that, any concerns from our guests should arise, I resolve them proactively before their departure," Aboobakuru declared.
When asked about the Maldives tourism industry's rapid growth, Aboobakuru highlighted two key concerns – Human Resources infrastructure limitations and environmental sustainability. "Our current infrastructure is insufficient for training local talent adequately," he noted, citing that foreigners occupy 60-65% of resort jobs.
He also emphasised the sensitivity of nature and praised his company's strong commitment to sustainability policies.
For young Maldivian talent seeking a career in hospitality, Aboobakuru recommended starting from the bottom. "Educational systems don't give you the skills to perform the jobs," he stated. In his view, working up from the ground level is important. "Achieve excellence in your field, build a strong team, nurture your team's growth, and the path to your next opportunity will naturally unfold," he advised.
Though he may not fly passenger jets, Aboobakuru's career did manage to take off. His willingness to learn the basics, begin at the bottom and master every hospitality role along the way prepared him for the top position he now enjoys. For this accidental hotelier, the journey to General Manager reveals that careers can unfold in delightfully unexpected ways.