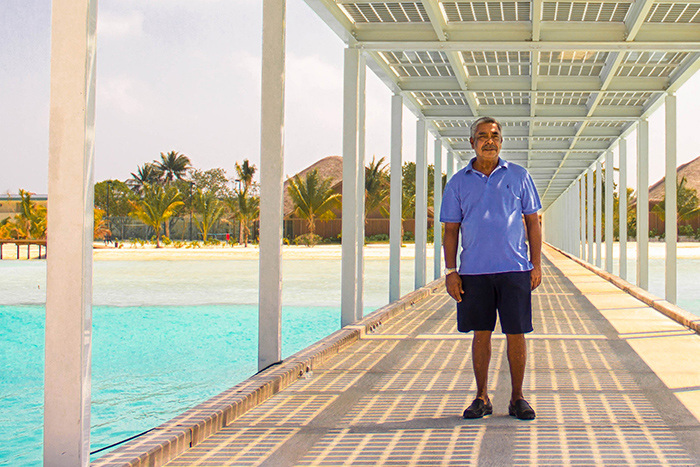 Gasfinolhu – A Pioneer's Quest Continues
Nashiu Zahir
A tiny island resembling a teardrop, surrounded by swathes of clear blue green sea, Gasfinolhu is probably the world's first tourist resort to complete­ly source power from renewable means. The resort is a comfortable 30-min­ute speedboat ride from the capital Male'. One of its owners, Hussain Afeef(Champa), is a veteran of the tourism industry, a pioneer in his own right; who, among other things, introduced a major hotel brand to the country with his partners in Crown Company. But he is self-effacing when he talks about the Gasfinolhu project.
"I did not start with the intention of creating a unique place," he says.
"What motivated me was purely the drive to create something new in the Maldives. If someone wants to call it unique, it's up to them. I just wanted to make Gasfinolhu solar powered."
The resort's uniqueness is undeniable; it is ground breaking in its ambition and inventiveness; in how it exempli­fies a desire to go beyond what is safe and traditional.
One aspect that affected Afeef's deci­sion was economics. "A big resort, with a 600 guest capacity, consumes enough diesel to cost over a million dollars a year," he says. "That makes the fuel costs per day per head very high." Going completely solar will cer­tainly entail savings on fuel. Dr. Ibrahim Nashid, Chairman of Renewable Ener­gy Maldives (REM) too sees migration to renewable energy from an economic angle. "A typical five star resort con­sumes about 8,000 litres of fuel a day," he says. "Every kilowatt of solar photo­voltaics installed would save a litre of diesel every day."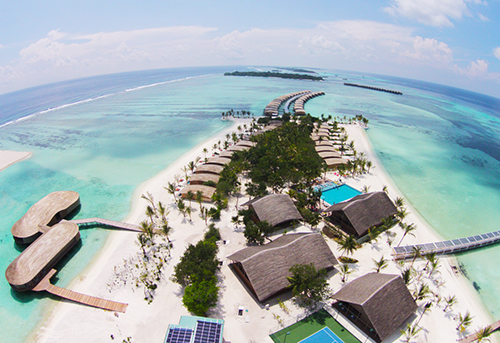 Other aspects that influenced Afeef's decision are the elements of risk taking and a pioneering spirit. About these Afeef, at first, talks metaphorically. "If you want to go fishing, you don't have to pay for each fish that you pull out of the sea," he says. "They are God-given. But to get that fish you need to build a vessel, you need to equip it well before sailing out to the deep seas. Going so­lar is similar; you have the sun, a God-given entity, but you can't just tap its energy without an investment. And this is what I have done. I also wanted to bring the tourism industry to a new level. I don't know if it's going to work one hundred percent of the time, but some­body has to take that risk."
Gasfinolhu caught Afeef's eye over thir­ty years ago, while on trips to his other property, Meeru. "It was just a sand­bank then, with two coconut trees," Afeef recalls. "I had no idea why it was called Gasfinolhu (which roughly trans­lates as 'tree island')."
Back then, Afeef and a foreign partner developed the island as a sort of camp­ing place. "We had cadjan huts, kind of like a Native American tent. They had doors that were propped open by sticks. We had camping beds inside and oil lamps. There was sand on the floor and common toilets for everyone. That was how Gasfinolhu started."
Even then it was sort of ecological, Afeef wryly muses. "We were conscious of the environment," he says. "There was no emission of carbon, we had no generators."
To market the resort, Afeef was in con­tact with Swedish tour operator, Vin­gresor, who arranged tour packages for people under 33 years of age. The island was gradually developed; rooms were constructed with coral and in the early 80s, the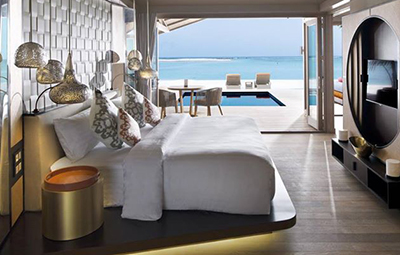 island was leased to Italian company Valtur, who managed the property till 2008, after which Afeef took over.
Afeef wanted to make some changes once he had the property back. "I was wondering what to do with the place," he says. "You had to do something spe­cial with the resort. You could build an­other standard resort, you could build something else, there were so many possibilities."
Afeef and his partner Ibrahim Noor­deen approached one of their suppliers of desalination and sewerage plants in Italy, T & D. They got into talking about tapping solar energy. "It wasn't a new idea as such," says Afeef. "We had so many foreign parties who were floating ideas like going solar. But then, that time, I thought, why not? Why not take the risk?" That was the beginning of Gasfinolhu's green energy revolution.
Gasfinolhu was built in its present im­age by Global Private Limited, a com­pany owned by Afeef and his brother Mohamed Moosa. The power system of the island was developed by T & D. It features over 6000 square metres of solar panels; they are unobtrusive, and in places lend a certain elegance to the island. The panels produce around a megawatt of energy on a daily basis. The resort also has back up power in the form of batteries and generators, for rainy days. The sophisticated power system of the resort is completely au­tomated and programmed via comput­ers to switch from direct solar, battery or diesel energy as needed. A touchscreen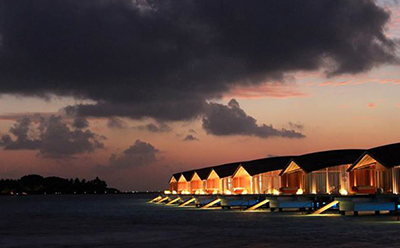 panel at the resort's power hub shows energy consumption in real time, indicating which type of energy (solar, battery or diesel) is being used.
Being solar powered is an important step in becoming truly eco-friendly and it affects the marketability of the re­sort. "There is a market for this sort of place, for certain," says Afeef. "But the thing is, just running the place on solar energy doesn't automatically put the stamp on it. Everything else must also be in line, including the food that is served. You have to go the whole nine yards."
The property, now operated by Club Med and dubbed Finolhu Villas, is their most upscale resort in Asia Pacific. It features 52 luxury villas dispersed on land and over water. The resort cele­brated the grand opening on 31 Janu­ary with the arrival of the first guests.