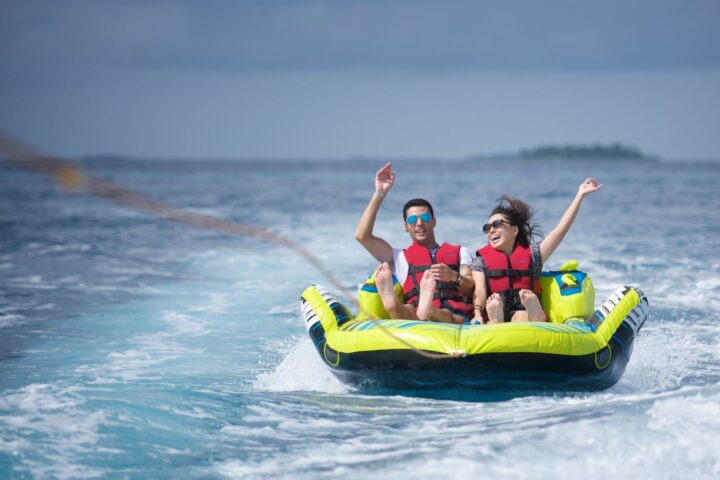 Best Dives Pvt Ltd signs as dive, water sports and excursions operator for JOALI Maldives
Best Dives Pvt Ltd, one of the leading dive and water sports centre operators in the Maldives, has increased its operations to six resorts with the signing of JOALI Maldives. Located in Raa Atoll, JOALI Maldives is sure to be a hotspot destination to visitors following its opening in October 2018.
The centre promises invigorating activities such as scuba diving for beginners and experienced divers, exciting motorised and non-motorised water sports activities, as well as a selection of different excursions to round off the experience. Additionally, Best Dives Pvt Ltd offers their luxury yacht Aicon 56ft to cater to the high profile and high-end guests for private excursions on request.
A 45-minute seaplane ride away, situated in one of the largest atolls in the world, JOALI Maldives is heaving with life in its own private island, surrounded by soothing lagoons, untouched white-sand beaches and a lavish backdrop of coconut palms. JOALI Maldives, even before its opening has already been creating international buzz as one of the top luxury hotel openings in the Maldives this year.
"This is another inspiring opportunity for us to prove why we are one of the leading diving, water sports, excursions and luxury yacht charter service provider in the Maldives. It is also a chance for us to strengthen our brand reputation as a luxury service provider," said Djoana van Melis, The Sales and Marketing Manager at Best Dives Pvt Ltd.Best Dives Pvt Ltd.'s commitment to their guests is to provide them with a unique and memorable holiday experience in the Maldives through professional and personalised service. Its primary goal is to ensure guest satisfaction and exceed expectations. As such, they are constantly looking for new things to introduce in the Maldives, whether it's a new trend in diving or new water sports activity.
2018 has been a year of expansion for the company, and it has so far proven to be one of their best years. For now, they are mainly focused on setting up the team and preparing for their four partner resorts that are scheduled to open in the upcoming months. As for their future plans, Best Dives Pvt Ltd is always on the lookout for new partnerships and expansions not only with local brands but with international brands as well in the coming years. Beginning of 2019 they are opening operations in Olhahali island, Vagaru island, Embhoodhoo lagoon and one more island that will be announced at a later date.
Best Dives Pvt Ltd was founded in 2003 and expanded in 2008, and now operates dive and water sports centres including excursions on five-star luxury resorts in the Maldives via luxury yachts. For more information about Best Dives Pvt Ltd, visit www.bestdivesmaldives.com.