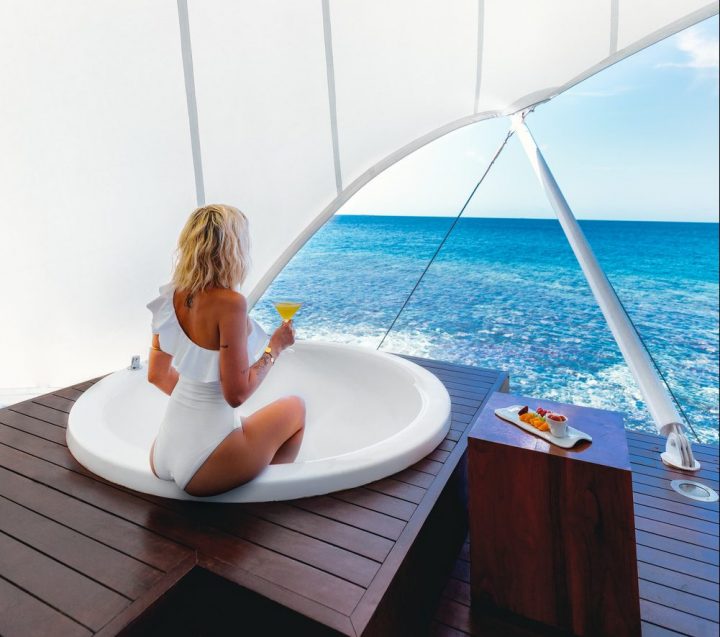 Global Wellness Day in the Maldives
Over the pandemic, people have been drawn to the healing power of nature seeking the socially distanced great outdoors like never before. The coronavirus experience has pushed the nature-worshipping trend to a whole new level. Travellers will continue to seek wild nature in the next year, and the long-term nature tourism explosion is being fuelled by quickening research: Recent studies show the unique power that "blue space"—time near oceans, rivers and lakes­—has on health. The Maldives, with its surrounding Indian Ocean is the perfect wellness retreat. Yesterday, Global Wellness Day (12 June) saw several resorts have embraced the chance to showcase their spa offers and pamper packages. Hotelier Maldives gives readers a flavour of some of the many excellent spas and wellness offerings available.
Fairmont Maldives Sirru Fen Fushi Willow Stream Spa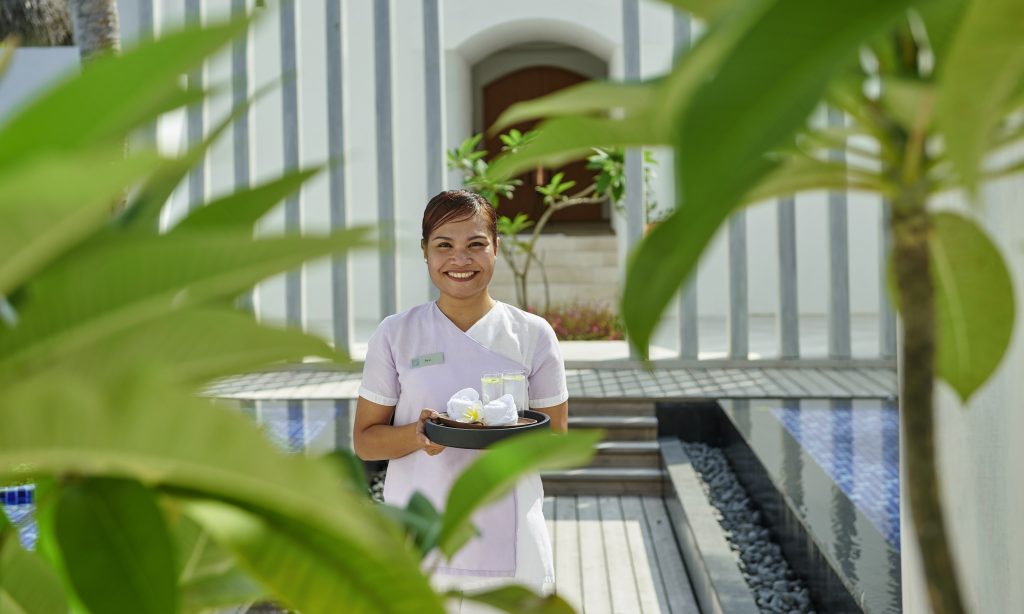 From the tranquil waters of the Indian Ocean to the fragrant herbs in the Maldivian gardens, Willow Stream Spa is an oasis of its own. Balancing the elements earth, air, fire, water and wood put us in sync with nature's equilibrium and Willow Stream Spa at the Fairmont Maldives Sirru Fen Fushi draws its energy and vitality from its natural surroundings. Offering an array of lifestyle options, Fairmont Maldives redefines wellness with a spa menu of curated treatments that are authentically connected to the local island culture. Using products by Subtle Energies who offer ancient traditional Ayurveda experiences while Kerstin Florian combines its four cornerstones of health to offer a rejuvenating sensory journey. Enjoy wellness refreshments and freshly prepared herbal teas in our sea view relaxation lounge. Their 50-metre-long adult serenity pool is enhanced by natural sounds and light, a soothing aromatherapy scent, and water temperatures varying from tropical warm to refreshing cool. Willow Stream Spa nestled in a total of 2000 sqm wellness area, enables guests to rediscover their energy, providing indoor and outdoor spaces to reconnect you beyond the treatment experience. From peaceful guided meditation in lush spa gardens to relaxing yoga sessions overlooking the calm blue sea, this nurturing environment offers a soothing flow of energy on your holistic journey. Located on the Shaviyani Atoll, which boasts one of the country's largest resort lagoon, Fairmont Maldives, Sirru Fen Fushi is more than just a hideaway, it is a "secret water island," dubbed by the locals. With one of the longest infinity pools in the Maldives, the resort has a matrix of 120 luxury villas – a mixture of beach dwellings set in the magpies and stunning water residences perched over the Indian Ocean, or castaway tented jungle villas. All form a seamless blend of chic, understated Maldivian rustic chic with champagne woods, coral-inspired rugs, and bamboo glass chandeliers.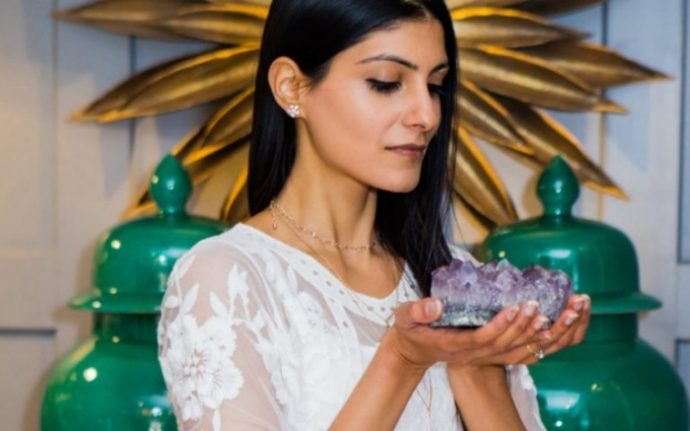 Reiki master and intuitive energy healer Shaylini will visit the resort visiting on October 8 – 28.  Her treatments include Reiki healing, chakra balancing, guided meditations, and energy healing therapies to release emotional, mental, and physical pain, imbalances, and blockages leading to ultimate peace and joy. Reiki is a form of alternative non-invasive therapy commonly referred to as energy healing which removes mental, physical, emotional and spiritual blockages, imbalances and pains. It is effective for stress, anxiety, migraines, digestive issues, pregnancy, back problems and arthritis, among others. The treatment begins with a body scan to diagnose and imbalance energy patterns using techniques and emotional body clearing, vibrational frequency rebalancing, karmic pattern and chakra cleansing plus balancing and energy healing restoration. Through her transformative chakra balancing techniques, Shaylini replenishes the body's life energy from the chakras right through to the cellular level while enabling the release of any depleted energies. This ensures optimal flow and even distribution of energy throughout each chakra, resulting in balance, elimination of disease, and powerful healing and cleansing. Experience deep-healing treatments in the calming waters of the Indian Ocean. Shaylini also provides a unique emotional healing technique that works to release emotional stress. This guided healing experience is a journey to serenity and finding the balance of mind, body, and soul, liberating to the abundance of life. Her meditation techniques will enable your body, mind, and hearts to open more freely to renewal, growth, and inner peace, cultivating a relationship with yourself and become more aware of your thoughts and release emotional, physical, and mental tensions. Designed for couples, families, and teens, the wellness journey offers curated activities centred on rebuilding connection, relationship healing, and nature appreciation through guided meditation.
Visit Fairmont Maldives to pre-book the treatments.
Vilamendhoo Duniye Spa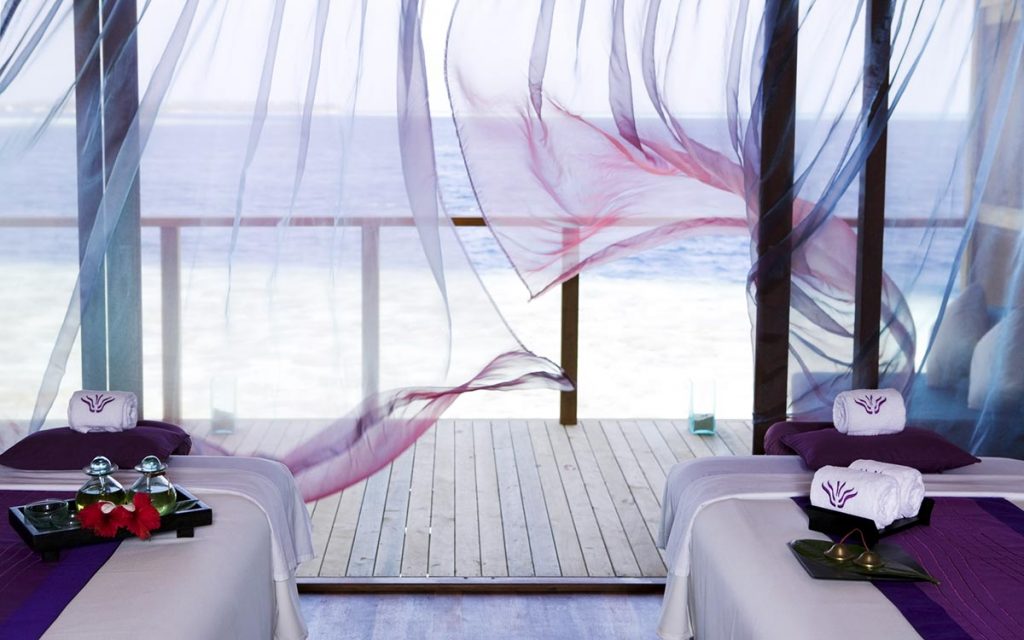 A restorative wellness journey awaits guests at Vilamendhoo who can relax and rejuvenate in an idyllic destination with a splash of adventure. Combine snorkelling, scuba diving and swimming with a myriad of wellness and relaxation experiences such as yoga, spa, and holistic healing. Vilamendhoo is the quintessential destination to soothe the mind, body, and soul. Duniye Spa provides the top choice for 'pampering time' with a variety of treatment that sends your senses on a blissful journey. The spa is an oasis of tranquillity. Its treatment rooms are perched over the water. A professional team of therapists are on hand with hand-selected sustainable treatments that work on whole-body healing and restoration.  The resorts modern and time-honoured therapies from around the globe place emphasis on treatments and techniques from Asia and Africa. The variety of treatments at the overwater spa in the Maldives take guests on a blissful journey for the senses, using only carefully selected, sustainable, and organic products. Duniye Spa is the quintessential destination to soothe the mind, body, and soul.  The crème de la crème of treatments is the ocean dreaming signature massage that incorporates wave-like movements and traditional massage techniques and evokes a deeply relaxing and revitalising experience. There is also a Maldivian Serenity Ritual: a top-to-toe deep pampering experience that uses only 100 per cent pure organic coconut native to the Maldives. This is all designed to leave your skin smooth and hydrated. Additionally, guests love the Full Moon Magic: an enchanting spa ritual designed for couples to alleviate stress and connect them to the vital powers of nature's elements.
LUX* North Male' and South Ari Atoll Maldives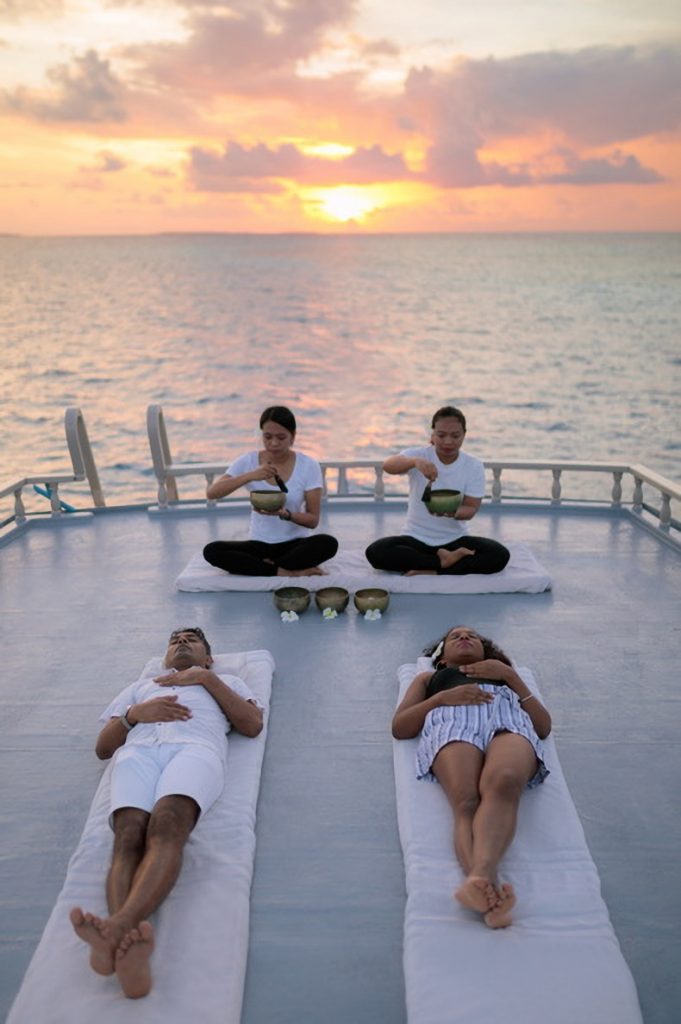 Miami meets the Maldives at this ultra-modern, playful resort featuring whitewashed penthouse villas that evoke James Bond with rooftop decks and private infinity pools; chic restaurants and lounges with live DJs and underwater aquariums; a glass-enclosed over-water spa. Here one can indulge in heavenly treatments. At the moment LUX* North Malé Atoll Maldives has a wellness warrior retreat. Highlights of this package include a Maldivian bamboo massage, daily sunrise yoga, in-villa aqua fit sessions, a cooking class, personal detox and nutrition session and a class in how to make Maldivian coconut. The overwater spa has a sauna, rooftop for yoga, beauty salon, relaxation area and six glass-enclosed treatment villas featuring panels below the beds to view the marine life. This unique blend of health and wellness, harnesses the healing powers of the sea and helps you dive deep into the world of wellness. The seven handpicked assortments are sure to stimulate all your senses – from healthy meals and drinks to restorative aromatherapy, from coral plantation to a kayaking session, from a marine salt body scrub to Tibetan Singing Bowl therapy or gazing at the sunset. It's a healthy mix of wellbeing, nature, organic eating, meditation and self-care. Experience Tibetan Singing Bowl therapy onboard a traditional Dhoni boat at sunset and then learn to cook up a plant-based meal with the chef. Alternatively, take a restorative aromatherapy bath with a glass of sparkling wine or enrol on a healthy beverages workshop with a fitness instructor. Alternatively, help save the resort's reefs by planting corals and snorkelling.
LUX* also has a South Ari resort which boasts 15 spa villas including four overwater villas, a relaxation area with sauna and hammam bath, plunge pool, beauty room, a spa boutique, pedicure and manicure facilities and a yoga grove.
Taj Exotica Resort & Spa, Maldives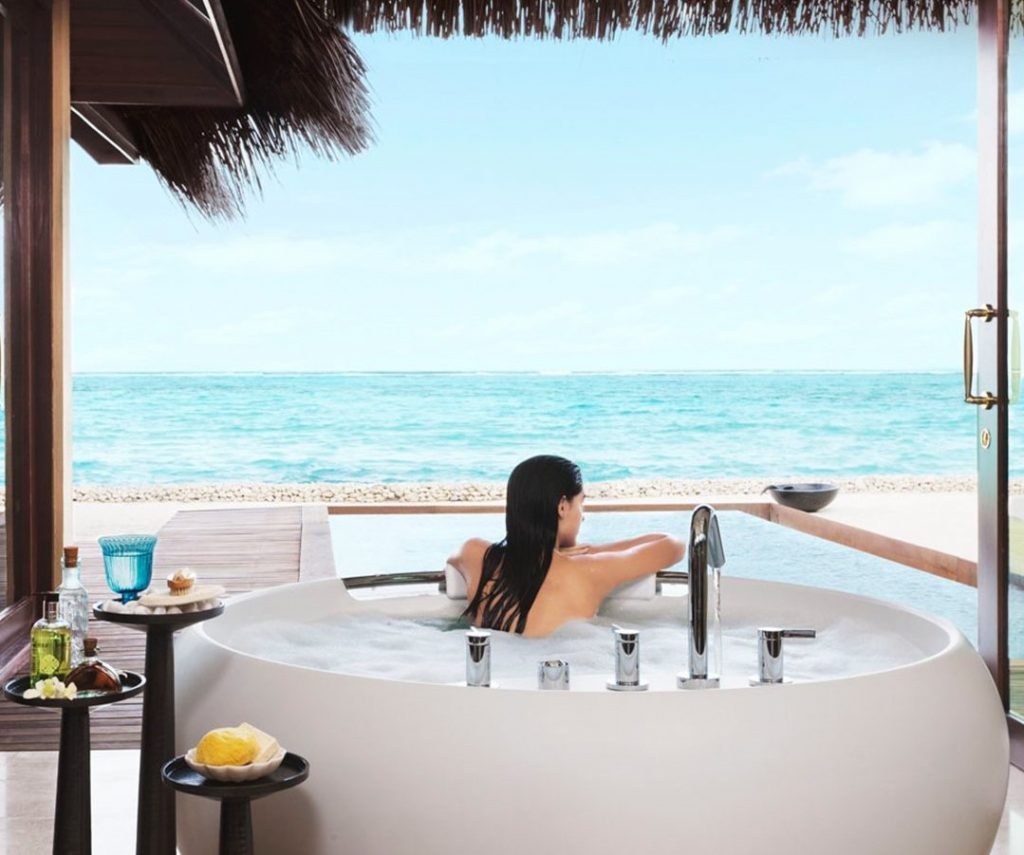 A unique vitality package is available for you to revitalise, rejuvenate and relax your body, mind and senses. Signature wellness experiences, herbal treatments, spa indulgences and ayurvedic therapies are all offered at the renowned Jiva Spa. With this special Wellness Day offer, guests can enjoy seven days of personalised spa treatments, daily yoga sessions, guided meditation, healthy cooking lessons and more. All these are curated to indulge the senses and revitalise the body, mind and soul. Guests can enjoy the sun and sea under the clear Maldivian sky as they relax in their lagoon villas. They can savour healthy culinary delights for breakfast and dinner at the 24 Degrees restaurant, prepared by expert chefs using ingredients that boost immunity and detox the body. Guests can start their day with a delicious and healthy floating breakfast and the offer includes a romantic sunset cruise across the lagoon as the sky bursts into colour. Taj Exotica Resort & Spa, Maldives will provide a 60-minute aromatherapy treatment for couples to relish a delightful sensory journey, soaking in the goodness of Jiva Spa's signature essential oils renowned for their therapeutic properties and all-natural herbal ingredients.  For medical requirements and advice, there is an in-house doctor and nurse.
 The Westin Maldives Miriandhoo Resort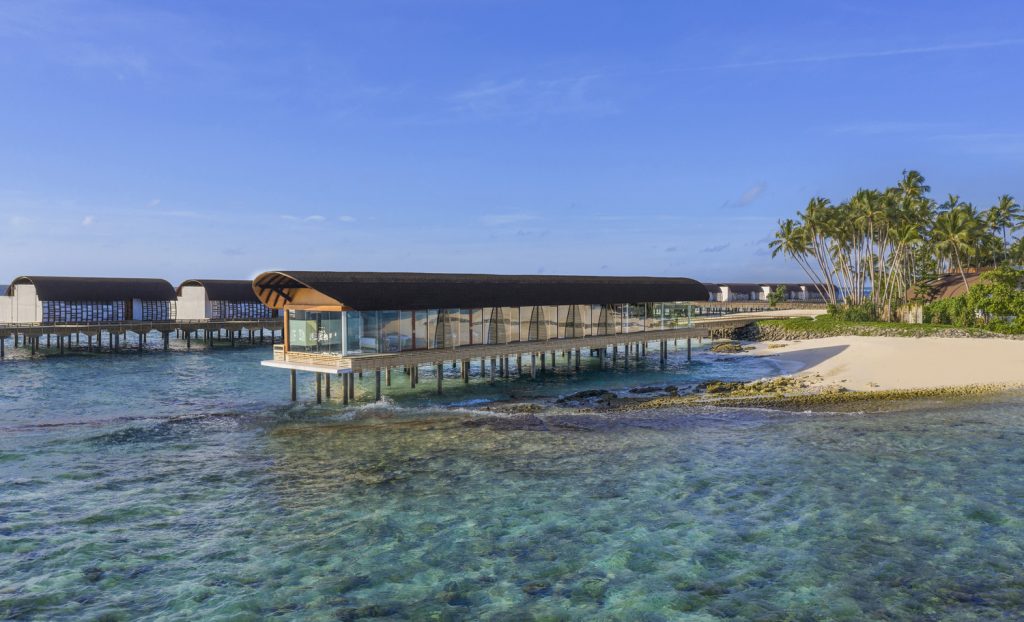 If one is looking for a place to restore and elevate their well-being this summer The Westin Maldives Miriandhoo Resort, nestled on a beautiful coral island of the Baa Atoll, is a designated UNESCO Biosphere Reserve site. Now guests can experience a tranquil wellness escape with uninterrupted ocean and pristine turquoise lagoon views. Westin is one of hospitality's global leader in wellness, empowers guests to transcend the rigors of travel while on the road through the brand's Six Pillars of Well-being: Sleep Well, Eat Well, Move Well, Feel Well, Work Well, and Play Well.  Guests can experience wellness offerings that include the brand's iconic and award-winning Heavenly Bed, a game-changing gear lending program, TRX fitness equipment in the signature WestinWORKOUT™ Fitness Studios, delicious and nutritious menu offerings, and more.  The Westin Maldives Miriandhoo Resort is an idyllic setting for romance, family hideouts, gastronomy and well-being, and has curated a wellness package, which includes nature, nutrition, spa, yoga and functional movement to jumpstart the body and mind. The Heavenly Spa by WestinTM promises guests to replenish the inner self with a personal sensory experience, engaging the seven senses – sight, sound, touch, taste, scent, as well as psychological senses of emotion and meaning.  The Mindful Living Package at The Westin Maldives Miriandhoo Resort includes daily healthy breakfast at Island Kitchen, a one-hour wellness session and complimentary 60-minute couple spa treatment as well as the use of snorkelling equipment and ocean kayaks and access to the Westin Family kids club and fitness studio.
JW Marriott Maldives Resort and Spa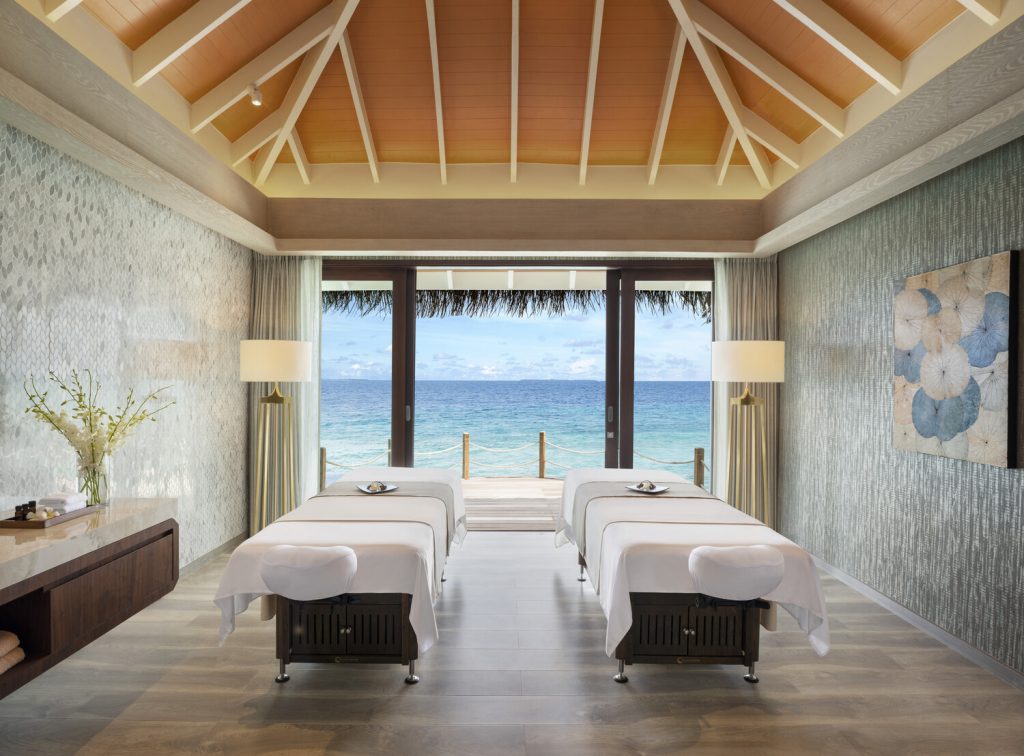 JW Marriott Maldives Resort & Spa is located on Vagaru Island, Shaviyani Atoll, JW Marriott Maldives Resort & Spa makes for a mesmerising destination that focuses on holistic well-being and enriching, thoughtfully curated experiences. The Spa by JW features overwater treatment rooms that open up to breathtaking views of the Indian Ocean. In addition, the resort also presents daily activities such as yoga, meditation, body challenge, core workout and many more at the Yoga Pavilion and fitness centre.  The private island resort inspires increasing number of guests to be fully present and come together with loved ones to enjoy a getaway that nourishes not only the body, but also the mind and soul. The Whole You package includes three nights' accommodation, a bottle of Spa by JW detox juice on arrival, daily buffet breakfast at Aailaa restaurant, one private yoga session, a 90-minute Detox & Tone session, a 50-minute couples massage and one 30-minute guided meditation for two.
W Maldives Resort and Spa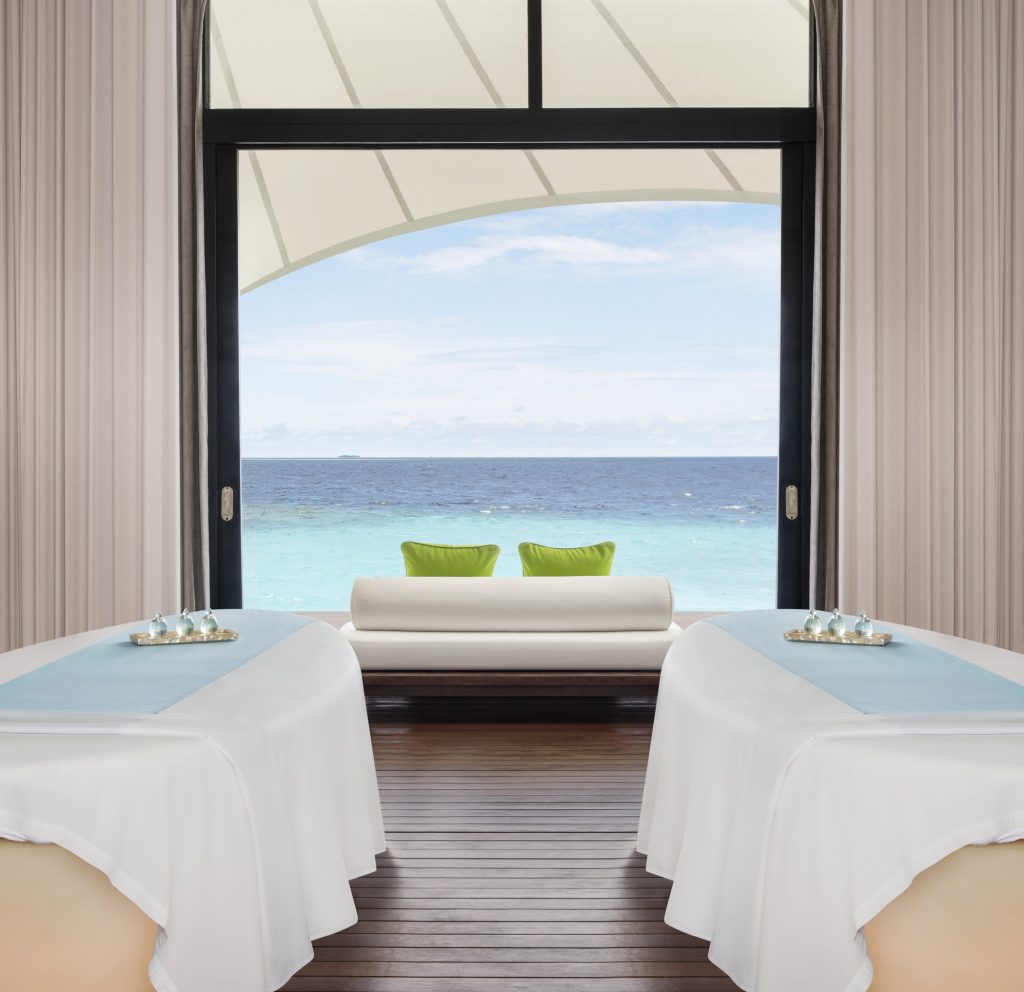 W Maldives in North Ari Atoll, is a luxury private island resort setting the stage to fuel the guests' lust for life. Whether one is overworked, under-slept or partied out, AWAY® Spa promises the outcome needed, in the time available, with the perks to get that glow on. The resort invites guests to keep their healthy routine or indulge as they have the option to do both and DETOX. RETOX. REPEAT. The FUEL YOUR ESCAPE package at W Maldives promises to bring W energy to wellness for guests to look good, feel good, go longer, and stay later. FUEL Your Escape at W Maldives includes a daily healthy breakfast at KITCHEN®, one healthy lunch at KITCHEN® the choice of any 60-minute treatment. a 60-minute Crystal Healing Facial, FUEL Guru and Chef consultation, a personal training session. daily FIT experience, W Insider Treats – RETOX drinks, FUEL Amenities. complimentary non-motorized activities and snorkelling gear and a minimum stay of four nights
Sheraton Full Moon Resort and Spa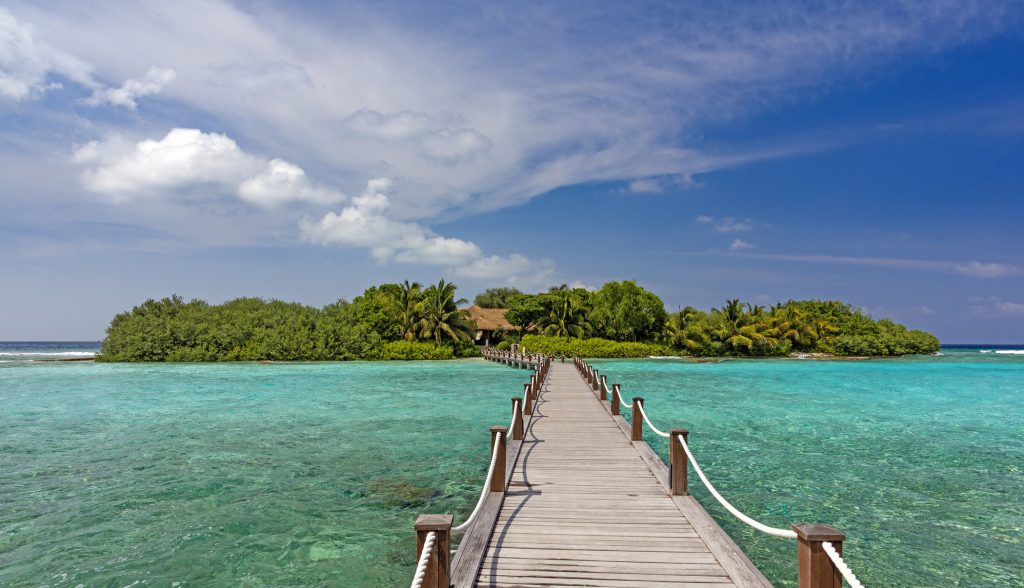 Sheraton Maldives Full Moon Resort & Spa is situated on a private island in North Male Atoll, accessible by a complimentary 15-minute speedboat ride from Velana International Airport, making it an attractive destination for those who prefer brief travel. The resort has a wellness-focused spa package that includes overnight accommodation in a premium overwater bungalow or villa, an indulging couple's treatment at the Shine Spa for Sheraton®, and a sumptuous dining experience for two. The award-winning spa promises to be just what is needed with an exclusive facility on its own private island located just off the main resort premises. The Spa Escape at Sheraton Maldives Full Moon Resort & Spa includes a daily buffet breakfast and dinner at Feast restaurant for two, one curated five-course Degustation dinner for two, a couple's treatment inclusive of a 50-minute traditional aromatherapy massage as well as two additional treatments of choice: express facial, body scrub or body wrap or a complimentary round-trip speed boat transfer to and from Velana International Airport.
Six Senses Laamu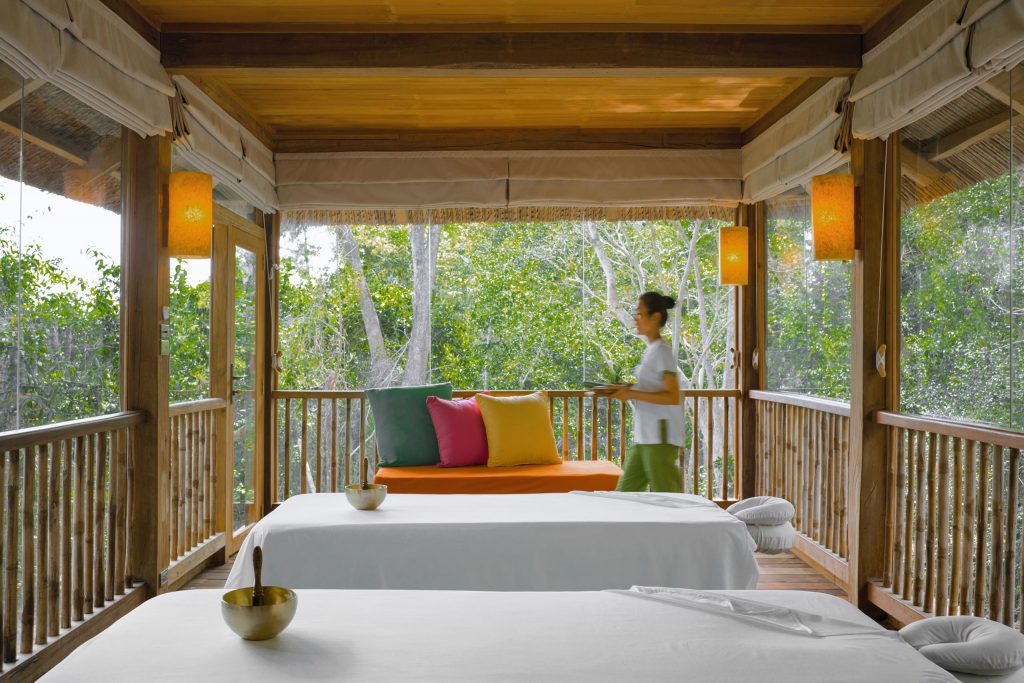 A new experience is coming to the Six Senses spa. SUP Yoga and Fitness is the perfect way to reconnect with yourself and nature surrounded by water. As the only resort on the remote Laamu Atoll in the southern Maldives it is an idyllic secluded paradise with over-water villas where dolphins play in the warm sapphire seas to beach residents a short walk away from top restaurants serving mouthwatering East-West cuisine. The spa is spread across nine uniquely designed treatment nests. These are dotted right on the beach or among lush landscaping. Discover your dosha (body type) with Ayurveda, enjoy nourishing local Maldives spa massage treatments and restorative facials and nurture your soul with meditation and yoga in an open-air rooftop studio. Enhance your post-treatment relaxation with a gut-loving and delicious smoothie at the Juice Bar. Six Senses runs wellness packages like Love your Heart which helps when one is feeling emotionally disconnected or overwhelmed with heightened emotions and anxiety or feeling at odds with oneself or unbalanced. This includes a 45-minute body balance, Relax Together for 120 minutes, Six Senses meditation, 45minutes,  One Love Six Senses Vitajuwel bottle and a healthy juice.
Featured Image: W Maldives