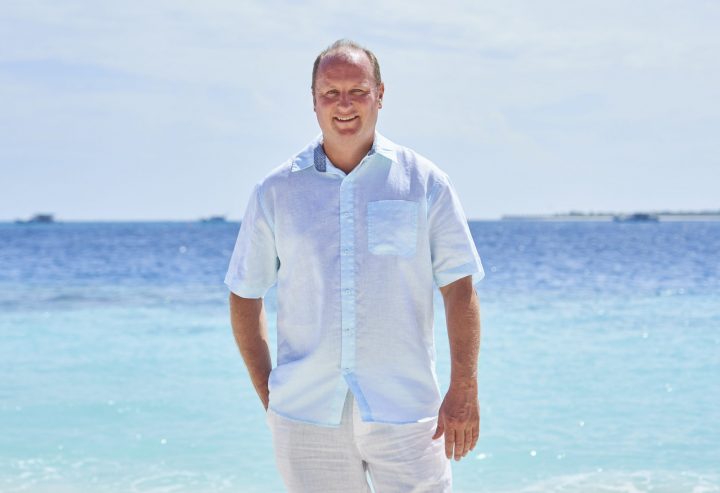 GM's View: Brad Calder of Hurawalhi and Kudadoo
As the cluster general manager of Hurawalhi Island Resort and Kudadoo Maldives Private Island, two of the most exclusive resorts in the Maldives, Brad Calder is counted as one of the most experienced men in his business here in the archipelago.
Before his arrival in the Maldives, Calder worked at one of London's most exclusive private members clubs, and at five-star hotels in New Zealand, Bali and Fiji. He is now seven years into his tenure in the Maldives and brings a wealth of knowledge in resort management to the Crown and Champa resorts.
Calder prides himself on keeping guests happy on both islands. Whether that is below the waves at restaurant 5:8 allowing them to savour the most incredible fine dining among the fishes at Hurawalhi or making anything happen, anytime, anywhere over at Kudadoo. Many of his luxury clientele choose to stay in these resorts for their beauty, exclusivity, and their service. Among those guests include Mötley Crüe drummer Tommy Lee, model Naomi Campbell, Liverpool footballer Mohamed Salah, billionaire businessman Jack Ma and many more.
Hotelier Maldives spoke to Calder about means to be a good general manager, his leadership style, working in the finest hotels in the world, working in the Maldives, the pandemic, his passion for diving and much more.
HM: As the role of a general manager largely involves leading and directing people, do you adhere to a certain management style or philosophy?
BC: My team are aware of our goals and my expectations, but it is also important to show them how to achieve these, not just point them in a direct to head. I believe in giving my team the necessary tools and knowledge required to do the best job and giving them the trust to do their job.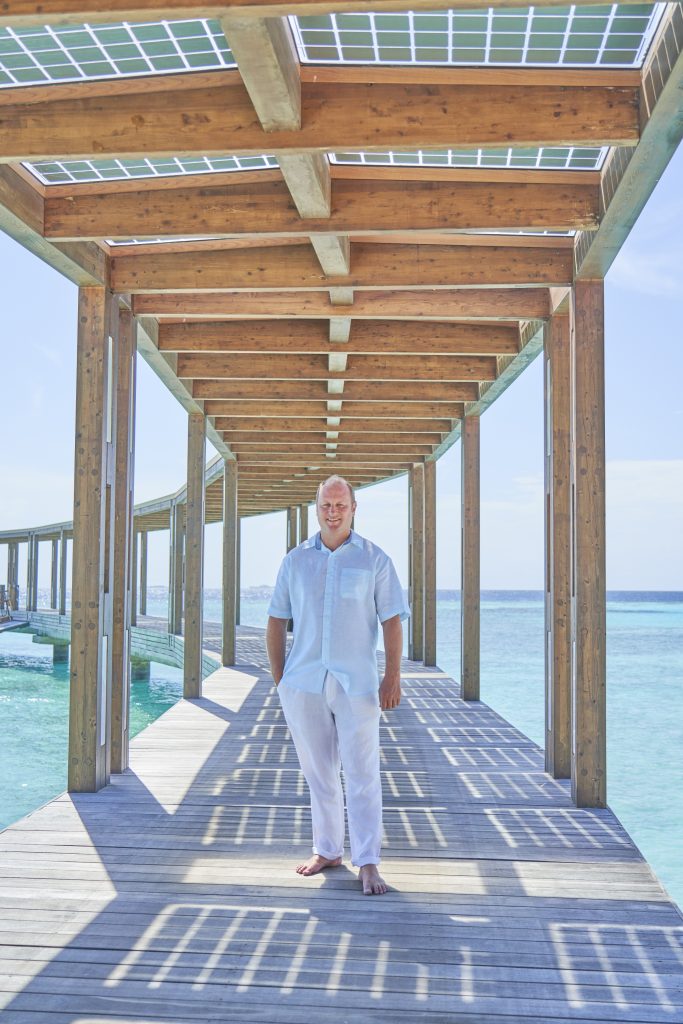 HM: You've worked in the Maldivian tourism sector for quite a long time, what are the main changes within the sector that you've observed over the years and are there any changes you anticipate for the near future?
BC: I consider myself very privileged to work in the Maldives for over seven years and it has allowed me the time to explore and dive most of the atolls. At present, we are very consumed by the pandemic and navigating our way through this difficult time. I believe the government and resort owners have done an admirable job in reopening the Maldives especially if you consider the current state of other major tourist destinations.
However, we should not forget the pre-pandemic challenges, which remain unresolved. The development of new resorts in the last five years led to a dramatic increase in bed capacity but the increase in arrivals did not grow at the same pace to fill these resorts, especially in the summer months of May to September.
As we come out of the pandemic competing tourist destinations with higher annual tourist arrivals will be fighting for the same tourist dollar. On a long-term basis, we need a significant increase in investment in destination marketing to open more direct flights from European and Chinese cities. To support the increase of flights we will need the second runway at Velana International Airport plus the new terminal with increased baggage handling capabilities and of course for the new seaplane terminal to be operational. Until this is achieved, we will have excess inventory of bed nights in the Maldives.
HM: How has your experience prepared you to work in the Maldives?
BC: Working in a private members club in London for over four years taught me the sophistication of European service and service expectations. Working in Fiji taught me the real challenges of remote island operations where supply lines are challenging compared to the Maldives and the team members do not have the same drive that the Maldivians do. Working for HPL Bali and the Maldives probably taught me the most about corporate resorts as the systems and procedures are very Four Seasons centric, since the owner of HPL is the largest owner of Four Seasons properties in the world. But in all, working with the many different cultures over five countries has taught me the most about managing people.
HM: What does cluster managing the two resorts entail?
BC: To work in the Maldives, it is best to keep yourself busy so managing two resorts is challenging enough to keep me motivated. Nevertheless, of course you cannot be involved in the same level of detail in every aspect of the operation daily so I have had to become more strategic and put even more trust in my team to deliver my vision to the detail I would normally apply. I still do drill down in detail on all aspects to ensure my vision is maintained but this is done on a rotational basis so I can manage my time effectively.
HM: What is your most memorable island moment?
BC: My most memorable island moment is opening Kudadoo Private Island. After a lot of preparation, planning and training it was great to see it all come to life.
HM: Do you have any advice for hoteliers joining the industry?
BC: Love what you do and make sure you are willing to share your knowledge to help your team members grow.
HM: What hobbies do you enjoy when you are not at work?
BC: I am a very keen diver; it is my meditation where I am undisturbed in the silence of the ocean. The beauty of the underwater world amazes me every day. So hence, if I cannot find the time to go diving, I will jump in for a quick snorkel around our amazing house reef. I have also taken up padel tennis which being a game of doubles is very sociable and great for guest interactions.
HM: What qualities make a good general manager?
BC: A general manager must be people focused, caring for your guests and your team, understanding their needs, delivering on, and exceeding their expectations. As general managers, our role is diverse, and I like to explain it as we are knowledgeable in many different aspects of a resort however, we rely on those who are in experts in their field.
HM: You have worked in hotels around the world each must have their own merits, what do you love the Maldives most and do you see yourself staying here?
BC: What I love about the Maldives is the passion that those who work in the industry have for attentive service and the drive they display, giving their full effort each day.
HM: What does Hurawalhi with its luxe underwater restaurant and Kudadoo with its anything, anytime anywhere policy offer to the luxury traveller?  How do you consistently deliver on that promise?
BC: Hurawalhi's 5.8 Undersea Restaurant provides an amazing experience with the underwater world, but it is also renowned for is cuisine, service and wine. We are always trying to push the boundaries and deliver new and unique experiences to our guests and we have become a market disruptor with the introduction of our Anything Anytime, Anywhere experience at Kudadoo Maldives which is the first truly luxury all-inclusive offering. There are many trying to replicate this now but from what I have observed they haven't been as brave to commit to full complement of the Kudadoo offering. As far as delivering consistently on our promise I believe that if you have the necessary resources anything is possible, and our ownership is supportive in providing this.
HM: What are some of the wildest demands of your clientele and what sort of luxury experiences are available.
BC: From sand bank picnic for billionaire businessman Jack Ma and 34 people to arranging as a surprise the Maldives best Boru Beru band for the drummer Tommy Lee of Mötley Crüe, these are the challenging and creative aspects of our job that we love so much. However, the wildest demand would have to go to a very high-profile guest who wanted his pool water chilled, which was nothing that a few buckets of ice could not fix.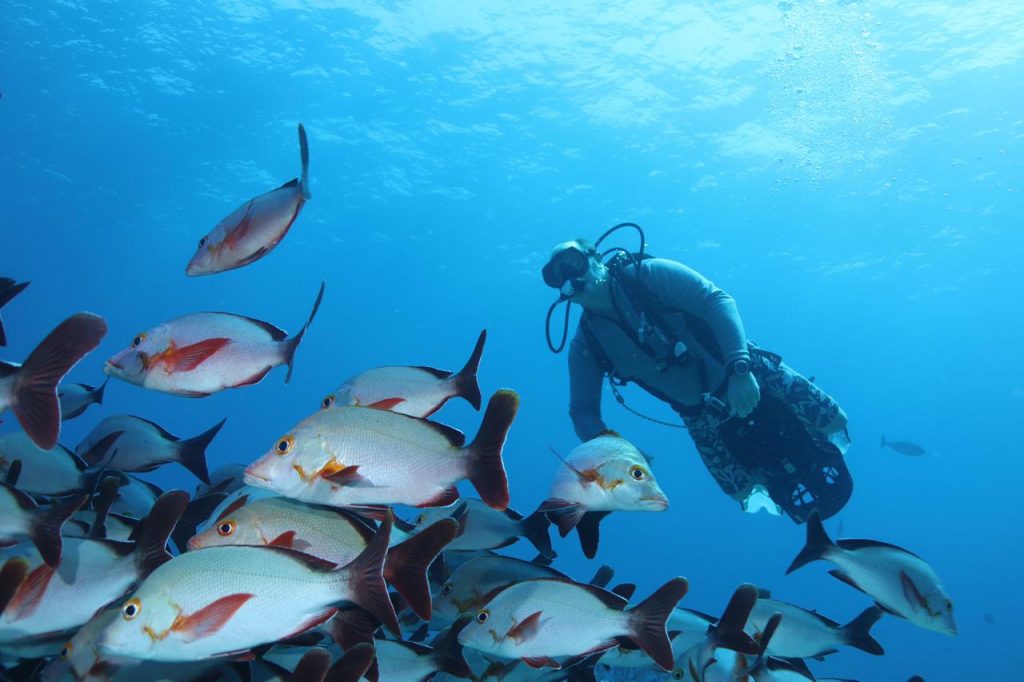 HM: What challenges have both resorts faced during the pandemic?
BC: The biggest single challenge has been losing some team members who you have invested so much time in training through either forced reductions according to business levels or the employee's personal choice not to want to work in pandemic conditions. However, as business levels and the pandemic conditions are stabilising, we can recruit these team members once again.
HM: What steps does one need to get to become a general manager?
BC: A lot of general manager's come from one specific field of expertise – be it rooms division, food and beverage, sales and marketing or even revenue management now days. Because of the diversity of our roles, I believe it is beneficial to spend the time during your career to learn every aspect of resort operation be it through cross training or job placement.
HM: What culinary experiences are available on the island particularly with the underwater restaurant and the offerings at Kudadoo?
BC: Hurawalhi has a host of culinary options from the decadent Canneli Buffet, Asian Street food and Teppanyaki at Kashibo, J.F.K serving vegan and gourmet junk food, an extensive in villa a 'la carte menu, the chefs table where a lucky 10 guests will sample our executive chef, Edouard Deplus's latest creations and of course fine dining at the 5.8 Undersea restaurant. Kudadoo however has only one restaurant but competes with those that have 8-11 at their property by offering an array of menus and a bespoke private chef service. I am always amazed at the variety and level of cuisine that the Kudadoo culinary team produces.
HM: What staff development opportunities are there available on your resorts?
BC: I am strong believer in developing people and proud to say that my two Maldivian resort managers and three of my department heads have been on a development journey with me to reach the positions they are now. A big thank you goes to our training and development team for all their enthusiasm in supporting this. We are continually selecting staff for further development and our departmental trainers do a great job in preparing our team.
HM: The resort has 4,234m of solar panels, what is your approach to sustainability?
BC: Other than its people, the asset of the Maldives is its natural beauty from its clear waters to powdery sand and lush vegetation. My philosophy is that if we do not choose a sustainable lifestyle on the islands of the Maldives we will not survive, so we must preserve these assets. I have been working over the years to analyse all aspects of our life on the island and how we make them more sustainable. Prior to Covid we had removed all single use plastics, we continue to compost all our food waste and utilise tat in our organic garden to grow our own produce.  It is not only important to recycle your waste responsibly but to see how you can reduce this waste from coming onto the island in the first place. Our villas are made of sustainable materials and have smart technology, which regulate the environment for maximum energy efficiency. We offer a range of "healing ocean" amenities in our villas and our Spa, which are entirely organic, safe for our reefs, and even come in refillable recycled glass bottles. With green technology developing I have trialled electric boat engines, conducted feasibility studies on wind and tidal power generation but solar does seem to be the best option for the Maldives and now battery technology is becoming more affordable we can store the power to be used 24 hours a day as we have done in Kudadoo.
HM: What new developments are on the horizon in your resorts?
BC: With Hurawalhi now four years mature and Kudadoo two years old, we are dreaming up the next evolutions for each resort. I am unable to share with you now these early dreams, but you can count on them being something special as we have done time and time before.