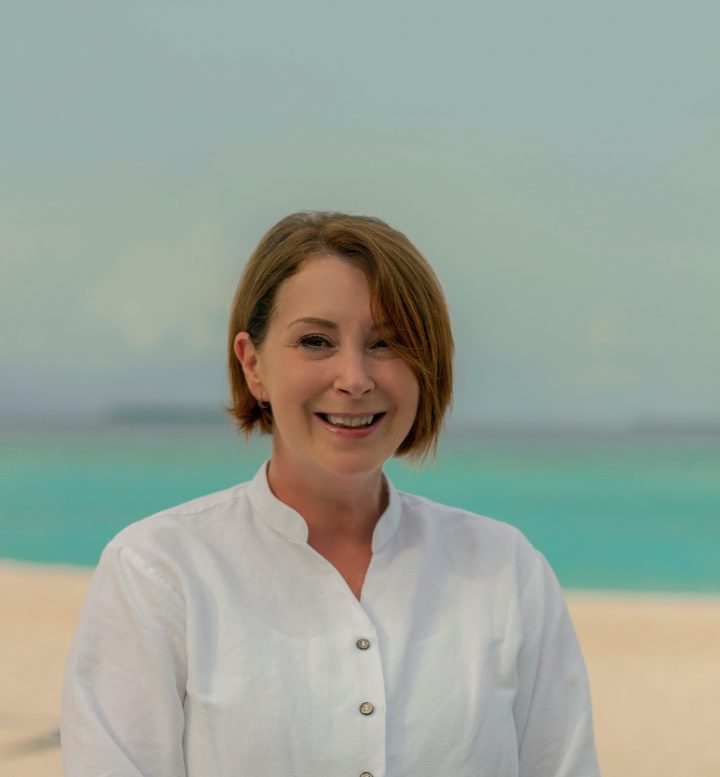 GM's View: Karen Merrick, JA Manafaru
Karen Merrik is the general manager at JA Manafaru, multi award-winning barefoot luxury property in Haa Alifu atoll. During her thirty years of experience in the hospitality industry, Karen has operated properties in Indonesia, Malaysia, Cambodia, Scotland and two properties in Maldives, including its first private island for one booking at a time, ahead of JA Manafaru, a place she joined during challenging times.
Hotelier Maldives talks to Karen about her career in the hospitality industry, managing a luxury resort in the Maldives and her advice to aspiring hoteliers.
Hotelier Maldives: Tell us a bit about yourself and your career.
Karen Merrick: I am originally from Scotland, with my first managers job at 18 years old in a smart Scottish hotel at the time and then onto inspired and upscale Boutique properties throughout the UK in both Operations as well as Sales. Disillusioned with hospitality in the UK, my first venture overseas for work was a property in Maldives as the Executive Assistant Manager, swapping my suits and heels for sand and slippers. To date I have subsequently operated amazing properties in Indonesia, Malaysia, Cambodia and even back in Scotland at one point, to head up a castle!  I dip in and out of Maldives as it's also my home (I am married to a Maldivian national) so it's in my heart just as much as Scotland is (although it's a lot warmer!).
HM: What is it like to be the general manager at JA Manafaru?
KM: Well, I originally came here to help.  The resort and team had gone through some challenging times, and we are so lucky to be owned and operated by JA Resorts and Hotels.  We have a wonderfully caring owning family and the reason they chose this island over all others was because it was far away from Male'… showcasing what Maldives looked like thirty years ago and to continue support to the surrounding island communities, given that the resort had been quite a few different resort brands.   We have a great team, all invested in the guest experience, and I am lucky to have such a creative and committed group of individuals.
HM: You have worked at several international properties and two other Maldives resorts as the GM in the past. How different is it managing a property in the Maldives, compared to other locations?
KM:  I tend to take on troubled or challenging properties and help turn them around, so the good thing about Maldives in comparison to other remote locations is that generally the supply routes are quick… you don't have to source yourself, you can generally get anything you need within four-eight weeks…and Maldives has an amazing selection of premium quality Food and Beverage produce compared to many locations.  However, you still must learn patience and I meditate daily to reduce my Scottish temper when it inevitably goes wrong!
HM: What do you think is the most important skill a leader should have?
KM: To listen to what is really being said (or not said as the case may be) and always be open and transparent.  I have an open-door policy and the junior team in the resort know they can come in and tell me what's bothering them, and I will find the right way to handle and resolve it.
HM: Tell us more about JA Manafaru and how the resort is unique from other luxury properties here. 
KM: JAM (as we lovingly refer to our island) is a little different. When it was originally built in 2006/7 the build was completed by mainly an Asian workforce, so the architecture is Asian, so I feel quite at home as you can imagine. Over my tenure thus far with an incredible team of Maldivian and International Managers and truly wonderful and inspiring associates we try to put ourselves in the guest position… what would we like to see, feel, and find out about… The truth is we had never explored our position in the Cultural Capital of Maldives… we have so much surrounding history and the Island of Utheemu is right on our doorstep. Out of 165 resorts in Maldives, only two can truly claim this position, so we now have many reimagined areas of the resort that pay homage to our Maldives History and proud roots, including our little museum, "Magey Hiyaa" and we encourage our JAM Family to share all the stories we have from the very first atoll of Maldives.
HM: What's the biggest challenge you face in your work? And what do you like most about it?
KM: They are the same thing really – Making a Difference.    It would be very easy to get up and plod through the day, as most days are similar in Maldives… but to continually improve the offering to the guests and empower the team to make decisions about how they look after guests or even each other.  We continue developing our guest areas but our current mission is to go to the next stage of improving our Heart of House as a thank you for all the effort and hard work our team have shown and put into ensuring the resort continues to improve and flourish. The associate swimming pool was built a few years back and now we are concentrating on the Café and accommodation… the aim is a "resort within a resort feel".  It will take time but every day we continue this improvement!
HM: Describe a day in your life as GM at JA Manafaru
KM: Get up when it's still dark, say goodbye to the guests leaving us early morning, walk rounds (usually by bicycle), emails, morning briefing, walk rounds, emails, meetings, say hello to my husband, arriving guests, departing guests, projects/planning, emails, go home in the dark and more emails. In between I will have a late take away breakfast or squeeze in some time for dinner…..then hit the repeat button!
HM: How do you balance work life and personal life?
KM: With great difficulty, I love what I do, and we always have so much to improve upon, and months pass without a day off as I am sure all GM's will tell you!  I have a wonderfully tolerant husband who shares my passion, however, is waiting patiently to go on a few days' vacation after two years nonstop on the island.
HM: Is there anything exciting coming up at the resort?
KM: Yes, Yes and Yes… we are always working on a new project and have completed the remodelling of two of our three beautiful Residences, the third was our first project and are now going back to expand it further, our Movie Room is also completing and mock-ups for a proposed refresher of our overwater villa bathrooms is underway as well as the development of our next wellness phase for our menus in conjunction with our Spa program.  The list is endless…
HM: What advice would you give to hoteliers aspiring to get to your position? 
KM: Be Kind, Be Brave and Be Fair.   These are the three things that you must be when responsible for people… your decisions impact their lives in so many ways.  My Stewardship in/of any of the properties I have operated over the last thirty plus years has been an amazing journey and I have a quote that currently hangs outside my office that I believe sums up what it takes to be a great steward when managing people or a business.   Sustainability: means meeting the needs of today without compromising the ability of future generations to meet their own needs.  This applies whole heartedly to JA Manafaru… we are a simple barefoot luxury property, where if you are looking to be Robinson Crusoe for a while…you will find that the real treasure is "People".