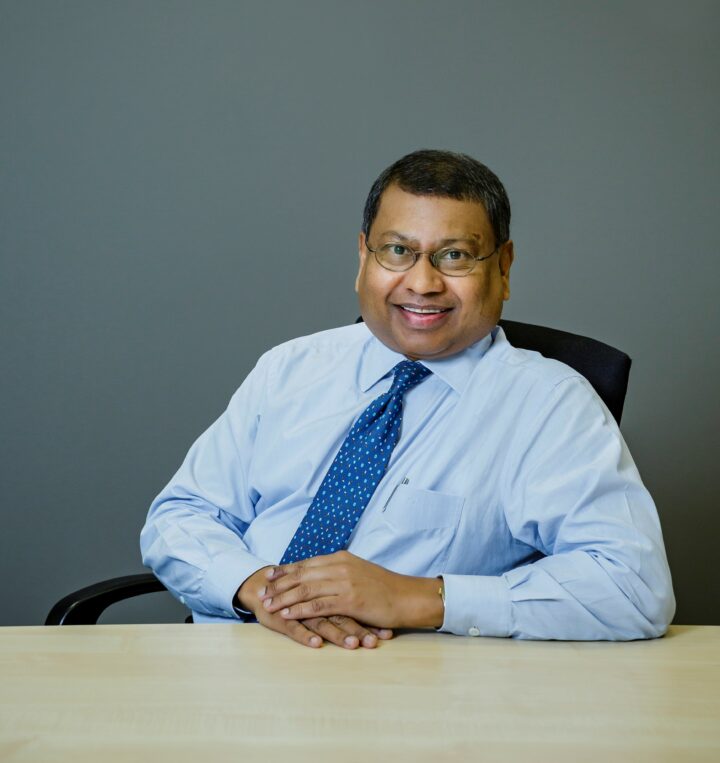 Homegrown Hotelier – Shabeer Ahmed, Chairman of Coco Collection
Shabeer Ahmed is Chairman of Coco Collection, a company with three properties in the Maldives in its portfolio: Coco Bodu Hithi and Coco Privé in Male Atoll and Coco Palm Dhuni Kolhu in Baa Atoll.
Shabeer's rise was marked by grit and determination in the face of adversity. But you will also discover that he had a keen sense of how the world of travel operated, and recognise his perceptiveness and vision that helped establish a formidable local brand.
A self-effacing man, Shabeer attributes his success to luck, yet it is immediately apparent that this is not the case. Back when he started, Shabeer worked 18 hour days, had two jobs, and encountered numerous obstacles on his path to becoming a hotelier.
Some three decades ago Shabeer had the opportunity to study engineering in Japan; this proved to be a watershed moment in his life. He learnt Japanese and made many friends in the country, some of whom were crucial later on in his career.He established a part-time meet-and-greet service for Japanese tourists upon his friends' request. When he decided to expand and begin Sunland Travel Pvt Ltd, he was still serving in his government role at the airport.Operating a travel agency was no walk in the park. Sunland Travel suffered early on because it was small; resorts tended to favour bigger operators and gave them preferential treatment. Staying in business proved difficult; every day was fraught with anxiety over whether the fledgling company could stay afloat.
The moment came when Shabeer realised that to stay in the business he had to have some control over the beds. And the obvious way to do that was to have a resort of his own. By securing Makunudu, Shabeer and Sunland got some much-needed legroom and neither he nor the company has looked back since.
Hotelier Maldives sits down with Shabeer and talks about his rise to prominence from modest beginnings, his thoughts on emerging markets and the industry at large, and whether homegrown hoteliers should invest in tourism abroad.
HM: You started out with a sort of meet-and-greet service for Japanese tourists back in the 80s and this eventually led to the establishment of the Sunland Travel Group. What were your thoughts around this time, did you entertain any ideas of becoming a hotelier?
SA: No, I did not. This is how it happened: starting off as a part-timer doing a meet-and-greet service for Japanese customers at the airport, I formed Sunland Travel and began inbound tour operation on a very small scale. The only tool I acquired was an old-style telex machine installed in my modest bedroom. I operated on the go.My fledgling operation involved buying local hotel rooms and selling to a few Japanese tour operators. I used to travel to Japan very regularly to look for more agents and kept on building the travel agency virtually singlehandedly. Later on, I added some staff and found a small office.
As we became known in the market, it became relatively easy to add travel agents and tour operators from other countries into my portfolio of customers. Since most hotels those days had all their rooms fully allocated to European charter operators and occupancies were very high, it made sense to go through an agent like my company. Thus, I was able to develop my travel agency to a reasonably good level fairly quickly. We were the biggest local inbound operator those days. On some days, hundreds of our guests would be booked at over 15 resorts.
Back then, overbooking was a common occurrence at many resorts. Small operators like myself were the first to get bumped, and my guests were quite often put in staff rooms without prior knowledge or kicked out completely, and I had to look for alternatives at the last minute, quite often after guests had arrived at the airport! Hotels would still charge me their full rate, and my agents would obviously take away compensation from my invoices. So, I got hit at both ends pretty often. Looking back, I would say that it was this precarious situation that I was in, one without security and full of uncertainty, that put the fire in my belly to go all out to secure my first resort. The moment arrived in 1994, when the government opened bidding for an operational resort.
HM: What would you consider to be the defining moment of your career?
SA: I would say winning Makunudu's contract, renovating the resort and starting commercial operations.
HM: The Coco-Collections has three hotels and they exhibit diversity in terms of product. What made you want to diversify?
SA: It was around 2003 or 2004, three or four years into commercial operations of our second property, Coco Palm Resort and Spa, as it was then known, when we came up with the idea among our team to create a brand.The underlying reasons were twofold: Firstly, we were able to foresee how competition would build up. Secondly, since big investments could easily be lost at the end of a mere 25-year lease term, as it was those days, we came up with an idea: why not create a brand and go on to take management of hotels even outside the Maldives.
As I was in the industry since 1984, I could see how demand was building as more people became aware of the Maldives. Initially, when we travelled looking for business, most people we met did not have a clue about the country. We figured out that when big names entered the market it would be very hard to compete within it. So, we took part of the name of our resort, which was becoming popular, and went about creating a brand.Later, we subleased and invested to fully re-develop two properties: Bodu Hithi and Kuda Hithi, again the rationale was to keep developing our brand with a five-star product close to the airport, and a unique one villa – one island product, beyond five-stars, to boost our brand value.We were planning to have five-star properties and unique hideaways and simpler versions of five-star properties within the brand.
HM: Markets that were prominent, like the Japanese, are not so significant today. What do you make of the market these days, are there any emerging markets that the industry should look to explore?
SA: I'd say it's due to many factors. Arrival numbers from Japan has always been in the same range, 38,000 to 45,000 with little fluctuations. But there had been no significant growth. Recently, a General Manager of a major player from Japan to the Maldives market told me that if we had all five-star resorts, the market cannot achieve a significant growth.
Changes that have taken place both locally in our industry, and the economy of Japan need to be carefully analysed. We are not realising our true potential in the Japanese market.
The Maldives has been generating interest in new markets as it's becoming more well-known. Among them are some Middle Eastern countries, and South East Asian countries like Indonesia. Renewed interest from North India has been recently observed. I would say we should explore many more new markets and allocate bigger budgets for more marketing and promotions even in existing markets as sales is a function of marketing.HM: What are your thoughts on the local tourism industry?
SA: After a lengthy period, over three decades, of increasing room rates and occupancy, we're now witnessing a trend of their decline. As our capacity grows, we need to have a better strategy to keep this vital industry healthy, to protect us from turbulence in the wider economy that it supports. For the industry to succeed, businesses should remain profitable.Occupancy has been dropping over nine consecutive quarters and RevPAR is declining. A number of resorts were recently running on very low occupancy, as low as 30 for quite some months. All-inclusive rates of USD 110 for a double room will not leave a profit for any resort, in an environment of escalating costs.
The industry cannot afford a price war. We should all avoid situations like the last low-season, when all tour operators from all generating markets had been inundated with weekly special offers from Maldivian resorts. This happened to the extent where operators were frustrated that before they had published one offer and the market had time to react, another offer would land on their desks the following week.
Not having time to read them, operators pleaded with hotels to simply reduce their room rate instead of writing complicated offers.
At the same time, competition is eating into our market. Although China, our top feeder market, decreased by 11.5 per cent to the Maldives, Chinese arrivals to Sri Lanka increased by 40 per cent. India has recently announced resort development in the Lacadives. That's another potentially strong competitor.
There's another concern, perhaps not so immediately obvious, but one that can well be taking place under our noses. The Maldives' image as a unique premium destination could slowly be diluted, and we may be headed towards a 'mixed-basket' destination.
I suppose we as stakeholders should ask ourselves: isn't there a serious concern and shouldn't we cooperate for everyone's benefit although we may be competitors? I also think the industry should have a well-researched, consistent and well-thought-out strategy that everyone follows.HM: Do you have any projects lined up, or something that you're working on?
SA: We've recently been concentrating on improving management after some years of fast expansion.HM: What are your thoughts on local hoteliers expanding to other parts of the world?
SA: I think it's an exciting thing that's already happening. I suppose Maldivian hoteliers will have an edge in facing challenges, given the destination's appeal in most parts of the world now.