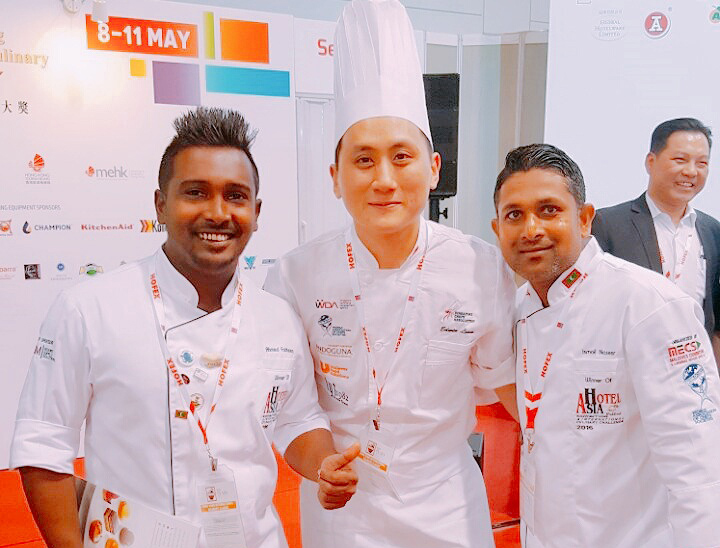 Maldives Hotel Asia winners shine with silver at HOFEX 2017
The three chefs who won at last year's Hotel Asia International Culinary Challenge have recently competed at HOFEX 2017, which is Asia's leading food and hospitality trade show in Hong Kong. HOFEX 2017 – which is celebrating its 30th anniversary year – was held from May 8 to 11 at the Hong Kong Convention and Exhibition Centre.
Chef Ahmed Fatheen from Bandos Island Resort and Chefs Ismail Naseer and Indra Kumar Limbu from Hulhulé Island Hotel were sponsored to take part at HOFEX by Maldives Exhibition and Conference Service (MECS) and Bestbuy Maldives (BBM).
Chef Ahmed Fatheen and Chef Ismail Naseer both won silver medals in the Western Cuisine – Sustainable Seafood category with dishes using Halibut while Chef Indra Kumar participated in Pastry Professional Fantasy Table.
''Participating in HOFEX 2017 was the best opportunity I have had in my culinary journey. It was a really wonderful experience to personally meet A-grade WACS Judges and to know and interact with them and gain the knowledge. The chefs I met at HOFEX travel all over the world judging events, some of them have judged at Hotel Asia in Maldives as well. The interest they show to share their knowledge without any hesitation is amazing," said Chef Ismail Naseer, commenting on his participation and his accomplishment at the competition.
"Though I won a Gold Medal in Hotel Asia 2016 culinary competition, this experience has given me more confidence to go to the next level. I am proud that I won a Silver Medal at the Hong Kong International Culinary Classic.  I am delighted and convey my gratitude for the support given to me by the Maldives culinary community and my sincere thanks to my Hotel, as always Bestbuy Maldives, Chef Alan Palmer for mentoring the team from Maldives & Maldives Exhibition (MECS) for organising this wonderful culinary experience," he added.
The other silver medalist, Chef Ahmed Fatheen was also delighted with his accomplishment. He said: "The win was just the beginning and we learnt a lot through our experience in participating at Hotel Asia International Culinary Challenge in Maldives. Resorts in the Maldives are gaining great progress in the area of hospitality and F&B, it is crucial for Maldives to utilise such opportunities.
"This would not have been a reality if not for Bestbuy Maldives and Hotel Asia who hosted us and gave us the best of facilities to train in Hong Kong. Not forgetting Chef Alan for inspiring us to go for Gold."Chef Indra Kumar Limbu saw the opportunity as a great experience. He said: "HOFEX 2017 was the best opportunity I have had in my culinary career so far. It was really a great experience to have met world-class chefs on the same platform. As a pastry chef sharing the knowledge, exchanging the new ideas, knowing the latest techniques and it helps me to grow more to achieve the goal of becoming a world renowned chef.
"I would like to express my heartfelt thanks to my hotel and Bestbuy Maldives for their support and to Alan Palmer for his given guidelines and culinary ideas to prepare the dessert & MECS for organising this opportunity."The organisers of Hotel Asia in Maldives stated: "HOFEX is Asia's Leading Food & Hospitality Tradeshow. The event has been taking the industry on numerous extraordinary journeys of culinary delicacies from all over the world in the past 30 years, bringing the most comprehensive selection of Food & Drinks, Hospitality Equipment & Supplies products to Asia."We are extremely proud and happy that three participants were able to compete in this year's event. It was more encouraging to note that two silver medals were won by them. MECS keeps up to its promise of promoting chefs from Maldives to gain valuable knowledge through these endeavours. We will be continuing our support for the industry in the future as well."
The three chefs were joined at HOFEX by award-winning Chef Edwin Leow, who met the candidates representing Maldives during the Special Masterclass in Pastry event which was held on February 4, 2017, in Malé.
They got the opportunity to participate in HOFEX through Maldives Exhibition and Conference Services and Bestuy Maldives (BBM). The Team was mentored by Chef Alan Palmer Chief Judge and Project Director for Hotel Asia International Culinary Challenge.
BBM said they were proud of the chefs' success and that BBM's aim is to provide similar opportunities to chefs working in the Maldives to help develop their skills and gain experience working with experts around the world.