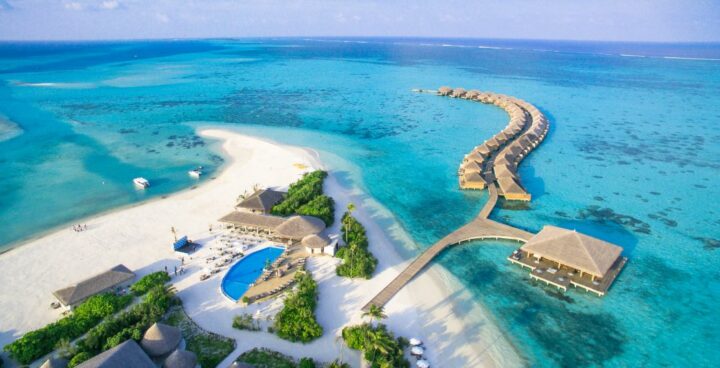 Hotel Review: Cocoon Maldives
In a sense, all Maldivian resorts are cocoons. Cloistered on their separate islands, each with its own rules and norms, a gulf exists, not only economic and cultural but also aesthetic, between these realms of visitors and those of the local populace. It's almost like parallel universes. And here at Cocoon, accentuated by a 30-minute late afternoon seaplane ride, that feeling is almost palpable.
It stems largely from the look and feel of the place. It is evident that significant thought has been devoted to its design, as is appropriate for a property that lays claim to being the country's first designer resort. Visually, Cocoon's first impressions deliver an impact. The airy reception with its 'suspended' sofas and 'elastica' chairs are curiosities that beg closer inspection. The sofas are mounted on inconspicuous glass stands and appear to hover in mid-air. An 'elastica' chair, circular, with straps radiating from its centre, swallow my body in a comfortable embrace. Several playground swings hang from the ceiling, lending a whimsical touch. The area also houses a chic Saint Barth boutique, the first of its kind in the country, selling branded Italian beachwear.
Our room, a beach suite, is a separate unit. You need an old-fashioned key to get in, but its décor is contemporary, minimalist and clean, with a colour palette of earthy browns and creams. The king-sized bed at first glance appears to have no support from below, giving it the same suspended appearance as the furniture at the reception. A more traditional settee, packed with cushions, sits at the side, by the large screen TV.
The layout marks a departure from that of recent resorts; there is no workspace right behind the bed. Instead, that space is in a corner, giving the room a more spacious feel. Outside, there's a small deck with a tree-stump coffee table, a day bed and our own swing. Room amenities are as expected, but soft drinks are part of the all-inclusive plan.
The bathroom is large, and here too, Cocoon's design-consciousness is apparent. The wash basins are remarkable; the water flows down their flat, slanted glass surface and vanishes. The outdoor shower is a square bracket that extends from the bathroom area, made of natural stone tiles. Bathroom products are the resort's own brand, and the Grohe shower fixtures deliver superb pressure.
We head out to Octopus, the resort's main restaurant, for dinner. A feast is prepared. There is a wide selection of healthy salads, meats, rice and pasta. Chefs display their prowess behind live cooking counters. I chose the lamb and pineapple salad with couscous as a starter. The lamb is cold and tender with the pineapple giving it an acidic edge.
For mains, a delicious combination of steamed rice, beef goulash and wok-fried seafood with generous amounts of prawns and cuttlefish. I finish with an apple mousse from the air-conditioned section within the restaurant that houses cold desserts and cheese.
As we leave the restaurant and head towards the Loabi Loabi Bar on the beach we meet Ilyas Mohamed, the resort's sales and digital marketing manager. He points out little, thatched dining huts by the restaurant connected by meandering walkways. "There are eight of them," he says. "The walkways are like tentacles, that's how the restaurant got its name." We pass the half-moon shaped pool on the way and take a seat near the beach and order drinks. There's a good selection of wines, spirits and cocktails for the all-inclusive guest. It's about affordable luxury here, explains Ilyas. "You don't have to pay through your nose for every little thing. Our extras, like spa treatments and water sports, are all very reasonably priced."
The bar seems an extension of the beach, with its soft sandy floor. An inviting place, it's populated with comfortable grey rattan furniture with touches of turquoise, the resort's chosen colour. A few guests are already enjoying the evening, kicking back with drinks. There is a half-moon above us and the beach is dull silver. The sky is rent by flashes of lightning, storm clouds encircle us in the distant horizon but there is no wind, they will disappear.
Back in our room, I settle on the sofa, leaving the giant bed all to my friend. It's not too bad a trade-off; the seat of the sofa is a thick and luxurious single mattress, perfect for an extra guest. There's no doubt in my mind about the quality of sleep. Turning on the TV, I flip through the channels; there are 30 of them, all in HD. A dedicated animated film channel piques my interest.
By the end of the Disney hit, Rachet and Clank, I start nodding off. I wake up refreshed the next morning, aware that it's the last day of our stay on this beautiful little Lhaviyani Atoll island. We head off to breakfast. The buffet is grand with a slew of pastries, salads and fruits, and various types of cereal. There are soy and almond milk for vegans. After a bowl of muesli and dried fruit, we're joined by Ilyas and we head off to Loabi Loabi again.
Troupes of tourists walk past with their snorkelling gear while some zoom across the water on jet-skis. But it's too hot for a day in the sea. Ilyas says turtle and manta sightings are common in the area, but even a likely encounter with those magnificent beasts aren't enough to tempt us. So we wait for Alessandro 'Alex' Azzola, the managing director of Cocoon Investments. I'm surfing the web on the resort's excellent WiFi (with island-wide coverage, no log-in required) when Alex turns up in plaid shorts and a pink shirt."We don't like to be so formal here," he laughs. "Cocoon is about being a friendly five-star resort. A lot of upmarket properties here are very formal in their presentation and the staff interaction with guests. What we're going for here is a more friendly, approachable style."
Cocoon's designer, the Italian Daniele Lago, is instrumental in creating this space that is at once elegant and light-hearted, one that is curiously at home with the island's natural environment. "We chose Lago because they mix the modern and historical in an interesting way," Alex points out."For instance, the headboard of the bed at your beach suite is made from 200-year-old French wildwood, but its slender glass legs are contemporary." The same goes for the ubiquitous swings, he says, which the designer has modified, doing a modern take on a local cultural artefact. Cocoon surprises at first impression and delights when you dig deeper. Its aesthetic is refreshing, making bold leaps in terms of presentation. Its atmosphere is friendly, relaxed, the staff aren't reserved, their smiles don't feel forced. Alex likens the resort to a legendary pool where old people dive in and emerge as youthful as twenty-year-olds. Cocoon, he hopes, is a chrysalis, from which a person will appear rejuvenated. That hope, despite my brief time here, seems realistic.