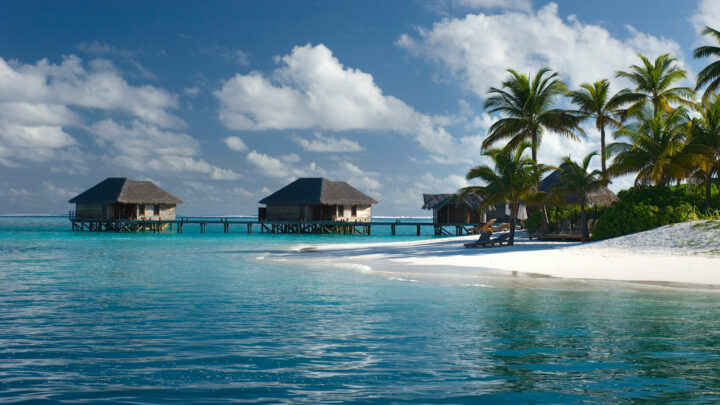 Hotel Review: Conrad Maldives Rangali Island
A twenty-minute scenic seaplane trip away from Hulhule, in Ari Atoll, are the twin Conrad properties, Rangali and Rangali Finolhu. Connected by a slender bridge, it is apparent even at the outset, that this is not your run of the mill luxury destination. When you disembark from the aircraft, the platform you step on is connected to the arrival jetty; a far cry from most seaplane-accessible destinations where you are transferred from the platform to the resort by boat. . You are welcomed and taken to the cosy arrival lounge on the jetty while staff attend to your luggage.
As you walk towards Rangali Finolhu you will spot an island to your right, which is connected to the former by another bridge. Three interconnected islands, but only two resorts. You may wonder what goes on there. That island, a smiling staff reveals, is one that was reclaimed and built for the employees. But more on this later.
There are certain things that will strike you as commonplace as you enter Rangali Finolhu proper; its thatched canopies, open air seating, but do not let that dampen your spirit; the resort has a few tricks up its sleeve.
Obviously, one of the ways that distinguishes Conrad is the twin island experience, one that you will be hard pressed to find elsewhere in the country. General manager Lyle Lewis believes it is a highlight of the brand in the Maldives. Whereas the average guest spends most of her holiday confined to a single island, here you will have the opportunity to experience two. Granted they are both resorts. But even the mere act of crossing the bridge in the late afternoon light, with aquamarine waters winking on either side, can be a wonderful thing. The two islands have distinct personalities, Rangali Finolhu, is more boisterous, suited for families whereas the other is subdued, a haven for honeymooners. There are guests who spend their holiday on both, alternating between the two during their stay, enjoying what both worlds have to offer.
Another aspect that is key to Conrad is undeniably its food. It offers a mouth watering variety through its twelve outlets, sprinkled across the two properties. Some highlights: on Rangali, there is the Koko Grill, an outdoor teppanyaki restaurant right by the beach where you can sample Japanese delicacies. In fine weather, it makes for an especially romantic setting, particularly at dusk, when the stars come out and you can still make out the colours of the lagoon, the islands in the distance, their shimmering lights.
The Vilu Restaurant, which serves breakfast and dinner is another charming outlet, situated by the sea. Here you can indulge in haute cuisine and have your meal paired with the right wine under the guidance of the resort's Wine Spectator certified F & B staff. Perhaps it is not surprising that the restaurant received an award from the lifestyle magazine last year.
Close to Vilu is the Wine Cellar; the first underground cellar in the Maldives, a must for wine enthusiasts. Here the chef and sommelier work together to prepare a five course meal, and again the food is matched with wine. You can listen to Malik as he talks on matters wine-related and enrich your knowledge, perhaps something to flaunt at the next cocktail party back home. The resort has one of the most extensive wine collections in the country – over 20,000 bottles.On the neighbouring Rangali Finolhu, you have Mandhu Restaurant, perched over water and offering a spa-inspired culinary concept. Its menu, featuring entirely organic ingredients, is split into five elements from Grecian antiquity. You can mix and match different elements; and if you get it right, you will end up with a combination that will rivet your taste buds.
Also on the island is renowned chef Jereme Leung's signature restaurant Ufaa, which provides authentic Chinese cuisine. Try 'hotpot' with the chef's signature broth, served with gourmet meats and seafood.  Upstairs, the restaurant has a private dining facility for those who seek a more intimate environment. There, you can also enjoy a game of mahjong, sing your favourite song on their karaoke setup, and enjoy pots of excellent Chinese teas.
Yet the greatest culinary attraction on the island is undoubtedly Ithaa Restaurant, an underwater dining facility that is as awe inspiring now as it was ten years ago when it was unveiled. It was the first underwater restaurant in the world, which is in keeping with the resort's ambitiousness and its pioneering drive.
Conrad's service is also particularly noteworthy; the staff are impeccable, ready to assist even with the most mundane of tasks. The secret, Lewis explains, is the way they are treated. The reclaimed staff island, Ranfinolhu, is testament to this. More than half the resort's 570 staff have their quarters on the island.
A visit will reveal why the staff are so content; they have individual rooms, even the line staff, and shared living spaces. There are a number of facilities to keep employees entertained. A large futsal ground dominates one area. There is a recreational space where employees can have a game or two on the PlayStation. They have a talent room with music instruments to practise their skills, a knowledge room for reading, an internet café, and a gym. After duty employees can relax in their own restaurant, sit by the beach and enjoy meals and drinks at highly discounted rates. Lewis says the staff turnover is negligible; under five percent, and there are several staff who have been with the Brand for over ten years. It is a remarkable achievement.
With its two islands, its fabulous restaurants, great wines, and enchanting staff, Conrad is not a place that can be overlooked. Certainly others have cropped up that are perhaps more fashionable, but Conrad's spirit cannot be underestimated; it was bold enough to conceive and set trends, to take risks when it could have played safe. It is still evolving, as Lewis says, and embracing change; this is one resort you can safely bet will continue to impress ten years on.