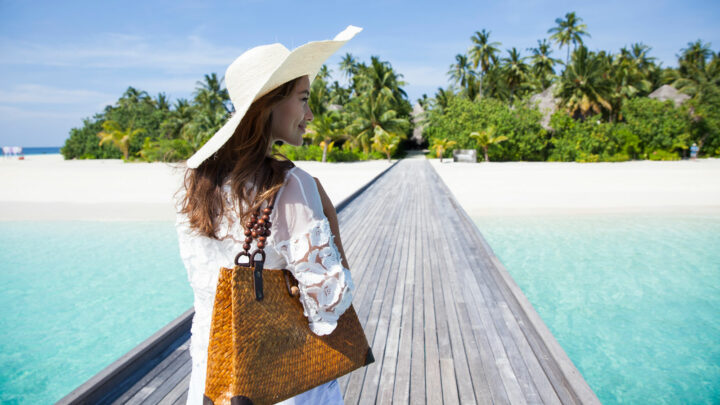 Hotel Review: Outrigger Konotta Maldives Resort
It all began in the USA, State of Hawaii, in 1947 with a small guest house on the coast near Honolulu, a small family business run by a husband and wife. They called the guesthouse Outrigger, like the type of boat parked just off the shore. Who could have thought, that 69 years on Outrigger Hotels and Resorts would be a global hotel chain and management company, with tens of thousands of employees across 36 locations worldwide. An inspirational success story of a family run business in hospitality world, which last year opened their newest property of the portfolio, here in the Maldives, The Outrigger Konotta.
The Maldives is blessed with the most beautiful beaches in the world, crystal clear turquoise lagoons and spectacular underwater life. Located in Gaaf Dhaalu atoll, away from boat and plane traffic, with no neighbouring islands in the visible vicinity, Outrigger Konotta is a true away-from-it-all holiday destination, and it is to no surprise it is the most luxurious property of the group.
With only fifty three wood and thatch villas on the island, twenty two being over water villas, twenty nine beach front villas and two villas half on the beach with half over the lagoon, the resort offers exceptional privacy making it perfect for a romantic getaway or a magnificently relaxing vacation for the family. Personalised butler services is available 24/7, to ensure you may get everything you wish for, day or night.
All the villas are spacious, stand alone, featuring a pool and are very secluded. Designed in an elegant contemporary style. The interior design is a mix of modern and traditional, incorporating elegant décor and showcasing pictures and beautiful photographs of the local islands, creating a distinct brand identity. The one bedroom beach villas are cozy, of a generous size, ideal for couples, with a roof top terrace for a romantic evening, Jacuzzi bath and stargazing. Whereas the two and three bedroom villas are perfect for groups or families. Parents will be happy to know there is an amazing kids club, which offers various activities, games, face painting, indoor and outdoor playgrounds and childrens' pool. The experienced and joyful staff of the Kids club will make sure your children are well looked after and are having an unforgettable holiday.
You should definitely check out the water sports centre managed by Best Dives Maldives. There is something for everybody, activities range from jet skis to kayaks, water skis, windsurfing, paddle boarding, parasailing which will offer an incredible bird's eye view of the Outrigger Konotta island and its surroundings. Dolphin cruises and day trips such as a jet ski ride to a nearby island or sandbank for a snorkelling session and a lunch are available. Having said that, the house reef is stunning, and you need not go anywhere for snorkelling, one could spend day after day snorkelling around the island observing the fish, reef sharks, eels, sting rays and turtles. There are some excellent breaks within a short distance from the island, so the surfers can try out and enjoy several different spots during their vacation. The multi-lingual PADI instructors will take the best care of you, shall you wish to go diving. Whether you are an experience diver or a novice, Gaaf Dhaalu atoll has numerous dive spots, with unspoiled reef and an underwater world visibly different to that in the northern parts of the Maldives.
Moreover, the resident Marine Biologist, Ms Caterina, can guide you through your snorkelling or diving experience, answer questions concerning the coral reef and its inhabitants. She can also introduce you to the Outrigger's OZONE protection program and even get you participating planting live corals in the coral plantation in the island lagoon, which is an amazing and highly educational experience for both adults and children. OZONE (Outrigger's Zone) is a global conservation initiative of the company aiming at protecting the coral reef and ocean life in general, by creating awareness and providing educational workshops and lectures to both tourists visiting resorts and the local communities.While on your vacation at Outrigger Konotta , you will have several dining options. Main Restaurant, The Blue Salt has a well balanced a la carte menu, which allows East to meet West in the culinary terms. It is open all day, and has an air conditioned indoor area as well as a large outdoor area with tables placed on the terrace and also near a lovely water feature. The signature Japanese restaurant, Nalah Rah, will delight you with a wide selection of sushi and sashimi, or a Teppanyaki grill, which is not just a delicious meal but an elegant and theatrical show as well. Nalah Rah located above the beach side pool, amongst the tree tops, offers and exclusive dining experience, in an intimate setting with an ocean view. Luxury comes in a form of a special dinner on the beach, or a private BBQ under the starry Maldives sky with tropical settings and decorations, which all can be arranged upon request. Alternatively, you could order in villa service or go to the Deck Bar next to the pool, and relax at one of the cabanas there, where a range of Shishas is available too.
The Navasana Spa deserves a special mention. The name itself is a type of a yoga asana or pose, literally translating into 'Boat Pose'. Along with a range of massages, body treatments, facials, hair treatments, manicures and pedicures, it offers a unique experience of a twenty five meter Hydro Therapy pool, with high pressure water jets and showers. The specially designed pool, helps with the cleansing and detoxification of your skin, relieves tired muscles, increases blood circulation and relaxes mind and body. You could also enjoy the steam bath, twenty four hour excess to the gym and daily yoga classes. Guests will be happy to know the above mentioned facilities are complimentary, whether or not you actually book any spa treatments.
The library has an extensive selection of books and magazines. At the gift shop you will be able to choose souvenirs to take home for yourself and your loved ones. The fitness centre has all the essential equipment for a workout during your vacation and a personal trainer is also there shall you wish to train with a professional.
Outrigger Konotta may only have celebrated its 1st Anniversary this July, however, this newly opened resort is sure to leave a long lasting impression on its visitors making them want to come back again and again. Whether you stay on the beach side and be surrounded with the swaying palm trees and soft sand, or take one of the water villas along the jetty threading across the turquoise lagoon, guests will be enchanted by the beauty of the island, attentiveness of the staff and the gentle wave lapping of the Indian Ocean.