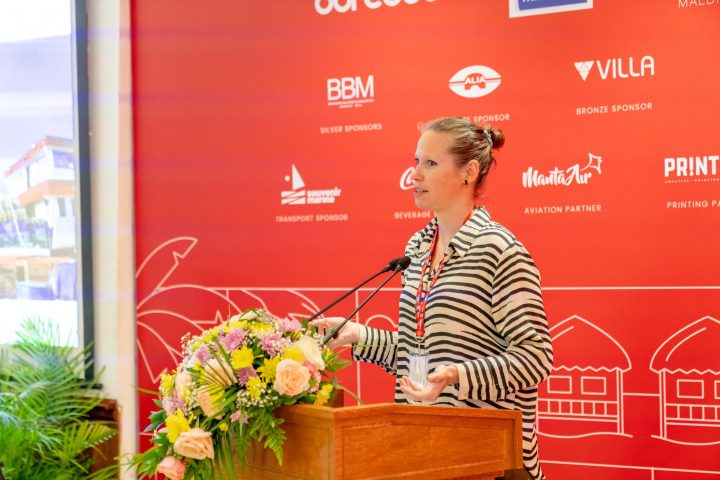 Hotelier Maldives GM Forum 2023: Lessons from Soneva Namoona on making CSR meaningful, strategic, sustainable
Katarzyna 'Kash' Izydorczyk, Director of Operations and Community Engagement at Soneva Namoona, shared her insights and experiences on how to create meaningful corporate social responsibility (CSR) initiatives that go beyond token gestures and address the real needs of communities. She was speaking at the Hotelier Maldives General Managers (GM) Forum 2023, which took place at Bandos Maldives resort on October 19, 2023.
Soneva Namoona, an independent Maldivian non-governmental organisation (NGO), is Kash's canvas for creating positive change in the Maldives. Established in partnership with the neighbouring island communities of Maalhos, Dharavandhoo, and Kihaadhoo in Baa Atoll, and international NGO Common Seas, Soneva Namoona is funded by Soneva and the Soneva Foundation. The organisation provides a blueprint for how all islands can phase out single-use plastic, introduce recycling, and inspire a new generation of environmental stewards.
Kash highlighted the three key elements of Soneva Namoona's approach to CSR: meaningful, strategic and long-term relationships. She explained how these elements help to bring about sustainable, systemic change to the felt needs of communities.
Meaningful relationships
Kash emphasised the importance of building meaningful relationships with the local communities, based on trust, respect and mutual understanding. She said that Soneva Namoona does not impose its agenda or solutions on the islands, but rather listens to their needs and aspirations, and co-creates solutions with them. She said that this way, the communities feel empowered and ownership of the projects.
She also shared some examples of how Soneva Namoona engages with the local communities, such as organising community events, conducting awareness campaigns, providing educational opportunities, and supporting local entrepreneurs. She said that these activities help to foster a sense of belonging and pride among the islanders, as well as a culture of environmental stewardship.
Strategic relationships
Kash also stressed the need for strategic relationships with key stakeholders, such as government agencies, NGOs, private sector partners, media outlets and influencers. She said that Soneva Namoona leverages these relationships to amplify its impact and influence policy changes. She said that by collaborating with different actors, Soneva Namoona can access more resources, expertise and networks, and create synergies and win-win situations.
She also gave some examples of how Soneva Namoona works with strategic partners, such as launching the Maldives' first eco-centro waste-to-wealth centre in Maalhos with Common Seas and Parley for the Oceans; partnering with UNICEF to provide online learning opportunities for children during the COVID-19 pandemic; and working with local media outlets to raise awareness and advocacy on environmental issues.
Long-term relationships
Finally, Kash highlighted the importance of long-term relationships that are based on commitment, consistency and continuity. She said that Soneva Namoona does not view CSR as a one-off project or a marketing gimmick, but rather as a long-term investment in the well-being of the communities and the environment. She said that Soneva Namoona aims to create lasting impact and transformation by supporting the islands throughout their journey towards sustainability.
She also shared some examples of how Soneva Namoona demonstrates its long-term commitment, such as providing ongoing technical support and training for the waste management systems; establishing a revolving fund for microfinance loans for local entrepreneurs; and creating a network of eco-ambassadors among the youth who can carry on the legacy of Soneva Namoona.
Kash concluded her keynote address by urging the hoteliers to adopt a similar approach to CSR that is meaningful, strategic and long-term. She said that by doing so, they can not only enhance their brand reputation and customer loyalty, but also contribute to the social and environmental development of the Maldives. She said that Soneva Namoona is always open to sharing its learnings and best practices with other interested parties who want to join its mission of creating positive change in the Maldives.
The Hotelier Maldives GM Forum 2023, which is the most anticipated event for hoteliers in the Maldives, was held at Bandos Maldives resort on October 19, 2023. The forum attracted over 100 hoteliers from various resorts and hotels in the Maldives. This year's forum was sponsored by several leading companies in the hospitality sector, such as Ooredoo Maldives, Fuel Supplies Maldives, Far Horizon, Bestbuy Maldives, Manta Air, Coca-Cola Maldives, Alia Investments, Villa Hakatha, Swimsol, Souvenir Marine, and more.