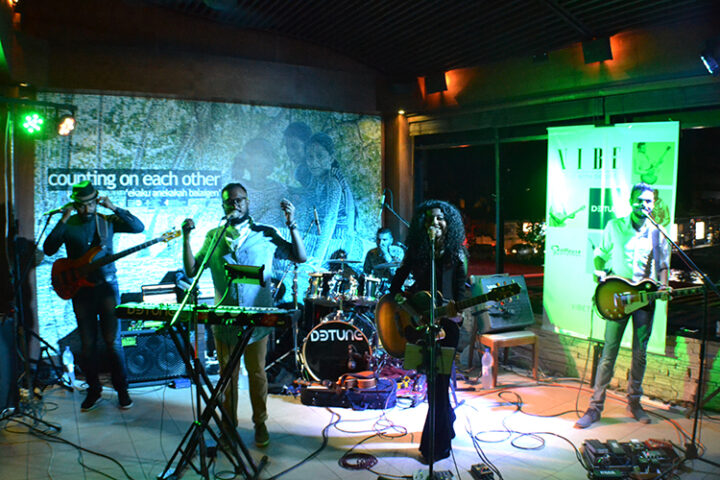 Island Hoppers: Detune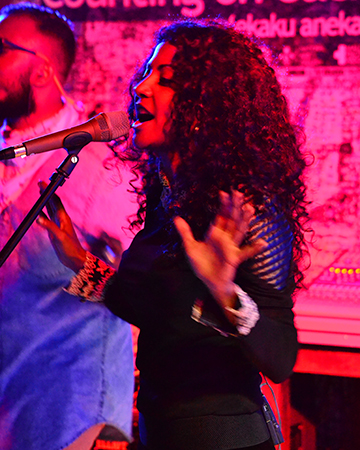 Noona Hussein
Our Island Hoppers series focusses on the lives of those who spend their days hopping between resorts – musicians, photographers, make-up artists and freelancers.
We kick off with Detune Band, a group of five Maldivians who have been bringing funk, jazz, pop and rock to resorts across the country for almost a decade.
Detune Band, a group of five energetic Maldivian musicians, celebrated their 10-year anniversary of making music together on June 18th. They've been performing at One&Only Reethi Rah and Baros Maldives for 9 years, and recently added Kurumba Maldives to their scheduled weekly gigs.
Throughout the decade, the band has never cancelled a single show and it has to be said that Detune is one of the most well-respected, reliable bands in the country, with a reputation to deliver upbeat, high-energy performances.
I sat down with Fezu, female lead singer, manager and the only female member of the band, to have a chat about their life in show business. "Almost 10 years," she shakes her head from side to side, smiling, almost in disbelief, "10 years with these boys now…I guess I got extremely lucky in meeting these guys. They are so disciplined and well-behaved," Fezu said. "We've stuck together for so long, it's like we are a family now."
The band started off in 2006, and after doing resort gigs for one year, in 2007, got the opportunity to play at the ITB fair in Berlin. "After our performance in Berlin, we started thinking about how we could grow, how we could improve as musicians," Fezu said. "We decided to study music, to better our game, and it was our passion."
Studying online at the Berklee College of Music and playing gigs proved to be no easy feat. "On our way to a gig, all of us would have our faces buried in books, cramming for assignments," she reminisces. "It was crazy! Between gigs, practicing, and studying, we had an absolute blast, learning and applying what we learnt to our music every day."
All the members of the band completed certificate level in their preferred field of instrument with Ayya on bass and Ammadey focussing on drums. Fezu and male lead singer/pianist Fuji completed the basics, before moving on to vocals. Lead guitarist Fathih continued studying for four years at the college, completing a Masters in jazz music.
Fezu spoke highly of the other members of the band. Throughout our brief conversation, she would stop to mention just how thankful she was, to have been lucky enough to meet the rest of the members of Detune. And it has to be said, her passion for music literally flows out of the words as she speaks.
Practice sessions are always fun, Fezu explains, because they get to jam together. "See, the thing with playing at resorts, especially playing consistently at the same place for 9 years, you get a lot of repeater guests," she explains, "so you always have to keep learning new songs. And we always make it a point to play music from all genres and ages. We play a little bit of 80's pop, and the more recent, upbeat songs which are currently making headlines. We also play all of our own songs from our album at our gigs," Fezu said. Guests also have the opportunity to purchase the band's album during the shows.
"While studying, we started writing our own songs. But we weren't quite satisfied with what we came up with because we had a long way to go back then," Fezu says. So the band kept studying and doing gigs for the next four years.
Having performed for a lot of VIPs, and VVIPs, Fezu explains one of the most interesting performances was playing at the ITB Berlin fair in 2014. Fezu also highlights performing on the birthday of Coco Lee, the famous Hong Kong born American singer/songwriter, and her music producer husband. The band most recently performed for the famous singer/songwriter Will.I.Am's manager Tim Wade, who was very impressed with their talent and took an interest in the band.
After nearly a decade together, Detune launched their first album 'One Down', or 'Sun Kendun' as it is called in Dhivehi, on the 5th April 2014, with songs in both English and Dhivehi. Fezu describes the producing and launching of their first album as "giving something back to the guests, the people we have made friends with throughout the years."
"Fathih was still studying when we went to Sri Lanka to record our album. We recorded the entire thing in 29 days," she said. "Luckily, our families are extremely supportive. And we were lucky to get the attention of a Singaporean music producer, who approached us, to produce our first ever album."
With the addition of Kurumba Maldives to their schedule, Detune is becoming one of the most sought-after bands on the resort scene. The band will begin recording their second album in August.
This article was originally published in the 9th edition of Hotelier Maldives Magazine.