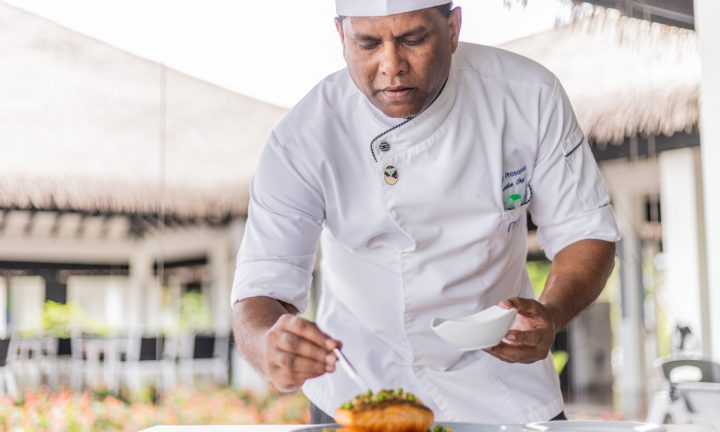 Chef of the month: NOKU Maldives' Executive Chef Denzil Prasanna's culinary mastery
Imagine a tropical paradise where every bite is a delight. Where the azure waters of the Indian Ocean meet the white sands of the Maldives. Where you can savour the flavours of the world in one exquisite resort. Welcome to NOKU Maldives, where Executive Chef Denzil Prasanna will take you on a gastronomic adventure like no other.
Chef Denzil 's love for cooking began by chance, when he joined a hotel in his hometown of Colombo, Sri Lanka, as a trainee after high school. But what started as a job soon became a passion, as he discovered the joy of creating dishes that tantalised the senses. His quest for culinary excellence took him around the globe, from Germany to Vietnam, where he learned from different cultures and cuisines. "Germany left a significant mark on my cooking style, especially in European cuisine," he said. "I started developing a passion for cooking and exploring different flavours."
In Vietnam, he expanded his repertoire to include Asian delicacies, as well as fine dining and consulting skills. "I got to learn different cooking styles and techniques," he said, "which influenced my approach to creating culinary experiences."
Chef Denzil's culinary adventure continued in the Maldives, where he worked with Sun Siyam Resorts for three years as Cluster Executive Chef at Sun Siyam Vilu Reef and in the pre-opening of Sun Siyam Iru Veli – both five-star properties.
Following his long stint with the local hotel group, including several pre-opening experiences, Chef Denzil has found his home at NOKU Maldives. Here, he combines his global culinary flair with the island's natural bounty. At NOKU Maldives, you will taste the freshness of the sea in every bite, as Chef Denzil sources seafood from nearby islands and the local community.
"Every day, we have the catch of the day," he said. "We create dishes using the freshest seafood available." This way, he ensures the quality of his dishes, while supporting the local economy and ecology.
But Chef Denzil's creativity doesn't stop there. He also strives to create dining experiences that are tailored to each guest's preferences and expectations. "We have different venues and cuisines," he said. "We want each dining experience to be memorable and reflective of the guests' preferences." Whether you fancy Japanese and Thai cuisine, or want to sample the flavours of Singapore, you will find a dining venue that suits your mood and taste at NOKU Maldives. Each venue offers a unique ambiance and a story to tell through its food.
But Chef Denzil is not one to rest on his laurels. He is always dreaming up new ways to delight his guests with his culinary creations. He shared his plans to launch new dining experiences, from exclusive grill menus to innovative culinary showcases. "I want to create experiences where guests can immerse themselves in the culinary journey," he said. He also wants to share his culinary wisdom with guests who want to learn from him. He plans to offer cooking classes that use the resort's hydroponics garden, ensuring a hands-on and immersive experience for guests.
As we wrapped up our interview, Chef Denzil shared some words of wisdom for aspiring chefs and those who love cooking. "Culinary arts are a rewarding field," he said. "But it requires dedication, a thirst for learning, and a willingness to adapt." He stressed that the key to a successful culinary career is hard work and hands-on experience. "Never be afraid to try new things," he advised. "Embrace challenges and always strive for excellence."
Executive Chef Denzil Prasanna's journey from his humble beginnings to his current role at NOKU Maldives is an inspiring story of passion and dedication. His culinary expertise, combined with his commitment to sustainable practices and unique dining experiences, has made NOKU Maldives a world-class culinary destination. Whether savouring the freshest seafood or indulging in creative cuisine inspired by global traditions, guests at NOKU Maldives are invited to embark on a culinary adventure that transcends borders and tantalises the senses.