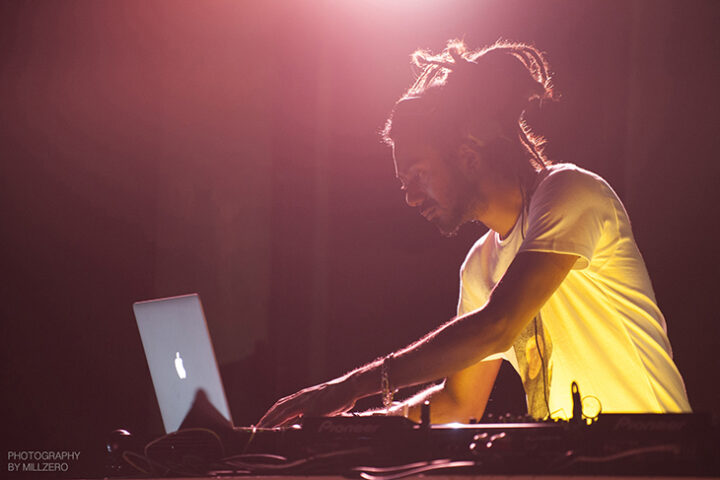 Island Hoppers: DJ Vifak
Back in the 90s, it was trendy for teenagers living in Male' to spend their weekend nights at house parties. Home garages, front yards, sitting rooms and houses under construction were converted to party venues with the help of mini strobe lights, glow in the dark decorations and small sound systems. Vifaq, now popularly known as DJ Vifak, was one of those teenagers who used to make a habit of grooving amid the fluorescence, sometimes even hosting the parties at his place. However, he was quite different to the other partying adolescents. Having discovered the pleasures of music during his pre-teen years because of his cousin's music collection, most of the times he was the one who handled the playlist.
The weekly parties were sometimes visited by prominent DJs of the time, an occurrence that often transformed a good party into something that was considered as a great one. And while the other youngsters indulged in the excitement that would have them talking about it for months, Vifak concentrated on learning as much as he could from these opportunities. Vifak's quest for learning extended on to his relationships with his friends as well; a lot of them were DJs and Vifak picked up anything he could from them. Before Vifak got his own console with the help from his parents, it was these friends who lent him a console which allowed him to take on his first few gigs.
There is one crucial move for any Maldivian who wants to make a living out of playing music. That is to begin acquiring gigs from resorts. Vifak made this vital move in 1998 and the first resort he played at was Thari Village. It was New Year's Eve, and Vifak did not have the proper equipment, training or even that much music. However, the night became one that would inspire and shape his future career. He was touched by the crowd's response.
"The best part of being a DJ is witnessing the people enjoy what I play to them while enjoying the music myself at the same time. Bringing on the hype and entertaining the crowd is fantastic as well," says Vifak. Having come a long way from handling playlists at teenage parties, Vifak now spends his days shuttling between islands playing four nights a week, at Kuredu Island, Sheraton Maldives, Velassaru and Veligandu.On his off days Vifak pays attention to being updated on the latest music releases and thinking about what genres can be mixed together. However, he never plans his set, but rather adapts to the atmosphere at the gig venue. "I try different types of music when I start off a set and I observe how the crowd moves. If there's a movement I always notice it. It's about reading body language, and that's a big part of being a DJ," Vifak explains. According to him, his ability to read people's moods and adapt to them has to be kicked up a notch when the audience is of different nationalities. In those situations he has to do a lot of spontaneous adapting to get all of them moving.
"DJs take people on a journey. From the beginning we create a mood and within the mood we make people get up from their seats and move on to the dance floor," Vifak says while describing how he sees his role as a DJ.
Vifak is a DJ who doesn't subscribe to a specific genre of music and this has a lot to do with what's required by the tourist resorts. "The Maldivian resort music scene is a very commercial one. You have to play all types of music. There are also different kinds of gigs. Some places would require lounge style music. That's not about getting people to dance. It's about playing mood music or deep house or soulful house music. On the other hand where there is a party scene you would have to play very commercial music such as 80s, R&B, hip-hop, dance, and EDM. So you would have to adapt. You can't just simply say I am a house DJ or an EDM DJ. To be successful in the Maldivian resort market, you have to be a commercial DJ and be an open format one," Vifak explains.
Having established himself as a reputable DJ, Vifak now uses his experience and knowledge to improve and expand the local DJ scene. He is a co-founder of Uber Events & Artist Management, a company that focuses on creating professional-standard local DJs while providing sound and lighting for various events.
Apart from hopping between islands in the Maldives, Vifak has also taken his music to clubs and parties at Malaysia, Australia, United Kingdom, Thailand and Sri Lanka. Currently he is working on a collaborative piece with popular musician Mooshan and plans to release it before the end of this year. Additionally Vifak is also carving time from his busy schedule to work on compiling his own album, a treat for the many fans he has acquired over the years.