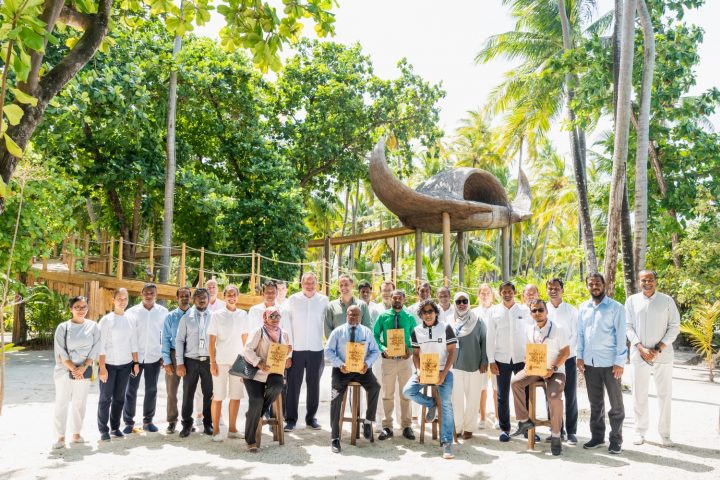 JOALI sustainability fund announces 5 grant recipients
As a leading luxury hospitality and lifestyle brand with two award-winning islands in the Maldives – JOALI Maldives and JOALI BEING – the JOALI brand is committed to safeguarding the local communities and environments in which they operate through sustainable practices, regenerative travel and responsible tourism. Part of these ongoing efforts include the JOALI Sustainability Fund initiative which was announced in early 2023 and pledges to support locally-led projects carried out in Raa Atoll (where both JOALI properties are located) that demonstrate sustainability and have the potential to create a lasting impact.
"Ever since our arrival in the Maldives, we have woven every aspect of our culture and strategy around the promise of 'responsible luxury,' taking ownership of and managing our own impact on the environment while promoting ecological resilience," said Esin Güral Argat, founder of JOALI. "We are extremely proud of the meaningful changes we have been able to create during our journey and look forward to continuing this important work which includes supporting local projects such as the ones we've chosen to fund."
After receiving many deserving applications, the JOALI Sustainability Fund has announced it will be granting a total of $15,000 to five projects that demonstrated their efforts and plans to impact their local communities across four focus areas: safeguarding the planet, fostering wellbeing, creating platforms for women, and nurturing ethical consumption.
The five JOALI Sustainability Fund grant recipients are:
Rasmaadhoo School – "Green for a Healthier Life": To promote healthier and sustainable options for the local community where nutrient foods and vegetables are scarce, JOALI will fund the school's project to create a hydroponic vegetable garden. As part of the project, the school will also distribute seeds and plants to the community to encourage additional farming as well as develop a separate compost-making unit to support further cultivation outside of hydroponics.
Ungoofaaru School – "Inclusive Education": As one of the oldest and largest schools in the Maldives with almost 500 students ranging from Kindergarten to 10th Grade (ages 4-16), JOALI will fund the school's Special Educational Needs (SEN) Programme which is in need of classroom materials and resources to better create a conducive learning environment for students with special needs. The project further aims to develop strategies and practices that accommodate the diverse needs of all students, including those with different cultural and linguistic backgrounds, to provide a safe and inclusive learning environment where students can better develop their academic, social, and personal skills to become responsible and productive members of society.
Hulhudhuffaaru School – "Fostering the Youth": Providing education from pre-school to 12th Grade to more than 350 students for over 25 years, JOALI will fund a project to help students learn embroidery and stitching as a new skill to generate income for their families. After receiving a special training, students will be able to create various hand-woven cloth bags to be sold around the island. The income from these bags will help students kick-start their own businesses, while also teaching them a new skill.
Ungoofaaru Regional Hospital – "Dental Radiovisiography": A tertiary care hospital in the Maldives serving a third of the local population, the Ungoofaaru Regional Hospital offers a full range of inpatient, outpatient and community-based health care services. With a guiding ethos to improve the health of its local community and steward the resources entrusted to them, JOALI will purchase a digital radiography system that will provide higher-resolution images and enable faster communication between doctor and patient. These images can also be stored in a digital format for future reference, and retrieval in case of any follow-up procedures.
Dhuvaafaru Zuvaanunge Jammiyya – "Joy of Empowering Women by Farming": As one of the most active local not-for-profit organisations, the Dhuvaafaru Zuvaanunge Jammiyya has been one of the leading contributors in developing the island, working with local councils, schools and health sectors to implement various programs focusing on the importance of coral reefs, safeguarding the environment, health education, and more. As one of the recipients of the JOALI Sustainability Fund, the Dhuvaafaru Zuvaanunge Jammiyya looks forward to expanding its work further to enhance the environmental and socio-economic growth of the community. The project proposes introducing a hydroponic system that is both easy to maintain and less labor-intensive in growing crops. The vegetables will then be sold to the local community where profits will be split between the household and NGO which will reinvest the money to further expand the agricultural sector. This introduction of this project will also be complemented with training and awareness to educate the community on nutrition and the importance of a balanced healthy diet through home gardening and self-sustenance. The nursery will not only be used as a training centre but also as a laboratory to test new technologies and varieties and to germinate the crops. Lastly, as the island is predominantly a fishing community taking most of the men away from their homes, this grant will also support women who currently have very few income-earning opportunities and provide them with economic incentives and education surrounding self-sustainability and nutrition.
For more information about the JOALI Sustainability Fund and the brand's commitment to social responsibility and sustainability, please visit www.joali.com/sustainability-and-csr-at-joali. For further details and booking, please visit www.joali.com.