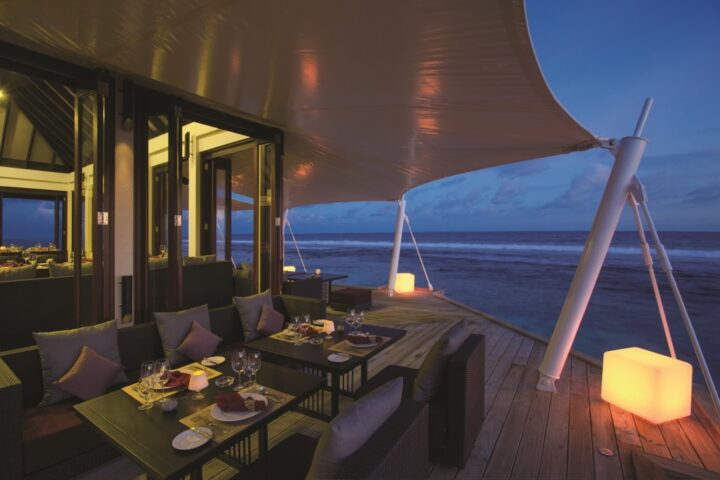 JUST VEG – Redefining Contemporary Cuisine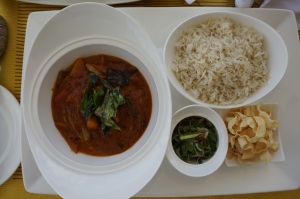 JUST VEG – a PURE Vegetarian restaurant, presents delightful vegetarian cuisine from the Mediterranean, Arabic and Indian Ocean regions, redefining contemporary non-meat cuisine by experimenting with original and surprising flavor combinations. The restaurant elevates the "100% meat-free cookery" to a new high, delighting the discerning palates of all tastes, whether you are a Devout Vegetarian or a Committed Carnivore!
JUST VEG, located at Atmosphere Kanifushi Maldives, Lhaviyani Atoll, is one of the most talked about 'Gourmet Cuisine' restaurants in the Maldives currently and has just been selected as being part of the "TOP 10 Restaurants in the Maldives" by the popular & prestigious UK based Tour Operator – DestinologyBenchmarking JUST VEG as a culinary trend setter for Gourmet Vegetarian cuisine and as the ONLY authentic Vegetarian Restaurant in the Maldives, the overall experience offers the discerning traveler a unique journey, through the surprising world of contemporary vegetarian food and healthy life style.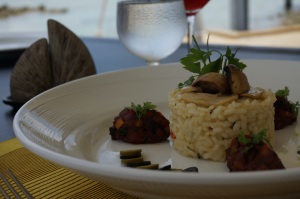 As per Mr. Rajat Chhabra, Director of Operations & General Manager, "JUST VEG specifically caters to the growing Vegetarian community of this world in a lifestyle orientated manner. The entire experience at the restaurant is totally in sync with the Brand Essence of Atmosphere Hotels & Resorts – Art of Balance! It is our way of offering alternative cuisine, specifically focusing on the healthy aspect of life and the vegetarian philosophy!"
JUST VEG would be celebrating the World Vegetarian day on 01st October 2014, with an In-residence Michelin Star Guest Chef – Mr.Fabrizio Marino. Chef Fabrizio is one of the very few Vegetarian Michelin Star Chefs in the world!
The resort has ventured to add on this innovative fine dining experience, to further enhance guests' gastronomical journey, whilst holidaying in the Exotic Indian Ocean destination – The Maldives; sparking further appeal to an already popular Premium All-Inclusive experience at Atmosphere Kanifushi Maldives!