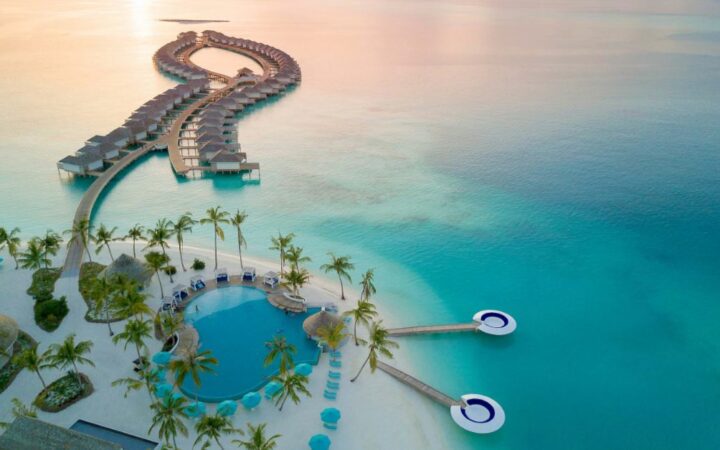 #InstaWeekend at Kandima Maldives with celebrity bloggers
Kandima Maldives, the country's first Lifestyle resort, is bringing the Maldives to the screen, as it plays host to some of the world's best-known bloggers and influencers with #KandimaInstaWeekend. The Kandima Maldives InstaWeekend will run from October 12 to 16.
Montana Brown and Georgia Harrison from the latest series of ITV's Love Island will join the likes of Brit blogger CC Clarke and Australian actress and TV presenter Brooke Chamberlain for a programme full of k'ool fun stuff during InstaWeekend, according to a statement by Kandima Maldives.
In addition to chilling out by the longest pool in the Maldives, the Insta guests will get to try parasailing, dive with hammerhead sharks, catch a wave with a bit of surfing and plug into some zen vibes with relaxing yoga at sunset. They'll also learn how to give a massage at the new esKape Spa and try their hand at some art with a KULA art class – KULA is Kandima's new art initiative devised with local artists whose work will be exhibited throughout the resort, according to the resort.
The InstaWeekenders' experience will mirror how Kandima Maldives' guests would really like to live at home. The resort doesn't get hung up on luxury and exclusivity – it's for everyone. It's a place where guests can chill, be active, healthy, and creative and know that they are being eco-friendly too. During their stay, InstaWeekenders will hashtag it up with – #MyKindOfPlace #JustPlay #AnythingButOrdinary #TheKandimaBuzz #GetKandimatised
According to Kandima Maldives, they'll have a map of top Insta Spots for social media shots and their weekend will kick off with a Cardio Blast followed by a sunset mingle and meet up at Azure, Kandima's chic beach house restaurant.
Set on a tropical island in Dhaalu Atoll, Kandima Maldives offers guests the opportunity to experience the Maldives "in a new way" – embodying all the positive values of the Maldives, while adding its own innovative, vibrant and playful style.
The 3-kilometer long island is just a 30-minute flight from Velana International Airport, followed by a scenic 20-minute boat ride. The resort – the first property under umbrella brand Pulse Hotels and Resorts – promises to be more than just another beach holiday, but an experience, offering time out for adults and fun for children, year-round sunshine, water sports, top activities and a safe environment. To check out more about Kandima Maldives, please visit kandima.com/index.