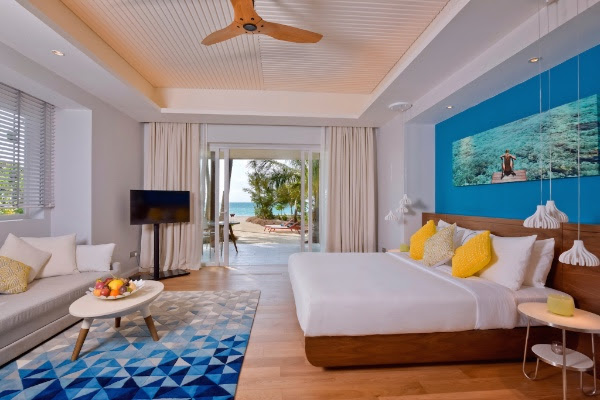 Kandima Maldives introduces advanced technology to enhance guest experience
Kandima Maldives has announced that it will use state of the art guest relations technology in order to elevate their guest's experience. The new Kandima property management system is the first of its kind – it is smart unobtrusive technology that makes a guest's stay smoother, and the new RFID wristband will allow them more freedom. This advanced technology will enable Kandima to service guests to the highest level from booking to arrival, throughout their stay and beyond.
Not only will the Technology on Kandima give a superior service and enable guests to playfully interact, but it will also enable the island to reduce its carbon footprint. Kandima's responsible use of technology will help reduce the islands waste and energy consumption. All water waste is recycled, food composted and glass recycled, items are responsibly packaged, energy saved through smart room controls that detect guest occupancy and behavior and Kandima have dramatically reduced printed collateral through the use of their app and interactive system.
Pioneering the way, Kandima is at the forefront of hospitality technology, changing the global trend for day to day operations as hoteliers, as well as achieving total guest satisfaction in the 21st century.
Pre-Arrival:
Prior to arrival, guests will be sent an email confirming all elements of their booking, it will include an itinerary of any specific bookings, such as spa treatments, restaurants, promotions, etc.
A link will also allow guests to update their profile prior to arrival, and amend or update any of the elements on their booking.
This user-friendly and elegant interface make booking at Kandima Maldives a complete breeze.
Arrival:
To ensure super fast check-in and eliminate queues, Kandima will have passport scanners.
Digital signature capture along with waterproof, chic and fashionable RFID wrist bands allow guests the freedom to roam the island without needing to worry about a key – freeing them from the tyranny of the room key.
F&B:
No need for a wallet or a pen, guests can just wave their wrist band at the reader and order anything they want.
Kandima's appointed point of sales system (Silverware AVRIO), recognises each guest when they arrive at a restaurant, café or beach bar and recommends favourites from past purchase history.
Quick service at 24hr vending machines with the RIPD wristbands.
In Room:
On demand video streaming, which can also be 'flicked' from the TV to a guest mobile device, allowing guests to continue watching from their private terrace or deck.
Easy 24hr room service via the Kandima APP.
Loyalty Rewards:
Loyalty facilities will reward guests for a range of activities from social mentions and experience sharing to booking, staying and returning.
Rewards can be spent on any number of fun activities or experiences.
The Kandima APP:
The Kandima guest APP provides a number of functional and modest features including handy checklists, tips about packing and arriving safely.
Reminders are triggered from their property management system prior to arrival, confirming guest expectations as well as following up with post-stay questionnaires for 360 degree feedback and continuous improvement.
The APP will also be a means to communicate value driven promotions that are relevant and intuitive.
The Property Management System:
Kandima property management system boasts one of the largest ranges of integrated modules that will enable them to service guests from booking to arrival, throughout their stay and beyond.
The Kandima property management system starts the guest's journey from the online booking system, and then integrates spa, reservations, loyalty, restaurant bookings, facilities, services, guest feedback, and other modules all within a single guest database.
 Keeping it Green:
Reduce the amount of printed collateral through the use of the app and interactive TV system in the rooms.
Kandima Maldives will strive to save more than just paper at their restaurants, cafes and bars, their guest folios can also be emailed directly.
Energy saving – All rooms have technology that senses when a guest enters the room, so that lights and air conditioners will be primed at just the right level of comfort.
When the guest leaves the room, energy management systems adjust the room environment to be green and still sufficiently comfortable.
Kandima will generate all their hot water from the heat of the waste generator, the waste generator heat will also run the air-conditioning.
All water waste is recycled for toilets and the gardening.
All food will be compsted and all glass recycled.
All items and products will be packaged responsibly.
Set on a lush tropical Island in the Dhaalu Atoll, Kandima Maldives will offer its guests the opportunity to experience the Maldives in a new way. This contemporary lifestyle resort will embody all the positive values of the Maldives, whilst adding its own innovative, vibrant and playful style. Kandima will be the first lifestyle resort in the country, offering more than just a beach holiday; instead it will offer an experience, giving guests the opportunity to get involved and create memories.