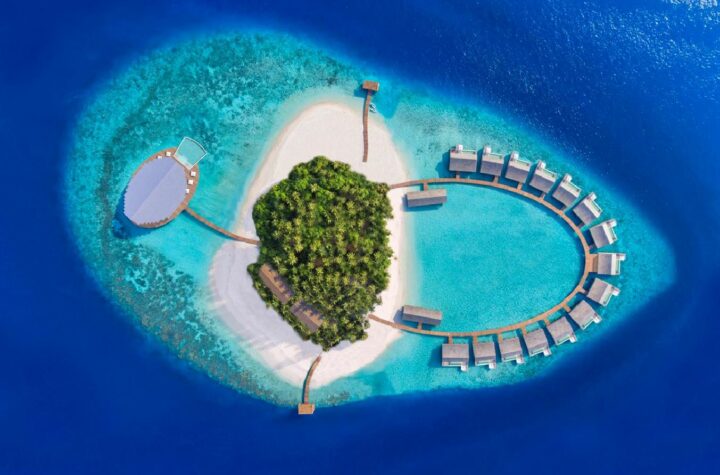 Kudadoo Maldives Private Island welcomes first guests
The private island designed by world-renowned Japanese architect Yuji Yamazaki and listed in the 2019 Architectural Digest's Hottest Designed Hotels, Kudadoo Maldives Private Island is now officially open. Kudadoo Maldives Private Island by Hurawalhi, located in Lhayivani Atoll comes with a total of 15 villas which draw inspiration from Japan.
The resort will make use of only eco-friendly materials that are bio-degradable to reduce its carbon footprint. Its central focus is on providing privacy and seclusion to its guests alongside heightened luxury, the resort even provides its guests with the opportunity to rent the entire resort. Modern and well thought out facilities accompany Kudadoo Maldives Private Island and what makes the resort so special can only be believed by seeing and experiencing it.
The new adult's only resort will bring the next level of exclusivity to the Maldives with it's a bit more family oriented sister resort, Hurawalhi Island Resort also being in the same atoll. The resort comprises just 15 over water Ocean Residences, each with a 44sqm terrace pool. The resort features additional accommodation for guests' personal staff as part of the seamless experience.
Each of Kudadoo's 13 Ocean Residences of 300sqm and two Ocean Residences of 380sqm (two-bedroom) – lagoon-set accommodations – come with a 44-sqm infinity plunge pool with expansive overwater deck and a range of seating options. The Retreat—the overwater gourmet restaurant— serves fresh seafood, prime beef and Asian cuisines. The Retreat, which is open for champagne brunch and dinner, also features a wine cellar.
Guests can choose to have lunch or dinner at 5.8 Undersea Restaurant at Hurawalhi – the world's largest underwater restaurant. Kudadoo Maldives Private Island is a 40-minute seaplane ride from Velana International Airport. For more information, visit www.kudadoo.com.