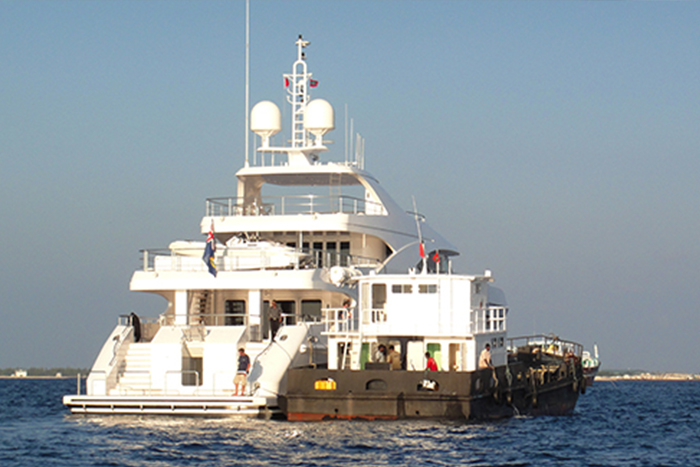 Leading fuel supplier in the country aims to be a global brand in the future
The Hawks Private Limited is a family owned company founded by its Chairman, Mr Ahmed Hassan Rasheed and managed by their children with his guidance. It was established in 2007 as a company that primarily focused on the supply of petroleum products. Over the seven years it has been in business it has developed and expanded, diversifying the product range and services provided. Recently The Hawks has invested in property development in the tourism sector as well.
The Hawk's vision is to excel in the fuel delivery services and become an even greater force to be reckoned with. To ensure their vision becomes a reality The Hawks aims to deliver professionally managed projects through excellent delivery service and the highest quality products available.
The Hawks is associated with many other services as well, though fuel supply remains to be its core business. Fuel supply itself is quite a broad industry, especially in a country such as Maldives where about ninety-nine per cent of the geographical area consists of the ocean. Therefore a comprehensive range of delivery services is available to their clientele.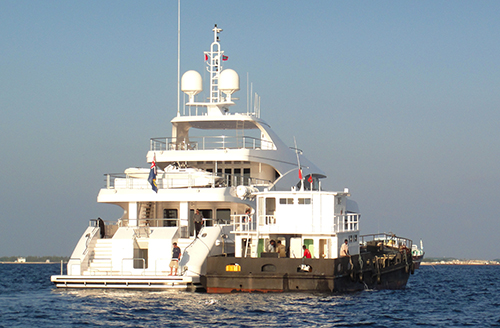 The many services The Hawks provides include fuel supply to inhabited islands and resorts, to industrial and commercial projects, as well as sales and distribution of fuel related equipment. Bunkering services are provided both domestically and internationally to fishing vessels, ferry boats, safaris and to cargo ships, cruiser vessels, super and mega yachts and to navy vessels respectively. The Hawks also pride themselves with being the only company that provides fuel-related consultancy services to their clients.
Regarding the many side businesses The Hawks is associated with, Mr Hassan Rifau, CEO explained, "Our main business venture is fuel supplies. The other businesses we do, we do because they are in line with our core business." He shed light on the speed boat services The Hawks provides as one of their side businesses, with a fleet of five Gulf Craft Touring 36 vessels, saying, "Take our speedboats as an example. As we work in the fuel industry it is more than necessary for us to have one as we are required to travel a lot to meet clients' demands. We decided to have one then, along with our other businesses."
The Hawks pay exceptional attention to the quality of services they provide. According to Rifau they've gotten as far as they have because they absolutely refuse to compromise on quality. The Hawks aspire to keep their services ahead of the safety guidelines set by local authorities and regulatory boards. Safety and prevention measures The Hawks undertakes themselves include equipping their fleets with the latest safety equipment and hazard prevention gears. Additionally, they conduct regular monthly routine check-ups for their fleets to ensure safety standards are maintained.
The Hawks keeps in mind that although fuel powers the world, it is still another story if an oil spill happens. Understanding exactly how problematic an oil spill would be to the environment, especially in Maldives, with such a delicate marine ecosystem, battling to survive in the gradually changing climate. To limit the chances of such an incident occurring to the absolute sheer minimum, The Hawks takes extremely particular precautions. Their oil bunkers are custom made by The Hawks with double bottom barges which is in accordance with internationally accepted standards.
"We also have the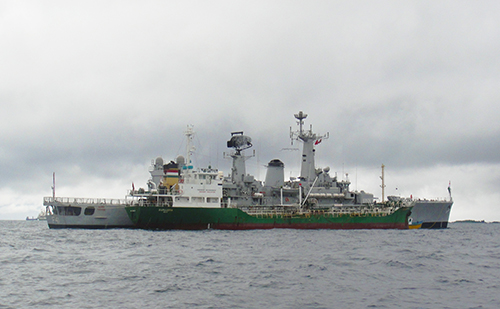 capability to transfer oil from one bunker burger to another in the event of any technical difficulties," says Rifau. He drew a picture of how one of their ships would come to the scene in case of an emergency to ensure no damage would be done to the environment.
"Our greatest obstacle in the beginning was finance," says Rifau. "We decided to start a fuel company when we saw the market for it, while we were in the cargo transportation industry. To start a company, you need to invest in infrastructure, which was the biggest problem we faced. Starting with the very little we had, we've come a long way."
The Hawks hope to be known in the future as a globally known brand in the fuel industry. Currently it boasts of having the status of leading fuel supplier throughout the nation. "We hope to have the label of a good fuel supplier in the Indian Ocean one day. Hopefully, in ten-fifteen years, that'd be us." According to Rifau, the company is currently not involved in serving outside of Maldives, as it aspires to do so. He informs that The Hawks is in the middle of talking to foreign sources in the hopes of making it happen.
"By doing business with us your business will only flourish further. We aim to do our work to fit the needs of the customer, their requirements. We provide our services custom made for every client. It's not the other way around, where you have to buy what we sell," says Rifau regarding the company to their clients nationwide.