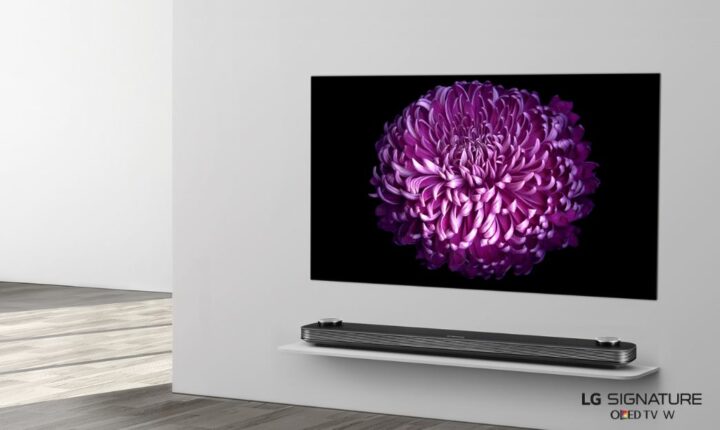 LG unveils Wallpaper OLED TV for hotels
LG Electronics USA Business Solutions has unveiled the LG OLED Wallpaper Hotel TV at the 2017 Hospitality Industry Technology Exposition & Conference. The LG OLED Wallpaper Hotel TV is a light-weight, "razor-thin" display that appears to become one with the wall. LG Electronics USA Business Solutions is the North American subsidiary of South Korea-based LG Electronics Inc.
"The LG OLED Wallpaper Hotel TV lives up to the unrivalled ability of OLED to deliver the very best picture quality available today, and its sophisticated form factor will not only capture guests' attention but leave a lasting impression," says Michael Kosla, vice president, hospitality, LG Electronics USA Business Solutions.
"As the world's first LG OLED Wallpaper TV for hotels, this innovative new display is sure to revolutionise the way luxury hotels and resorts elevate the in-room experience for premium guests."
According to LG Electronics USA Business Solutions, the 65-inch class OLED Wallpaper Hotel TV combines LG's hotel TV technology with the aesthetic and image quality of the LG Signature OLED TV W, now available on the consumer market.
Due to its ability to turn pixels on or off, LG OLED TVs render perfect black levels—and therefore infinite contrast—to display vibrant colours, immersive details and lifelike images that LCD displays cannot produce, according to the company.
With a width of 0.15-inches, the OLED Wallpaper Hotel TV can be installed in luxury hotel suites using slim mounting brackets with a magnetic mat for seamless design. Its electrical components are housed in the device's media box, connected through a thin flat cable, which allows the panel to lie flush against the wall. The display's technology enables the TV to be seen from wide viewing angles for viewing from any location in the room.
"LG Electronics has unveiled many new products, applied new technologies in the form of mobile devices and digital TVs in the 21st century and continues to reinforce its status as a global company," says Reefside Co Pvt Ltd, the official distributor and service provider for LG electronics and home appliances in the Maldives.
LG Electronics Inc. – established in 1958 – is a multinational electronics company headquartered in Yeouido-dong, Seoul. For more information about LG products, and other brands and services offered by Reefside, please visit reefsidemaldives.com.