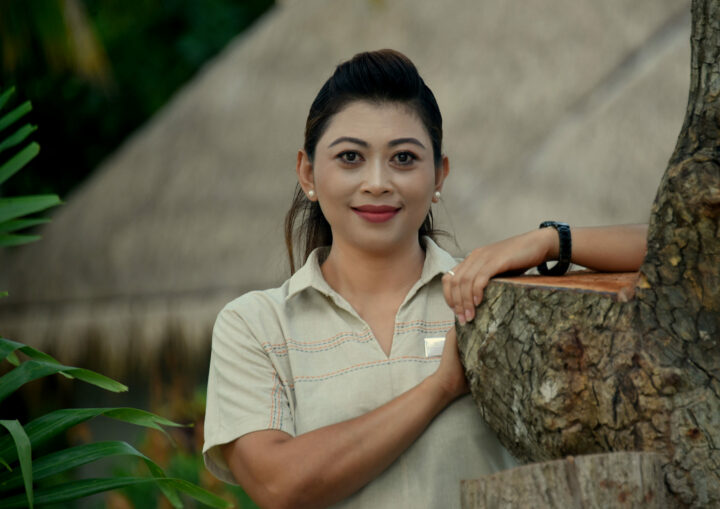 Luh 'Luhadi' Ramiadi, Director of Spa and Wellness at Furaveri Maldives
Wellness Village at Furaveri Maldives is built around a unique local village concept. The traditional Asian holistic health care offered stimulates to create a balance for the body, mind and spirit; resulting in achieving one's highest potential of health and well-being. The wellness village is set amidst gentle white shores, tropical life and nature. Surrounded by a serene world of delicate scents, a comprehensive range of facilities are set within a beautiful rustic wooden and bamboo interior. Each village pavilion sits amidst lush gardens and vegetation. A series of intricate walkways wind alongside a pond abundant with tropical fish and water lilies and connect the different areas within the village. The wellness village is aimed at providing proper exercise, relaxation-meditation techniques and nutrition.
The team of well-trained spa therapists at Furaveri's wellness village is led by Luh 'Luhadi' Ramiadi, a Balinese spa professional with over sixteen years of experience. Luhadi joined the hospitality industry back in 2001. After completing a Diploma in Tourism and Hospitality from PPLP Dyanapura University – Bali, Indonesia, she joined Aditya Beach Resort Lovina – Bali, Indonesia as a receptionist. Having worked for a year, Luhadi moved to the post of Practitioner and Receptionist at Yin Yang Acupuncture and Spa – Bali, Indonesia.
Her hospitality journey in Maldives began in 2004. "Well, I fell in love with the Beauty, Spa and Wellness industry and it was a natural progression. With the growth of new spas in the Maldives, I found an easy path with plenty of opportunities for me to step into the next level." Setting the stepping stones for Luhadi's journey in the Maldives was Constance Moofushi Maldives, where she joined as a Spa Therapist and Receptionist.
"My passion is in Beauty, Health and Wellness industry," says Luhadi. "I aim to provide personalised and customised services with the highest standard of services, products, treatments, class programs and retails to exceed the guest's satisfaction," she added.
Since acquiring her Diploma, Luhadi has continued to train and engage herself in academic programs for self-growth and development. "Self-growth is the key to living a fulfilling life and having a successful career. Therefore, I always combine both experience and education at the same time. I never stop learning new things in life, there are always new skills and techniques for us to adopt."
Her team effort and dedication has been remarkable. Luhadi proudly shared her achievements and special awards during her tenure with Sun Siyam Resorts. "I was named the 'The Best performance staff 2007' at Vilu Reef Beach and Spa Resort Maldives. In 2008 again I won the same category, 'The Best performance staff 2008' but at that time I was working at Sun Siyam Irufushi Maldives. In 2013 at Olhuveli Beach and Spa Resort Maldives I was recognised as the 'The Best HOD of the Year 2013.' In 2014 and 2018 I was selected as 'The Best HOD of the Quarter 2014' and 'The Best HOD of the Quarter 2018' at Sun Aqua Vilu Reef Maldives. Such recognition and achievements have always motivated me to go further, and achieve more."
In her career path, Luhadi has also had the opportunity to be a part of the pre-opening team and the rebranding team, for various properties. She contributed her services as a member of the pre-opening team at Constance Moofushi Maldives, Olhuveli Beach and Spa Resort Maldives, Sun Aqua Vilu Reef Maldives, Beach House Manafaru Maldives and Sun Siyam Irufushi. Additionally, she was a part of the rebranding team for Sun Aqua Vilu Reef. Luhadi proudly counts the creation of the Spa Menu for Sun Aqua Spa among her achievements.
Talking about a typical day, the routine and her team at wellness village – Furaveri, Luhadi said "Our wellness village represents a spa and holistic wellness sensibility that is both pure and personal. Open from 9:00 a.m. to 8:00 p.m. daily, our multi-nationality, skillful and professional team greets our guests with a smile. The sound of gently trickling water is definitely sensual and will immediately soothe the senses of our guests.
Expressing her passion towards her job, Luhadi said: "the best part of working as Director of Spa and Wellness is in persisting towards uplifting the overall wellness village experience and promoting restoration, relaxation and holistic living among our guests."