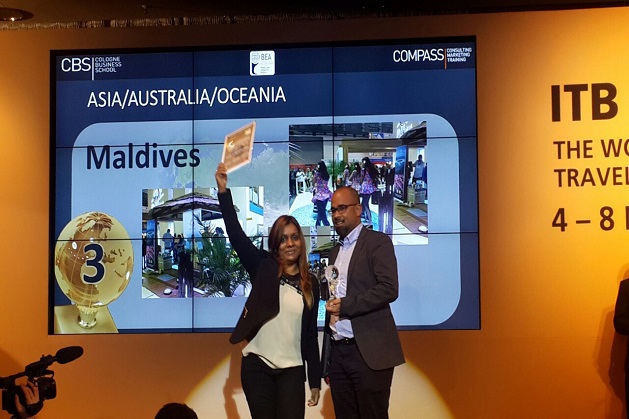 Maldives awarded third best exhibitor at ITB trade show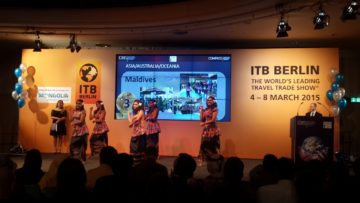 The Maldives has won the third best exhibitor award at the ITB Berlin Convention 2015.
 Over 30 bachelors and masters students at the Cologne Business School (CBS) evaluated all 11,000 booths during the first three days of the exhibition, the Maldives Marketing and Public Relations Company (MMPRC) explained a statement.
The Maldives won third place in the Asia, Australia and Oceania category. This year's awards included 11 categories and 2 special new categories.
"These stands were assessed according to numerous criteria such as creativity, originality, service quality, sustainability and special effects," MMPRC noted.
After accepting the award at a ceremony organised by CBS on Saturday night, MMPRC Managing Director Abdulla Ziyath thanked industry partners for their collaboration in making ITB 2015 a success.
Maldives was placed behind South Korea in first place and India in second place.
Other countries who won in this category included Sri Lanka (4th place), Indonesia (5th place), Mongolia (6th Place), Thailand (7th place), Kazakhstan (8th place), Philippines (9th place) and Bangkok Metropolitan Administration (10th place).
Rwanda meanwhile won the 'Best of the Best' award.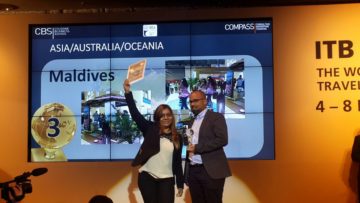 Some 75 companies from the local tourism industry represented the Maldives at the ITB Berlin Exhibition.
"Maldivian culture was promoted in the stand through cultural performances, handicraft activities and display of Maldivian made short eats," the MMPRC statement added.
"In addition the spa area in the stand highlighted the relaxation and rejuvenation segment of the Maldives tourism. As per the MMPRC officials present in the fair, these areas grabbed a huge amount of attention from the visitors."
The annual InternationaleTourismus-Börse (ITB) Convention is the world's leading travel and trade show.
 Last week, the Maldives was named the country partner for the 2016 ITB Berlin Convention.
 "Starting from 10th March 2015 till the beginning of ITB 2016, Maldives together with ITB will be promoting the event on different media platforms," the MMPRC noted.