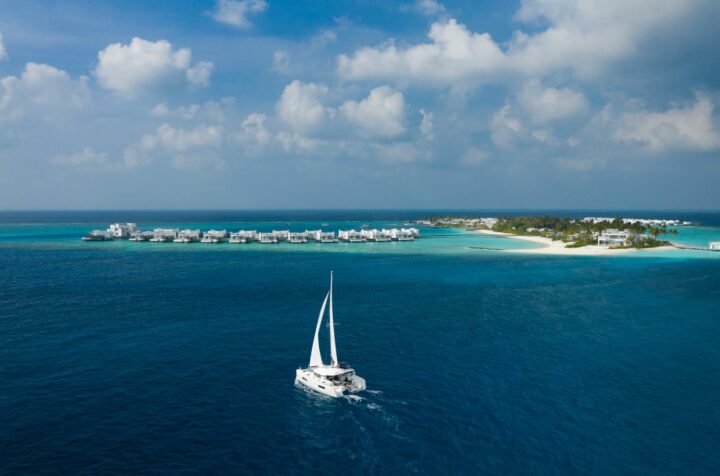 Maldives Hotel Pipeline
Global Hotel Pipeline at the end of 2019 was at an all time peak, which was reflected in the Maldives. However, the pandemic caused a slow down or complete halt to many of these projects across the globe. This report will highlight global hotel construction trends, overview of the Maldives tourism sector, current and upcoming new developments in the Maldives, the implications and outlook.
 WITH ADDITIONAL CONTRIBUTIONS BY SAHLA ZAHIR & NAZA NAZEEM
World Trends in Hotel Construction

The Travel & Tourism sector's continued sluggish recovery will see its year-on-year contribution to global GDP rise by less than one third in 2021, according to new research from the World Travel & Tourism Council (WTTC).
In 2019, the Travel & Tourism sector generated nearly USD 9.2 trillion to the global economy, however, the pandemic brought Travel & Tourism to almost
a complete standstill which resulted in a 49.1 per cent drop, representing a punishing loss of nearly USD$ 4.5 trillion in 2020 In 2020, WTTC revealed the loss of 62 million Travel & Tourism jobs around the world and as some areas are still struggling to recover, the forecast is that jobs will only rise by 0.7 per cent this year. Whilst the travel and tourism sector is still reeling from the effects of the pandemic, the construction of new projects is moving ahead regardless. Top countries by project count in global pipeline stats are USA and China accounting
for 10,241 / 61 per cent of all global projects. UK, Indonesia and India trail behind with a combined 945 projects (141,759 rooms), which is barely 18 per cent of those in the USA The top five hospitality franchises leading global construction are Marriot, Hilton, IHC, Accor and Hyatt; these five companies account for 59 per cent of all projects in the global pipeline, and
all of these chains have been strengthening their presence within the Maldives. Marriott has opened two properties in Maldives this year (2021), while Hilton and Hyatt is set to open one in 2022. In the first half of 2021, 1100 hotels opened worldwide, accounting for 161,734 rooms. LE research analysts forecast a total of 2,802 new
hotels/414,696 rooms to open by year-end. In 2022, 3,122 new hotel openings/476,185 rooms are expected to open, for 2023 the forecast is 2,890 new hotels, accounting for 468,645 rooms, opening around the world.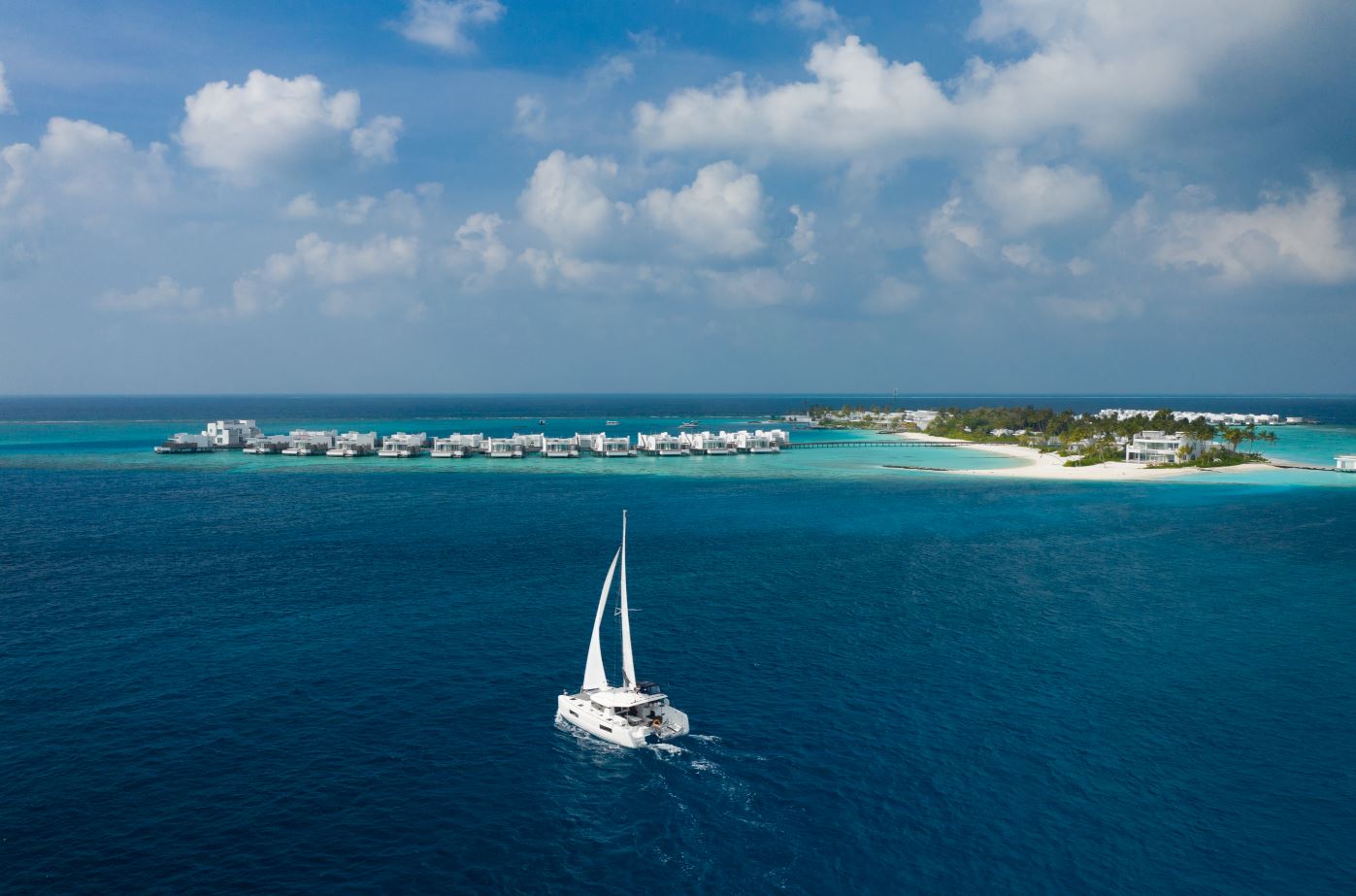 Economic Performance & Outlook
The World Bank predicts a slow recovery as the global economic growth is expected to expand at 4 per cent in 2021. However, a strong rebound in the Gross Domestic Product
(GDP) is presumed for Maldives, despite the severe 33.5 per cent contraction in GDP in 2020 as per Maldives Monetary Authority (MMA). The revised figures by MMA in October gives a projected 31 per cent growth in GDP for 2021. This is mainly due to the strong performance in the tourism sector, as tourism is a major contributor to GDP, and tourism land rent is the third strongest revenue stream.
Maldives Tourism Landscape
The Maldives, known for its crystal-clear waters, endless white sandy beaches and some of the best diving and snorkelling sites in the world, has been attracting tourists
in increasing amounts since 1972 with 2022 being the Golden Jubilee Year of Maldives Tourism. According to the Maldives' Ministry of Tourism (MOT), international visitor arrivals have experienced steady positive growth during the past decade before the pandemic, reaching approximately. 1.7 million visitors in 2019 and had high hopes for 2020. Despite the positive projections for 2020, the pandemic and its unparalleled global economic shock lead a drop of 67.4 per cent in arrivals in the Maldives for 2020.
The Maldives reopened its borders on 15th July 2020,and slow, but gradual arrival growth was observed for 2020. Interestingly, in 2021, the recovery of the Maldivian tourism sector appears to be swift compared to many other key destinations reaching to over 1 million tourists in October. As of 13th December, daily updates by MOT showed a total visitor arrival of 1,223,117, which is just a -23.3% reduction compare to 2019. Also, the average occupancy reached 52.4 per cent as of October 2021, while average duration of stay lengthened to 8.9 days from 6 days in 2019.
Due to the social distancing measures imposed globally, the Maldives has capitalised on its unique concept of "one-island-one-resort" to emphasise its exclusivity to promote the destination.
Looking at the sector's operational side, as end of 13th December 2021, the operational bed capacity was 52,106 out of 56,918 registered tourist beds in the Maldives. These operational capacity as of December 2021, accounts for 160 resorts/marinas, 601 guesthouses, 144 safari vessels and 10 hotels.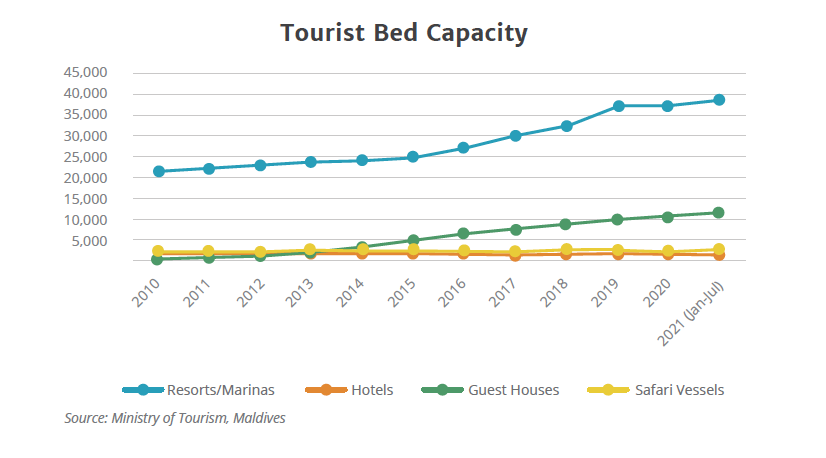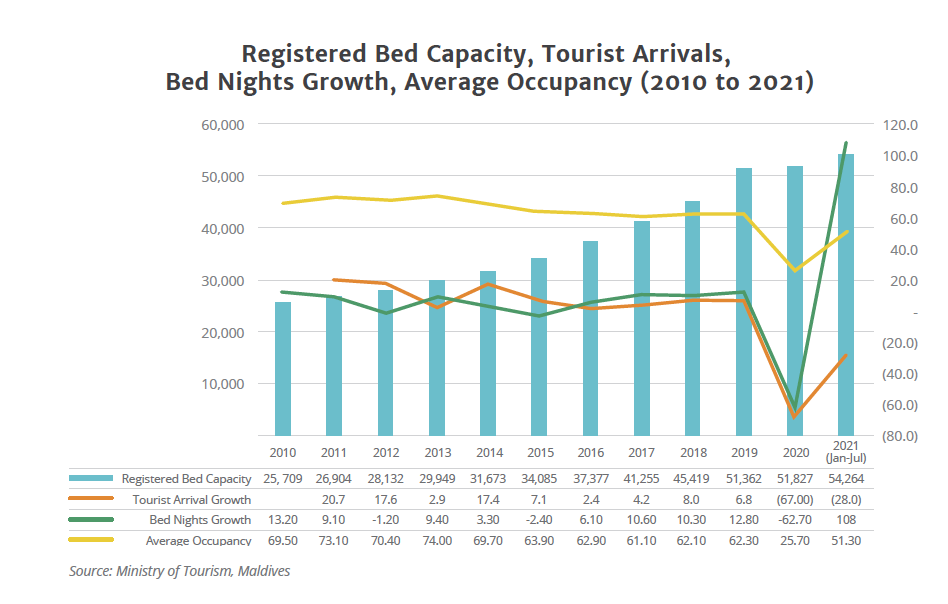 A large majority of the tourist bed capacity in Maldives comes from resorts, although, the number of guesthouses grew significantly in recent years. It is observed there is a strong, steady increment in registered bed capacity over the years, while the bed nights growth and average occupancy followed a similar pattern with tourist arrival trends.
Hotel Transactions and Investment
Generally, the Maldives' hotel investment market has been dominated by foreign investors. The market has been active throughout the past four years, with investment volume peaking in 2019 at USD 438 million, according to HVS. However, in 2020, the global economy slowed down and consumer sentiments weakened as the accommodation market was negatively impacted by travel disruptions.
Notable transactions in 2019:
• 151-room Conrad Maldives Rangali Island at USD 180 million (USD 1.19 million/room)
• 110-room Anantara Dhigu Maldives Resort at USD 97 million (USD 883,000/room)
• 67-room Anantara Veli Maldives Resort at USD 59 million (USD 883,000/room)
As of YTD August 2021, Maldives has recorded one transaction. The 80-room Kanuhura Maldives has been acquired at USD 41.5 million (USD 519,000/key). From 2016 to 2019, inbound investment in the Maldives was dominated by investors from the United States.
They acquired a total of five properties, amounting to a total investment volume of approximately USD 378 million, equivalent to USD 944,000 per unit. This is followed by Singapore and Thailand, which have acquired three properties each, with a total investment volume of USD 161 million and USD 84 million, respectively. The remaining countries, namely, Germany, Japan, and Sri Lanka have acquired one property each.
In terms of investors' profile in totality, Asia-Pacific leads the way with four out of six countries belonging to the Asia-Pacific region. Europe, the Middle East, and Africa regions are shown to be less active in the Maldives hotel investment market. As of YTD August 2021, the transaction of the 80-key Kanuhura Maldives was made by a Singapore investor.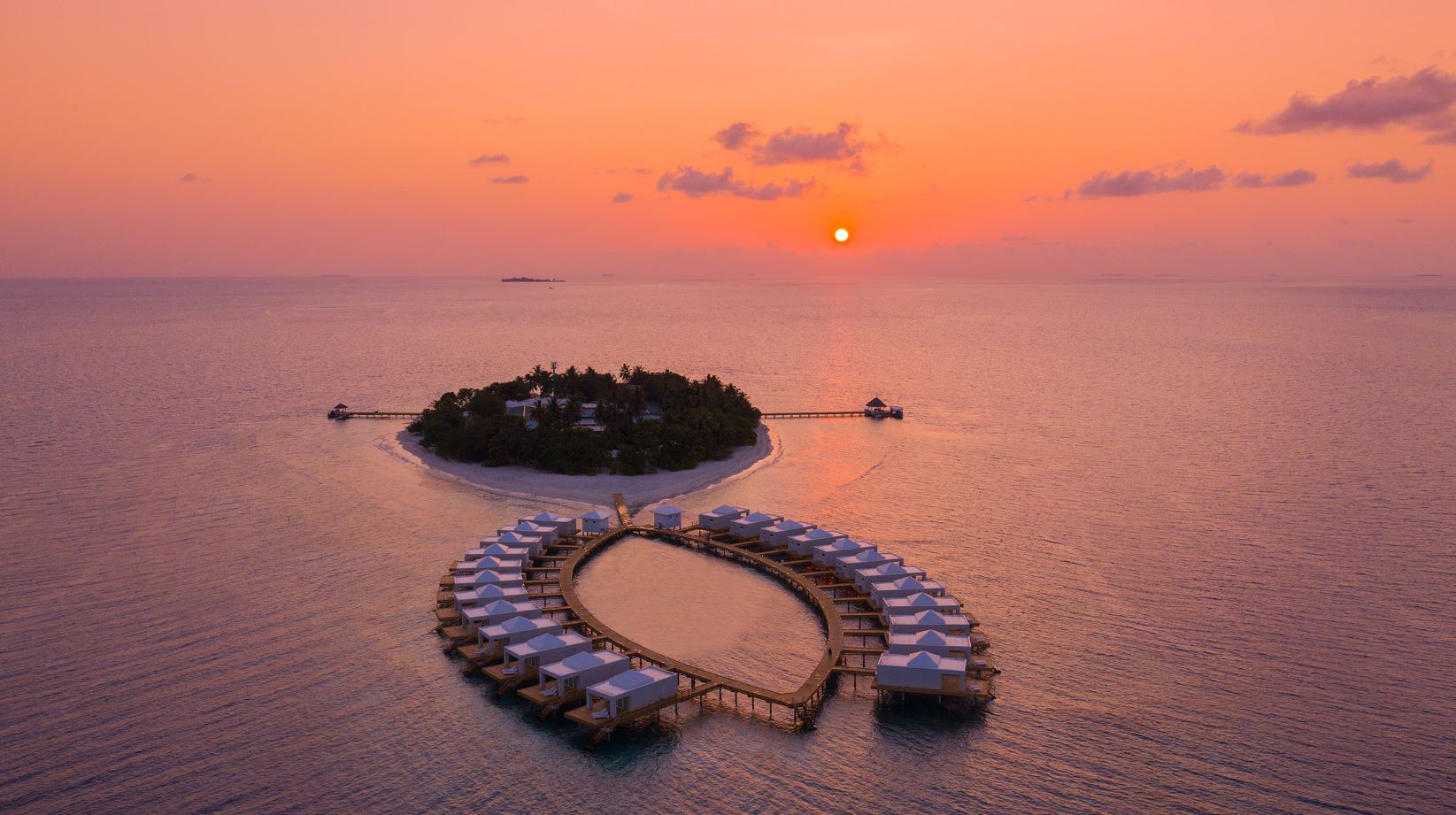 New Resort openings in the Maldives
Despite the pandemic three Resorts opened in 2020 with a total of 336 rooms
• Radisson Blu 128 rooms
• Kagi Maldives 50 rooms
• Brennia Kottefaru 158 rooms
Eight new resorts opened in 2021 with a combined inventory of 1172 rooms.
Resorts Opened in 2021 to date
• Patina Maldives, Fari Islands – 110 rooms
• Ritz Carlton Maldives, Fari Islands – 100 rooms
• Kuda Villingili Maldives Resort- 99 rooms
• Le Meridien Maldives Resort & Spa- 154 rooms
• Joali Being – 69 rooms • Cora Cora Maldives- 100 rooms
• Siyam World – 500 rooms
• Cocogiri island Resort – 40 rooms
2022 sees nine resorts scheduled, adding another 1300 rooms to the pipeline.
Resorts due to open in 2022:
• Avani + Fares Maldives – 200 rooms
• Nova Maldives – 75 rooms
• Zazz Island Maldives – 100 rooms
• OBLU Xperience Ailafushi – 268 rooms
• OBLU Select Lobigili – 68 rooms
• Madifushi Private Island –200 rooms
• Alila Kothaifaru Maldives –80 rooms
• Amari Kudakurathu Maldives – 200 rooms
• Hilton AminGiri – 109 rooms
Therefore, by the end of 2022, another 1300 resort rooms are expected to be available, without factoring in additional rooms on local islands in guest houses, hotels, safari vessels or the new "home stay" initiative. Further, there are nine resorts scheduled with 997 rooms due to open in the next couple of years:
• Gran Melia Huravee, 96 rooms
• Indus Maldives Resort & Spa, 170 rooms
• Centara Kassanaufaru Resort & Spa Maldives, 130 rooms
• Centara Hotels & Resorts Maldives, 165 rooms
• Centara Lagoon Family Island Resort & Spa Maldives, 145 rooms
• Centara Grand Muthaafushi Resort & Spa, 101 rooms
• Novotel Maldives Keredhdhoo, 110 rooms
• SO/Maldives, 80 rooms
Inclusive of the above specified openings, according to MOT, a total of 139 resorts and hotels are under development across the country, where most of these properties are located in Kaafu Atoll.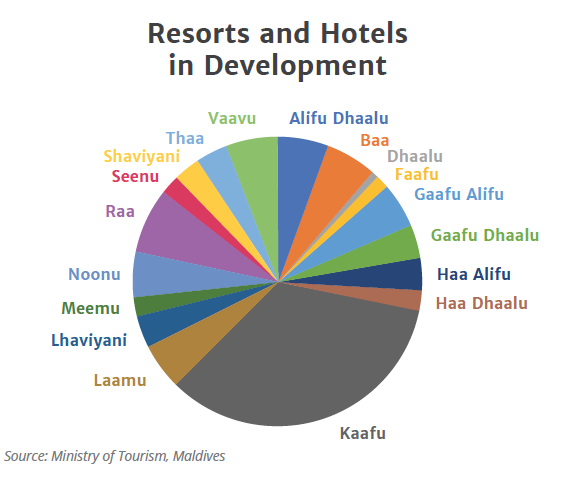 Implications of added rooms
This potentially means an additional 7000 plus visitors coming through an already congested airport and requiring onward transportation via domestic plane, seaplane, boat or bus / taxi. More people require more resources. Supplies – MPL is already stretched to the limit with backlogs of shipments reported at peak times. Additional availability and logistical challenges caused by the pandemic worldwide are also putting a strain on the supply line, with hikes in carriage for both air and sea freight Manpower – increased visitors will create more jobs, not only in construction and hospitality, but in ancillary services as well such as IT, landscaping, engineering, boat crews Support services such as additional medical facilities, health and safety awareness will also be required.
Infrastructure Developments underway
2020
• Horafushi Airport: A domestic airport in the northernmost Haa Alif Atoll (now operational)
• Funadhoo Airport: A domestic airport that serves the inhabited islands of the Shaviyani Atoll.
• Maavarulu Airport: A domestic airport serving Gaafu Dhaalu Atoll.
2021
• 2021 Madivaru Airport: A domestic airport to serve Lhaviyani Atoll.
• Hanimaadhoo International Airport Expansion: The airport expansion is considered one of the largest infrastructure and connectivity projects in the north of Maldives. The project includes the upgrade of terminals, and extension of the runway to 2200 meters, to enable landing of A320s and Boeing 737s.
• Velana International Airport Expansion: The ongoing USD 1 billion airport expansion comprises a 78,000-square-metre international passenger terminal building that will have the capacity to accommodate up to 7.5 million passengers a year upon its completion in 2022. The airport handled more than 4.8 million passengers and 54,000 flight movements in 2019. The new 3,400-metre-long and 60-metre-wide code-F runway will accommodate wide-body aircraft such as A380.
• Greater Malé Connectivity Project: The USD 500 million ongoing project aims to connect three islands, Villingili, Gulhifahu, and Thilafushi through a 6.7-kilometre bridge and causeway network. The project will promote urban development with the proposed Gulhifalhu Port and the Thilafushi Industrial Zone.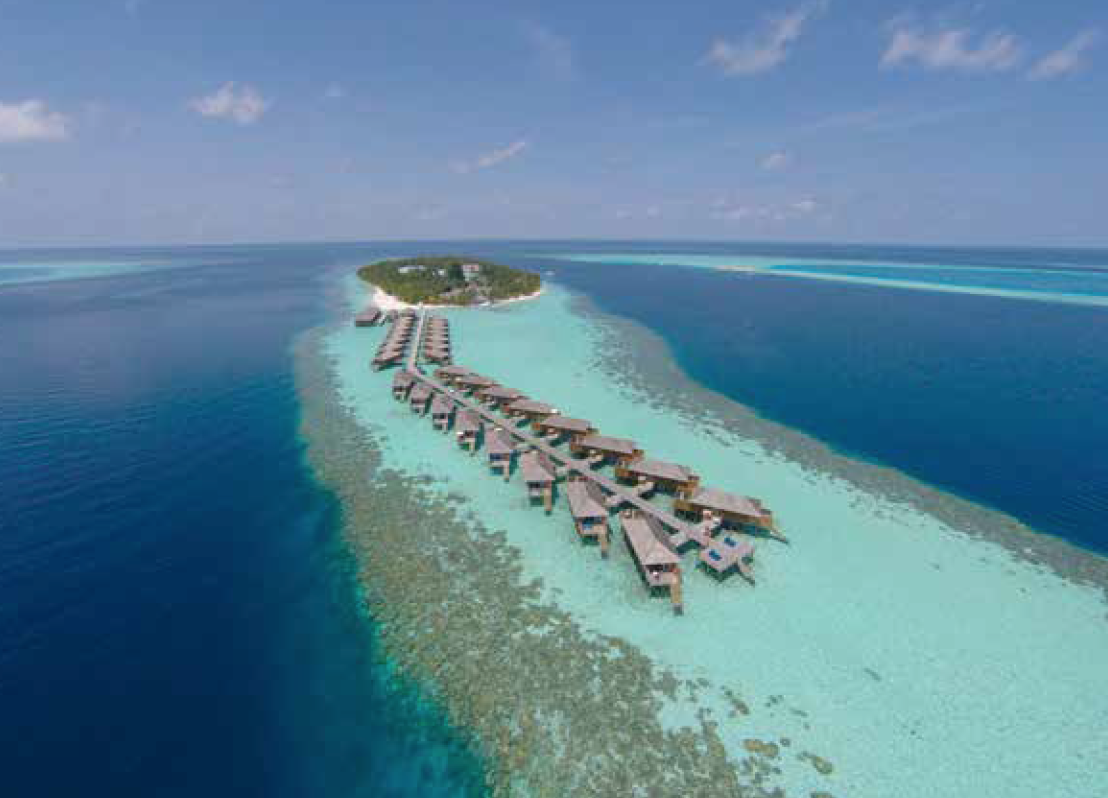 Outlook
The Maldives already hasa strong market of couples looking for a honeymoon destination,  diving and water sports enthusiasts and families seeking private and exclusive bonding time during vacation. The MOT has launched several marketing campaigns to emphasise the safety and unique selling points of the destination, which plus the travel accolades and upcoming Golden Jubilee will help demand generation for the Maldives. The current development pipeline will provide numerous opportunities for upscale and midscale properties to continue to expand their footprint in the market.