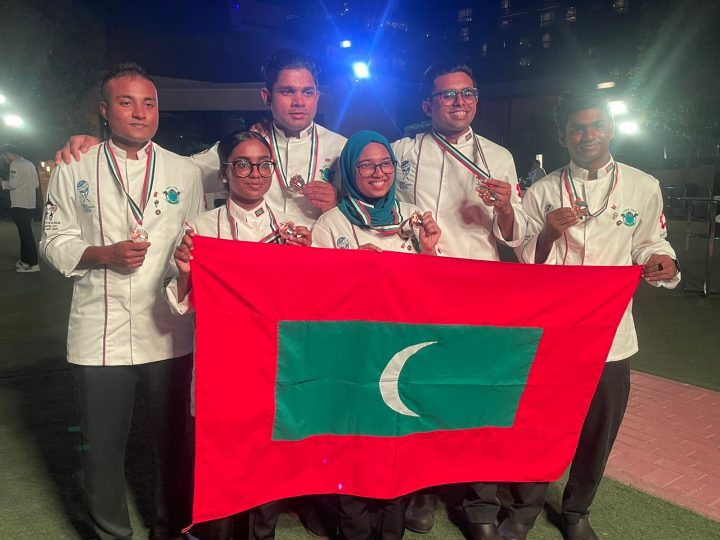 Maldivian Young Chefs Win Bronze at Alen Thong Competition 2023
A team of six young Maldivian chefs won a bronze medal at the Alen Thong Golden Coffee Pot Challenge 2023. The event was held from May 28- 31, 2023 at the Emirates Salon Culinaire in Sharjah, UAE. The exclusive biennial competition brought together teams of young chefs from eight countries to showcase their culinary skills. This is the first time the Maldives participated in the Alen Thong Golden Coffee Pot Challenge.
The teams had to create a complete, internationally themed spread of cold salad and appetizer, a dessert buffet, and a plated main course. The Maldivian team represented their nation with exceptional talent, creativity, and precision, earning well-deserved recognition.
The Maldivian contingent included Chefs Aminath Amany Hussain, Ismail Thahseen, Aishath Layaan Riyaz, Ahmed Saain, Ibrahim Nizam, and Mohamed Nasif. The team was accompanied by manager, Chef Ishaq Solih, coach, Ibrahim Nathif, and Chefs Guild of Maldives' Founding President Mariyam Noordeen. Chef Aminath Shaanee, served as a judge at the competition, further showcasing the expertise of the Maldives team.
The Maldives' success in this renowned competition not only highlights the country's emerging culinary scene but also reinforces its position as a rising destination for gastronomic excellence. The Chefs Guild of Maldives looks forward to continue nurturing these talented young chefs and extends thanks to Bestbuy Maldives, the team's main sponsor and other partners for their support.