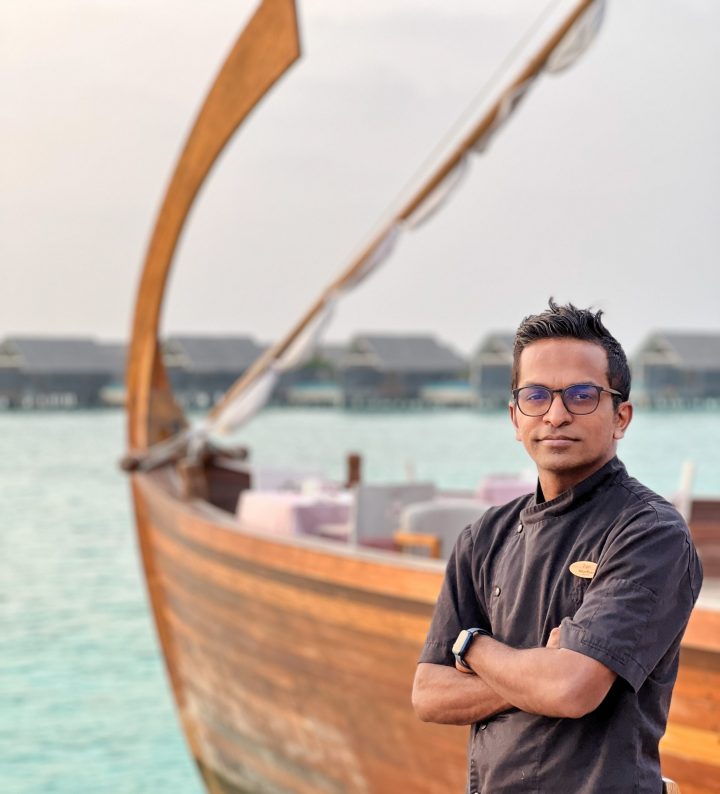 Chef of the Month: Ali Ziyan, Milaidhoo Island Resort
Appreciating the unique gastronomic experiences offered at Maldives resorts, Hotelier Maldives is delighted to launch a new series – Chef of the Month, featuring interviews with some of the top chefs in the industry and their signature dishes.
The first segment introduces Ali Ziyan, Speciality Chef De Partie, Milaidhoo Island Maldives in Baa Atoll.
Originally from Kaafu Atoll, Ziyan never set out to be a Chef and had never even considered it, despite enjoying cooking as a child under the influence of his father. Hotelier Maldives spoke to Ziyan about his journey into the culinary field and his aspirations for the future.
HM: What drew you to the culinary profession and started you on your journey to become a Chef?
Ziyan: It was good fortune. It happened over an interview held by the four seasons apprenticeship course. I never had plans of becoming a chef. I had finished my studies in Sri Lanka when my uncle suggested I applied for the apprenticeship at Four Seasons, so I did and was selected, joining as a Food and Beverage apprentice which meant one day of study and five days of practical work within the various food and beverage outlets.
Whilst at Four seasons I learnt all the core basic skills which gave me a good foundation. I also had a good mentor, Chef Adil. After Four Seasons I moved to different resorts working with several good chefs and learning new skills.  I really started to develop as a Chef whilst at Six Senses where I was also introduced to the delights of organic foods and then Vakkaru where I learnt Japanese cuisine, again under the guidance of Chef Adil. That is what started me on my journey. I then moved to Fushifaru and then the House of Oiishi where my Japanese skills were developed further with Chef Fatheem. I then moved to LUX* North Male which is where I was during lockdown.
HM: Did the pandemic affect your career path?
Ziyan: Not at all, in fact it helped me learn new skills. I have always used books and cooking shows to educate myself, and during lockdown I was on a resort, so I took baking classes with the resort head baker and learnt to do some bread and cakes. It was during this period that I was approached by Milaidhoo to join them as Maldivian Speciality Chef in their Maldivian fine dining restaurant Ba'theli.
HM: Tell us a unique / interesting fact about you
Ziyan: I don't always go by the book, I try to innovate, I get inspirations from books and cooking shows and create my own dishes, plus I never give up until I learn what I have started to experience.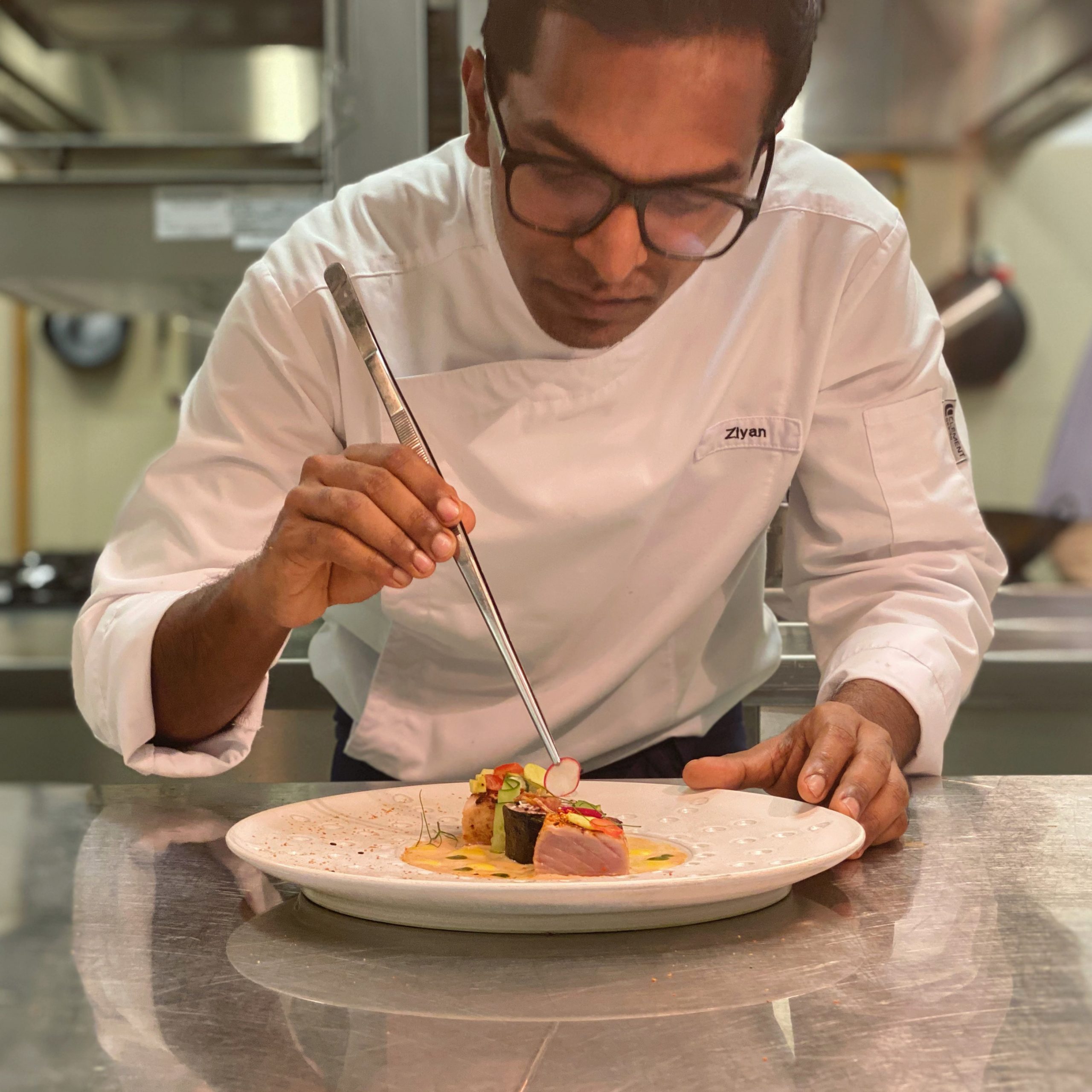 HM: What do you consider are upcoming food trends in the Maldives and why?
Ziyan: I would say, young people as food activists, home cooks, and the fact people are now more health conscious. During the pandemic a lot of people started baking and making desserts for an income, plus people realised the importance of adding healthier food to their diet.
HM: Who has had the greatest influence on your career to date?
Ziyan: Gordon Ramsey initially as I watched a lot of his shows when I first started, however from face to face I would say Chef Adil. Working with him and learning a great level of practical experience and knowledge was a great experience and he is still my mentor today.
HM: Of all the many facets of your role, which do you enjoy the most / find the most rewarding
Ziyan: Definitely it is making the guests happy, giving them a great experience, getting a good feedback from them and exchanging conversations. I've met so many interesting people.
HM: What do you do to relax?
Ziyan: Whilst at Four Seasons I taught myself how to play the guitar, so I play and sing as a hobby. Sometimes I perform live on "clubhouse". To relax I also swim if I have the opportunity.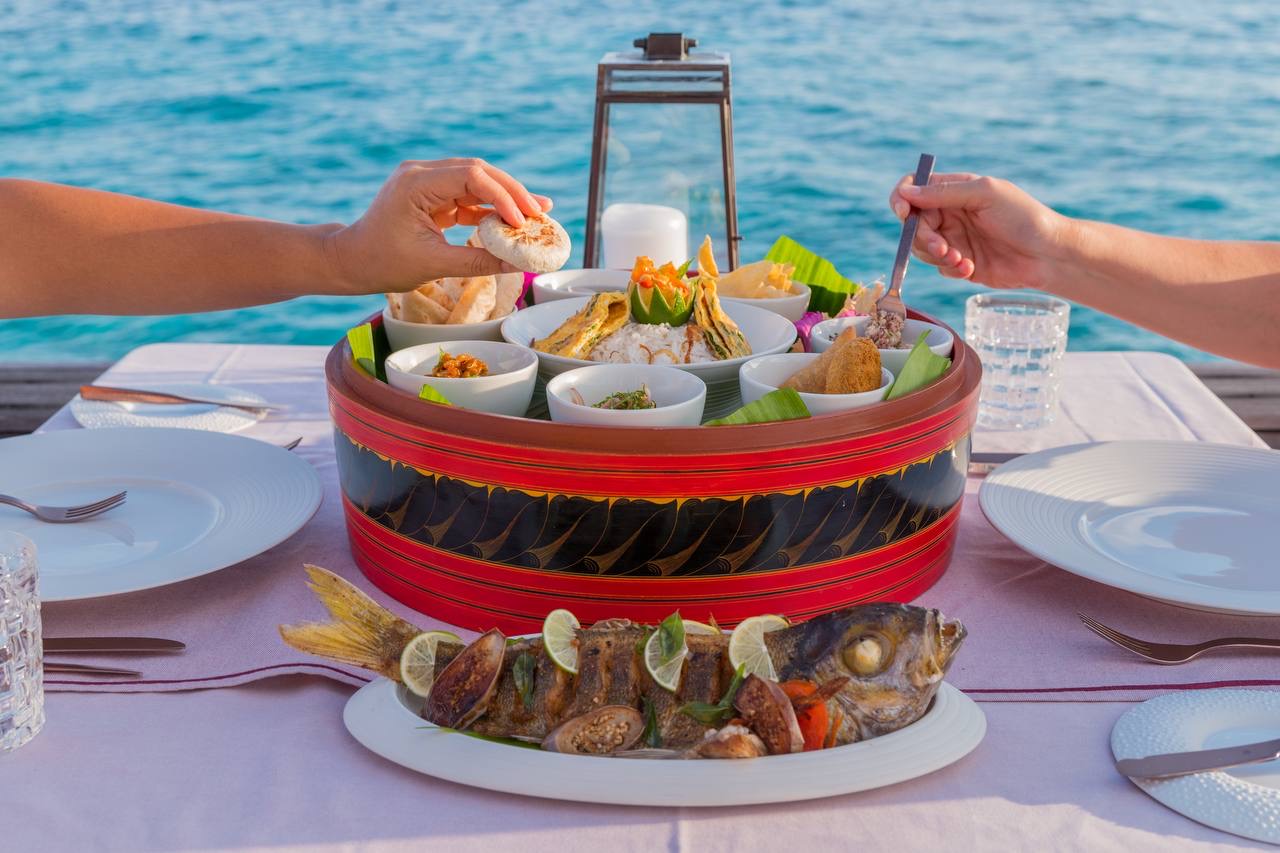 HM: What do you consider are the key attributes / skills required to become a good chef?
Ziyan: Firstly, you must have the passion for cooking, so you get to love the work you do. Second is respect everyone around you and stay humble. Then you always need to practice basic skills. Revise, read, keep learning, and stay motivated.
HM: What has been the highlight of your career to date?
Ziyan: Attending the World Chef Chefs Congress 2018 in Malaysia which gave me chance to meet some world class chefs and receive lectures from them. It was a great learning experience.
HM: Where do you see yourself in five years' time?
Ziyan: In five years' time, I plan to be a Head Chef and be leading a culinary team working both with and alongside me.
HM: What piece of advice would you give aspiring chefs?
Ziyan: Never back down, keep moving forward with the passion. Learn the basics from a professional. You can't beat practical experience such as an apprenticeship, which will set you on the right path and then always go for a good manager where you can learn more.
HM: What is your favourite ingredient to work with?
Ziyan: I have several actually, but Cumin comes first as it is the main basic spice in a lot of Maldivian dishes and is very versatile. It can also be paired with everything, including drinks. Then Coconut and Maldivian Chili for its unique flavour and heat.
HM: Do you have a favourite signature recipe to share?
Ziyan: Certainly, it is:
Hickory smoked lonumirus & lemon zest crusted baked white snapper, breadfruit & banana blossom salad, sweet potato curry sauce & rihaakuru cracker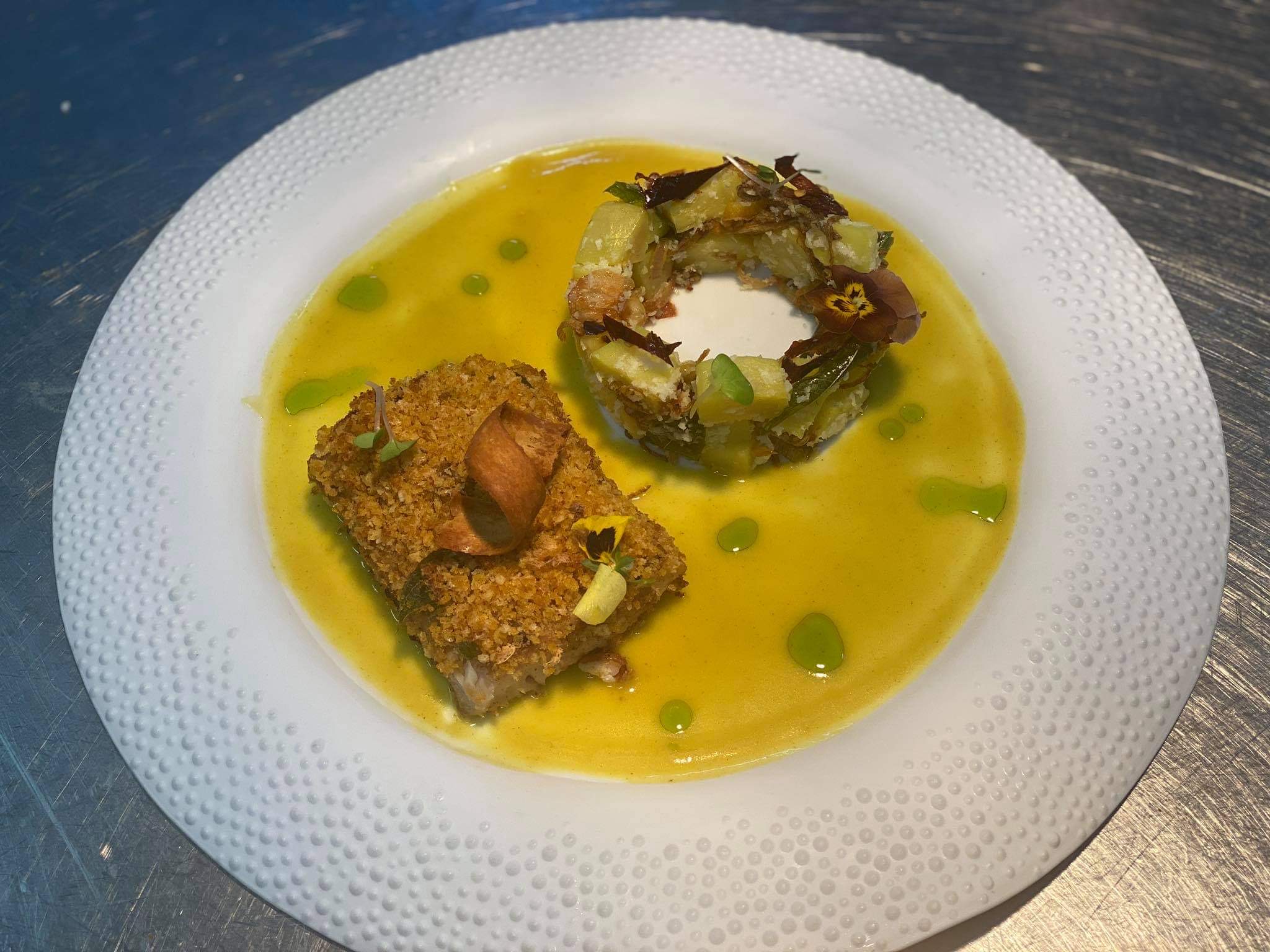 For the fish
180g white snapper fillet
3g Maldivian hanaakuri havaahu
03g lonumirus
01g zest of lemon
15g panko breadcrumb
14g butter
1 tbsp lemon juice
Salt & pepper to season
For the salad
60g Boiled & diced breadfruit in turmeric
20g fried banana blossom
15g grated fresh coconut
04g chopped fried curry leaves
1tsp coconut honey
1 piece of fried red chili
2tsp extra virgin olive oil
2tsp lime juice
Salt & pepper to season
For the curry sauce
60g Maldivian sweet potatoes diced
15g pumpkin diced
20g red onions finely sliced
2g pandan leaves
2g curry leaves
½ tsp turmeric powder
½ tsp roasted cumin powder
10g chopped fresh tomatoes
10g butter
50ml vegetable stock
05g garlic & ginger paste
20ml coconut cream
Rihaakuru cracker
05g rihaakuru
20g all-purpose flour
6ml warm water
1tsp of salt
For smoking the dish
Hickory smoked wood
Smoke gun
Glass lid to cover the plate
Method
Marinate the fish with hanaakuri havaadhu, salt, pepper & lime juice and sear the both sides of the fish on a medium-high heat on a non-sticky pan.
Combine the lonumirus with breadcrumb & butter and mix it well and apply the crumb on top side of the fish and set aside.
For the salad, mix well the coconut honey, lime juice & extra virgin olive and toss in with all the salad ingredients & season with salt & pepper.
For the rihaakuru cracker make the dough by adding flour, salt & water together then knead it to make a dough. Add the rihaakuru and knead it well & with a rolling pin knead it thinly and use a metal mold with baking paper around it to make a spiral and bake it in the oven in 180*C for 7-10 mins.
To begin with the curry sauce, in a small pot on medium heat melt the butter & add the onions, curry leaves, pandan leaves, ginger & garlic paste and sauté until fragrant.
Add the dry spices and sauté for 2 minutes and add the chopped tomatoes with the pumpkin & sweet potato and continue to sauté until the potatoes get soft.
Now add the vegetable stock and cook until its reduced and add the coconut cream. Season with salt and simmer for a while and turn off the heat.
Blend the sauce until smooth and strain with a fine strainer.
Bake the fish in 180 *C for 5 minutes (depending on the thickness, freshness of the fish fillet) Once the fish is ready grate fresh zest of lemon on top of the fish.
Warm up the sauce and plate it along with the fish fillet, salad and the rihaakuru cracker on top of the fish.
Cover the plate with the glass lid and use the smoke gun to smoke the dish and let it sit for 2 minutes and serve.