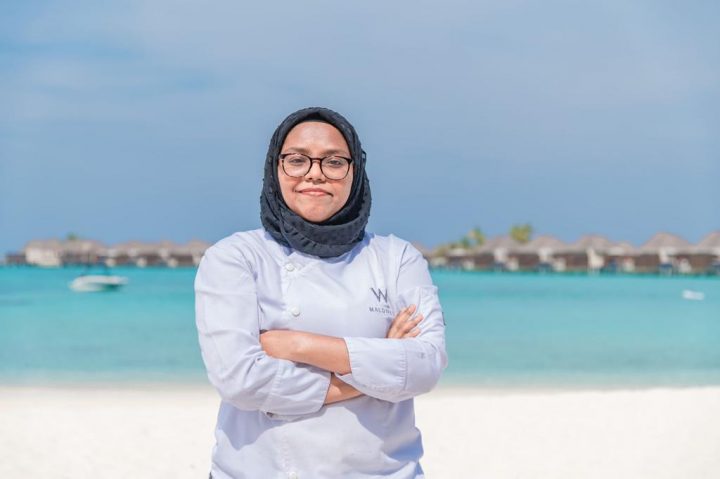 Chef of the Month: Mariyam Risma, Demi Chef de Partie, at W Maldives, North Ari Atoll
Growing up on AA Thoddoo, Risma loved the atmosphere created through food at large community gatherings and dreamt of being able to recreate the ambience when she was older. Leaving school at 16 she worked in local shops and restaurants but felt unfulfilled, so when her brother suggested she apply for the apprenticeship program at Four Seasons, she seized the opportunity, opening a door to an industry that has fulfilled both her love of travel and passion for cooking. Hotelier Maldives spoke to Risma about her journey and her aspirations for the future.
HM: What drew you to the culinary profession and started you on your journey to become a Chef?
Risma: I have always loved the idea of cooking. As a child my mother and grandmother would join with the neighbours to make food for big celebrations, which I wanted to do too, so I always watched The Rahathafaaph cooking show for inspiration. It was good fortune that my brother was working as a dive master at Four Seasons. He told me about their apprenticeship program, explaining all the things I could learn and the opportunities it would create, so I applied. I was accepted and joined the program in Kuda Huraa in 2013 when I was just 17, which started me on my journey.
HM: Where did you learn your skills?
Risma: While doing the apprenticeship program I learn all the basic core skills, from pastry to garde manger to hot kitchen. After the apprenticeship I spent a year as a steward before moving back into the cold kitchen. Since than I been introduced to a lot of ingredients from around the world and been learning how to best use them.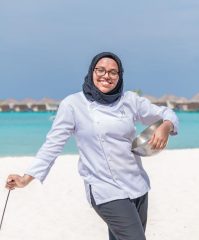 HM: Who has had the greatest influence on your career to date?
Risma: The two who stand out are Chef Farhan who I worked with at the start and has always been guiding me and filling my mind with lots of knowledge. He is still my mentor and the person I ask whenever I am in doubt on anything. The other is Executive Chef Junious Dickerson who was a big influence, constantly inspiring me and giving me confidence. When I returned from the Seychelles, he sent me a heart touching message telling me that the sky was my limit. I believe that with every new person you work with you will always learn something.
HM: Of all the many facets of your role, which do you enjoy the most / find the most rewarding
Risma: The most enjoyable thing about working in the kitchen is that every day I get to meet new people from around the world and make them happy through what i cook. Especially now as W Maldives allows me to cook more local food for the guests to give them a great traditional food adventure.
HM: Did the pandemic affect your career path?
Risma: I think the pandemic was bit rewarding for me, since I got chance to stay home and explore more about the local cuisine. I tested out some recipes using different flavours, like lime in chocolate biscuit pudding, I also made notes on different locally cooked dishes. When I got back to work I started doing more of a fusion version of each food.  I always love adding a bit of local flavour when I create a dish.
HM: What do you consider are the key attributes / skills required to become a good chef?
Risma: Creativity, commitment, and patience. Accept that as a chef not everything you make will always be perfect and not all guest comments will be positive. Chefs need to have ability to accept constructive criticism on the food they make and learn from it. Teamwork and team mentality is most important. One team, one goal.
HM: What has been the highlight of your career to date?
Risma: My overseas experience. I was very lucky to get a chance to work for a year at Four Season Seychelles. I learnt so much about their country, culture, and food, plus I made so many great friends. Being in the Seychelles gave me the opportunity to visit South Africa and explore both Johannesburg and Cape Town. Another highlight was participating twice in FHAM competition which was a really good learning experience for me.
HM: What did your family think about you leaving the Maldives to work?
Risma: At first, they were uncertain as I would be out of the country for a long time with people I didn't know, however my father has always encouraged me to work hard and travel. This was a great opportunity for me and they understood it would be positive for my career, so although they were apprehensive, they supported me. My brother helped assure them that as it was Four Seasons I would be in good hands.
HM: As a female what challenges have you faced on your career path to date?
Risma: Ironically, I didn't know when I first entered the industry that it was so male dominated! I was surprised that there was only 1 other female in the kitchen at Kuda Huraa. In contrast there were far more females in the kitchens in the Seychelles. Men here seem to think females are too fragile to work in the kitchen so every time when I do something I have to work twice as hard as men to stand out and prove my worth. Over time I learnt that everything is possible if you are determined to do it. Attitudes of Chefs towards females vary considerably, however if you have a strong supportive Executive Chef then you don't get discriminated against as their attitude affects the rest of the team. Men can also get jealous when a female is promoted above them, however I have learnt to stand my ground and prove my worth.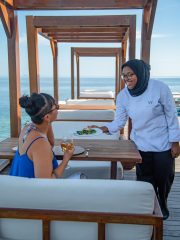 HM: What do you consider are upcoming food trends in the Maldives and why?
Risma: I think it's mostly about healthy eating. In this modern world people are more concerned about their health so we are all including more and more greens into our daily diet.
HM: Tell us a unique / interesting fact about you
Risma: I have a secret love of pastry and even done a specialization in it, but I have never worked in pastry yet, so I love experimenting with sweets when I'm at home. Anyone that knows me or has seen me working in the kitchen, knows that i am a loud ball of energy, very different from the unhealthy, nervous and shy girl that started as an apprentice and kept fainting in the heat of the hot kitchen. Now I work the hot kitchen and love it.  I am also extremely lucky to married to a wonderful and supportive husband, who understands my passion for my career.
HM: What do you do to relax?
Risma: Reading, for fun and to relax so I spend most of my free time with my books, especially thrillers. I also love watching crime documentaries.
HM: Where do you see yourself in 5 years' time?
Risma: Running a restaurant of my own on my island. I want to share the recipes and skills i am learning with the younger generations that want to get into this industry.  My island is known for watermelons; however, people only use them in very limited ways so I want to expand their knowledge, and introduce them to other ingredients.
HM: What 1 piece of advice would you give aspiring chefs? (Females in particular)
Risma: The word chef doesn't define Male or Female. As a female you must be very determined and give a bit extra when required, to stand out, as hard work will get you the respect you deserve. Sometimes it can be quiet daunting with so many men around, don't be shy! You have worked hard and earned your place in the hotel and restaurant industry, so you should make sure everyone knows it. Women need to support one another, own who we are, and constantly show the world what incredible things we're capable of doing.
HM: What is your favourite ingredient to work with?
Risma: Coconut. It can be used as a sweet, a snack, or as a spicy dish. Each part of the coconut has a unique flavour and can be used in a lot of different ways.
HM: Do you have a favourite / signature recipe to share?
Risma: Certainly, its SMOKED LOBSTER RAVIOLI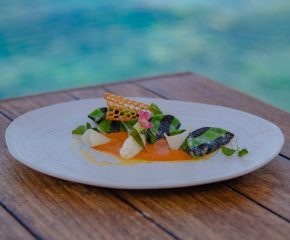 Pasta
450 gram flour
450 egg yolk
50 gram semolina
50 gram olive oil
10 gram squid ink (for squid ink dough)
10 gram Pandon reduction ( for pandon dough)
Method
Place the flour on a clean work surface and make a nest.
Add the egg yolk, olive oil semolina and squid ink ( for squid ink dough) and pandon ( for pandon dough) .
Use your hands to gently bring the flour inward to incorporate. Continue working the dough with your hands to bring it together into a shaggy ball.
Knead the dough for 8 to 10 minutes. (At the beginning, the dough should feel pretty dry, but stick with it! It might not feel like it's going to come together, but after 8-10 minutes of kneading, it should become cohesive and smooth)
For filling
Smoke lobster fine chop 200 gram
Coconut grated 30 gram
Sour mango dice 20 gram
Curry leaf 3 gram
Mascarpone cheese 30 gram
Parmesan cheese 50 gram
Salt tt
Black pepper 2 gram
Method
In a mixing bowl combine all the ingredients well. Leave in the chiller until the dough is ready.
For tomato sauce
Onion 300 gram
Garlic 20 gram
Ginger 10 gram
Curry leaf 50 gram
Pandon sick 2
Maldivian chilli (optional) 2 slice
Tomato paste 100 gram
Fresh tomato 100 gram
Oregano 10 gram
Salt tt
Coconut milk 40 gram.
Method
Sauté onion, garlic, ginger, curry leaf, pandon leaf and Maldivian Chili until the onion sweat out or until the onion turns golden brown colour.
Add the fresh tomato and tomato paste.
Add a little bit of water.
Cook until there is no sourness in the sauce.
Finish the sauce with oregano and blend finely.
After blending add the coconut milk and keep the sauce aside.
Tuile
Lobster 180 gram
Cream 50 ml
Lemon zest 1/2 of lemon
White pepper pinch
Salt pinch
Egg white 2 nb
Method
Mix all the ingredients in a blender and pass through a fine sieve.
Take a designed tuile mat of your choice, place the mix on the mat,
Preheat the oven to 150'c and bake for 7 minutes.
Sage infused butter
Sage 2 leaf
Butter 100 gram
Water 50 gram
Salt flakes tt
Method
Add the water and sage to a pan
Once water start to bubble add the butter and salt flakes
To prepare the ravioli
Roll the 2 dough separately.
Slice 1/2 inch the squid ink dough and place it on top of rolled pandon dough.
Pass through the machine to make it one dough.
Using a round cutter, cut the dough,
Add sufficient filling to make the ravioli shape. (half tsp), pinch the edges together to seal
Boil the water with little bit salt, and add the ravioli
Cook the ravioli 3 piece for 7 mins
Once pasta is cooked remove from the water and drain
Add to sage infused butter and glaze the ravioli.
Garnish
Shaved Parmesan
Fried curry leaf
Mascarpone cheese
Edible flower