Meet Navin Singh, Executive Chef of Mövenpick Resort Kuredhivaru Maldives
Navin Singh is an experienced executive chef at the Mövenpick Resort Kuredhivaru Maldives. The esteemed chef trained in Paris under the world-renowned three-star Michelin chef Michel Roux, where he learned the art of fine cuisine. He also worked with other culinary masters including Frederic Molini and Thomas Angerer. Navin's first role was as executive chef with the Grand Hyatt in Singapore in 2012 before going on to work at the Radisson in India and Marriott in Vietnam. He became Chef of the Year in 2016, and in joining Mövenpick in February 2021, he imported this wealth of experience to the Maldives. His signature style is blending farm fresh ingredients with fresh catch from Indian Ocean. He sources lettuce, rosemary, thyme, basil, sage, lemongrass, okra, brinjal, corn, fruit, radishes, broad leaf mustard, chilli, mint, coriander, peas and tomatoes from the Mövenpick's own hydroponics farm. The garden harvests 70 kilos of freshest backyard produce grown as part of its sustainable product supply programme.
HM: Describe your career journey?
What attracted me towards being a chef was being able to work with food and creativity, as well as an environment with intense workflow, a chance to take my career global and an opportunity to make people happy. I love everything about hospitality. I was raised on a family farm with my grandmother's cooking and a passion for experimenting farm fresh ingredients. Combine that with fresh catch from Indian ocean and I am able to create masterpieces for our esteemed guests at Mӧvenpick Resort Kuredhivaru Maldives
HM: What steps did you take to become an executive chef?
I did a three-year culinary course with IHM Chennai India – one of the best culinary school in the world. Then I moved to Paris for an advanced culinary course and worked under legendary Michelin star chef Michel Roux to fine tune my European culinary repertoire I was fortunate enough to work under world-renowned culinary legends, like Frederic Molini, Thomas Angerer and Michel Roux. I admire Michelin star chef Michel Roux due to his passion towards food. I have worked in speciality restaurants, high-end boutique resorts, busy city convention hotel in various role to become executive chef with Hyatt for the first time in 2012.
HM: Tell me what do you love the most about your role at Mövenpick Resort Kuredhivaru Maldives as chef?
Plan, organise, control and direct the work of all culinary team members while ensuring superior quality and consistency in the culinary standards of the resort. There is no better place to enjoy luxury dining in Maldives than Mövenpick Resort Kuredhivaru. Swiss roots and culinary heritage date back to the 1940s. Our approach to food has remained consistent; authentic, sustainable, intuitive, personal and unique. We embrace innovation to meet ever-changing guest needs and celebrate our rich culinary legacy, setting trends but never compromise on quality and authenticity. We combine fresh ingredients with traditional cooking methods for flavour authenticity and draw on modern trends and creative presentation to conjure a sensorial feast, Love our culinary root and culture of Mövenpick.
HM: Tell me about working at Mövenpick and your memorable moments?
I'm still new to the Maldivian culture and hospitality but I'm proud of my team here at the resort, particularly by the progress made by all the chefs. By continuously working together as a team, we deliver extraordinary experiences for each of our guests.
HM: What qualities make a chef?
It's a combination of creativity, passion, grace under fire, able to take criticism, detail oriented, endurance and stamina. Planning and directing food preparation and culinary activities in the resort, modifying menus or create new ones that meet quality standards. Estimating food requirements and food/labour costs
HM: What has been your biggest challenge?
The biggest challenge is seeing a lack of drive within budding talents, working in the kitchen and the lack of interest for culinary arts by young chefs.
HM: What advice would you give to aspiring chefs?
Have a passion for cooking. Be prepared to work harder than you ever have before and don't be afraid to experiment.
HM: I hear Mövenpick Resort Kuredhivaru Maldives uses a hydroponic system to allow vegetables and fruits grown in the garden to be fresh, rich in nutrients and bursting with flavours, what is your role in that?
Food sustains life. Chefs play an important role in inspiring people around the world to support sustainable food production, adopt healthy diets and avoid food waste, and the consumption of local, fresh food. The main star of healthy eating is nature itself, of which our body is an integral part, the chef is the intermediary between nature and the diner. Essentially, my aim, my purpose in life, is to serve my guests food that is both health-friendly and planet-friendly, and therefore good for all its inhabitants, inspired by the principle that we are all beings who must live together in harmony. We have our organic kitchen garden which help us to serve best of the best ingredients to our guest. Our new menu created with an emphasis on food trends, concepts, modern presentation, and technique. Guests can indulge in the season's latest mouth-watering menu items and the delightfully vast range of dining options at the finest address in the Maldives, including Bodumas, Latitude and Onu Marche. We grow various types of lettuces, herbs like rosemary, thyme, basil, sage, lemongrass, etc, vegetables we grow okra, brinjal, corn, ranges of fruits. We have full-fledged expert gardening team to take care of our garden, for us. It's our baby.
HM: How important is it on an island to have fresh produce and what are the most important considerations for you when planning a menu for guests?
As we are based on an island, it gives us a chance to produce our own food—fresher, healthier and learn in the process about local varieties. Fruit and vegetables grown in our own garden promote health. They are rich in nutrients, especially phytochemicals, antioxidants, vitamin C, vitamin A and folate, without the risk of adulteration and pesticides. We grow radish, broad leaf mustard, chilli, mint, coriander, peas and tomatoes. We grow and buy fresh and seasonal, local and global. For us, peak-of-season fruits and vegetables help create unbeatable flavours. When designing menus, draw ideas and inspiration from local farmers and their crops during growing season as well as the varieties. The advantages of local sourcing include working with smaller producers who may be more willing to experiment with varieties that bring interest and greater flavour to the table and adopt healthier eating habits. But designing menus to draw on in-season fruits and vegetables from more distant farms also is a key strategy for bringing fresh flavours to menus throughout the year.
HM: When you create food how does it make you feel and tell me about some of the creations you serve up at the resorts?
Becoming a better cook is a lifelong journey, tweak flavours and textures, introduce novel ingredients, and rise to the next level of kitchen domination. In short, the better we get, the bigger the challenges that we seek. So, once we are at the point of masterfully replicating great recipes, anticipating timing issues, monitoring temperatures, correcting confidently when problems arise, ready to start designing dishes. There are plenty of things to think about, from preparation through plating. We spend months developing the recipes, end up discarding a lot of ideas and dishes along the way. Creating new dishes help me to unwind. For instance, we have infused local ingredients like coconut to create our version of ceviche with reef fish.
HM: What is your signature dish?
Each restaurant has its well-crafted signature dishes. My favourite one is extra thin sliced wagyu beef on hot stones, ponzu truffle sauce, crispy garlic fresh and wasabi.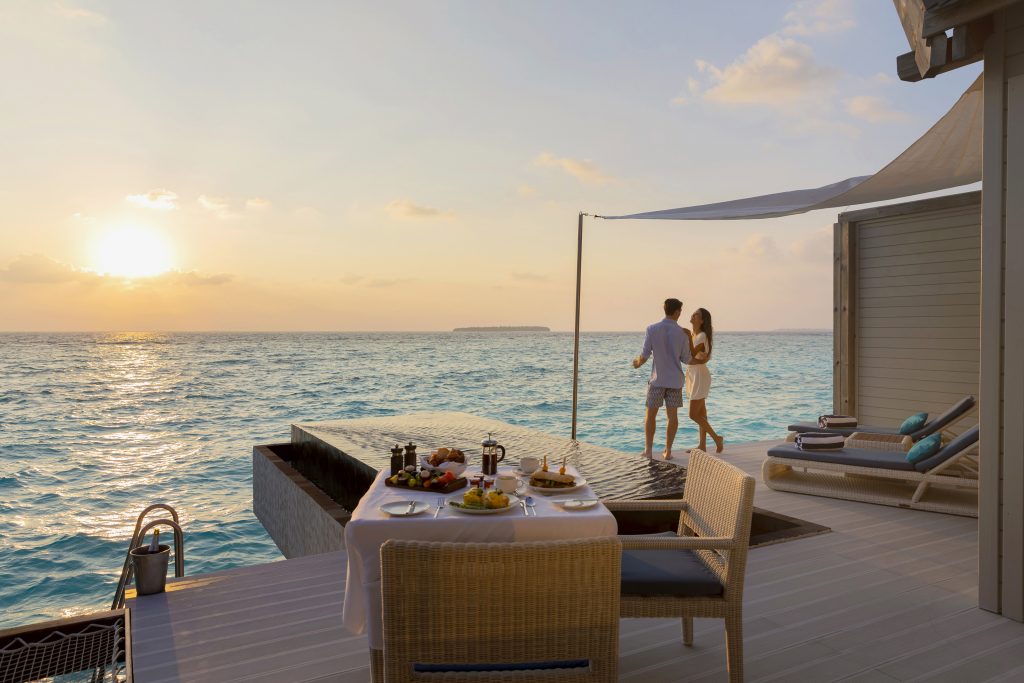 HM: What do resort guests enjoy the most?
Dining and romance go hand in hand in our resort, fine dining restaurant, casual dining and destination dining experiences available in our resort beyond compare. These take you from the serenity of a beach at sunset to the lush greenery of the jungle and the glittering turquoise waters of the Indian Ocean. Spectacular views coupled with a delicious meal are the signature ingredients for this dining experience. Enjoy private dinner for two under a starlit sky while sipping champagne with canapés and floating on a private platform gently bobbing on the ocean, on a palm-studded private island, a secluded spot on the beach with your toes in the sand and with a breath-taking view, or at a candlelit table on the sundeck of your overwater bungalow as you marvel over a romantic sunset in stylish, surreal surroundings and we are known for theme nights at Onu Marche.
HM: What new dishes do you rustle up for Eid?
During Eid, there's one very special ingredient – local reef fish, tuna combined with coconut and local chilly to create Maldivian masterpiece for our international guest to experience, with dishes such as Garudhiya, Mas Huni, Bis Keemiya, Masroshi and Saagu Bondibai
HM: Describe the Mövenpick menu?
We are launching all exciting new menus in Bodumas, Latitude and new concept dining at Onu Marche with elements of our hydroponic farm.
HM: What culinary experiences are presently available on the island and what else would you like to see?
Our "Farm to table" goes next level, "vegetarian and vegan" options go mainstream and kimchi and kombucha to house-made pickles and sauerkraut, fermented foods are having their moment. There is also a big push for good gut bacteria and micro dining experiences.
HM: What development opportunities are available?
We have a strong culture of growing our own talent through Accor learning and development programs, with over 50 associates in kitchen stewarding.