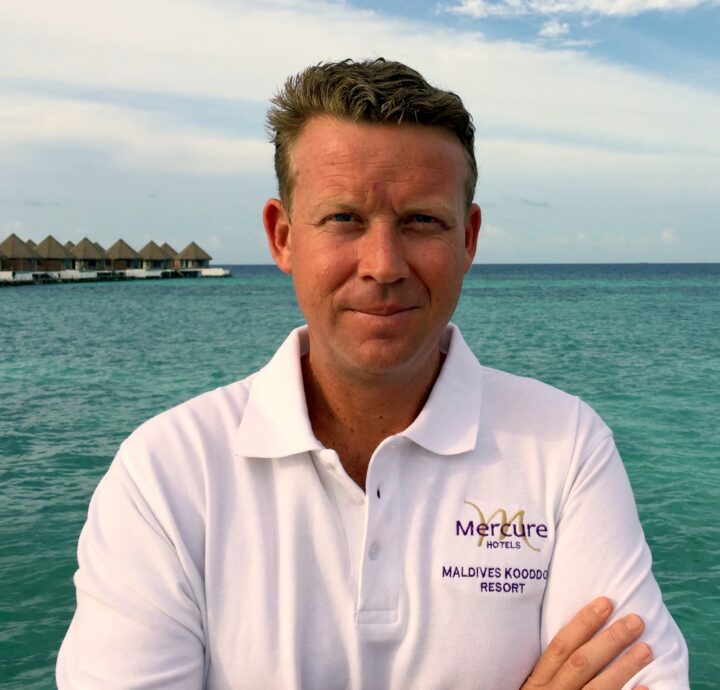 The GM's View: Scott Bowen, Mercure Kooddoo Maldives & Pullman Maamutaa Maldives
Scott Bowen is the general manager for Mercure Kooddoo Maldives & Pullman Maamutaa Maldives. Mercure Kooddoo is set to open early next year while Pullman Maamutaa is scheduled to open in 2018.
In this interview with Hotelier Maldives, Bowen talks about his approach to management, how his previous experiences come into play in his current role, and the opening preparations for the two new properties.
HM: You've served as general manager for a property in the Maldives in addition to serving as general manager for businesses in Thailand and Vietnam. How do these experiences come into play in your current role?
SB: My professional experiences and my own personal preference is to manage resort style properties. City hotels are great; but being the Manager of a resort has the benefit of living & working in fantastic places as well as working with a dynamic, multinational workforce and getting paid to do it.
Resort operations are different in many ways to city operations as it's a 24 hour a day responsibility for our team. Not only do we have to provide a great vacation experience to all our guests, but we have to maintain all of the infrastructure, supply and staff welfare facilities. There is always something to do!
HM: The responsibilities of a general manager are broad and multifaceted. Do you have a special management philosophy or style that you adhere to?
SB: I am not sure if it is a special style, but the management style that I (and my management team) adhere to is one of teamwork and egalitarianism. No person is more or less important than anyone else and should therefore be given the same opportunities and courtesies regardless.
I am also very proactive to giving people opportunities. All I ask of any employee is for them to commit to their role with honesty and dedication. We can teach people the skills required for the job, but you cannot teach a person dedication and honesty. That is a personal trait that only the individual can commit to.
HM: Both properties managed by AccorHotels are located in Gaafu Alifu Atoll, a region with a number of resorts. What distinctive values or experiences would the properties managed by AccorHotels be providing for tourists visiting the region?
SB: AccorHotels with 3700 properties in 92 countries around the world with our well known, well-defined and well-supported brands gives us an advantage over most of our competitors. And when we leverage that advantage with a high-quality resort product then add our own touches in the service delivery, we are confident that the Mercure Kooddoo and Pullman Maamutaa will both be valuable additions to Gaafu Alifu region and the Maldives market.
HM: We've come to know that Mercure Kooddoo is to be a mid-scale option for travellers while Pullman Maamutaa is to be a 'one island, one resort' project targeted for the up-scale market. Could you tell us a little bit more about the positioning of these properties?
SB: As a 4-star resort, the 68 Villa Mercure Kooddoo is being developed to compete in the currently undersupplied Maldives Mid-Scale market. The resort will bring unique and contemporary styling that reflects and respects the unique Maldivian culture and traditions. The resort's location in the pristine Gaafu Alifu Atoll with its amazing marine life and countless diving and snorkelling opportunities is also a great attraction for visitors.
The 5 star, 120 villa Pullman Maamutaa which is just a 10-minute speedboat ride from our Mercure Kooddoo Resort is being developed on Maamutaa Island. A gorgeous island which spans 200,000 square meters and has the most amazing lagoon. Maamutaa is one of the most naturally beautiful islands in the Maldives! The Pullman Maamutaa will cater to an upscale segment of cosmopolitan travellers seeking all the luxuries & comforts while being in a breath-taking location.
HM: As the opening date for Mercure Kooddoo is fast approaching, what aspect of the pre-opening setup are you focused on now?
SB: We are currently in the handover process from the Development Team to the Operations Team and accordingly we are initiating our recruitment and training processes. There are thousands of aspects to consider in a pre-opening, but development of the Operations Team is of course our highest priority.
HM: And what has been your biggest challenge so far?
SB: Of course logistics and bureaucracy are always a challenge but nothing overwhelming so far. I think the biggest challenges are yet to come!
HM: Mercure Kooddoo is the only resort in Maldives that's accessible by domestic plane without tourists having to go on an additional boat ride. What sort of advantages does this bring in terms of logistics as well as the resort's marketability?
SB: Good question. This is the first time a full-service resort has been developed adjacent to a domestic airport. But we are confident that it will be appreciated by guests once they understand and experience the advantages.
Our guests will arrive at Male' International then be taken to standby in the nice Maldivian Airlines lounge at the Domestic terminal before taking a comfortable 55 minute fixed-wing plane transfer to Kooddoo. In my experience this is a preferable option to skipping across the atolls in big waves or rain on yacht or speed boat for 1 hour or more.
Maldivian Airlines who currently service Kooddoo Airport are a great business partner to work with. They are always looking to improve their services for the benefit of the local communities and the resorts and their current ticket prices are comparable to what resorts are charging for speedboat transfers. But the airline can do it with more comfort and safety – 24 hours a day in all weather conditions.
HM:  Pullman Maamutaa's opening being planned for 2018, following Mercure Kooddoo with just roughly a two year gap in between, how is the property's preparation coming along?
SB: The Development of Maamutaa is tracking along as planned. The Developers have broken ground on the project and going about their business nicely. It's all good.
HM: And since it is to be a high-end property in a country with multiple high-end options, what aspects of Pullman Maamutaa would serve to set it apart from its competitors?
SB: I think I will keep that a secret for now…