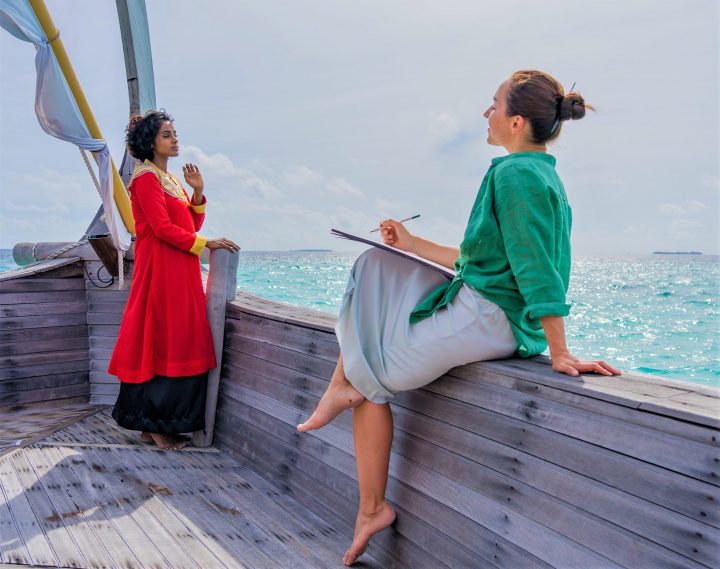 Milaidhoo Maldives Launches Unique Collaborative Art Project
Milaidhoo Island Maldives introduced a joint contemporary art project with Russian artist and fashion illustrator Alena Lavdovskaya. During the month of July, Alena resided on the island creating classic and digital art pieces that fuse Maldivian tradition and culture with modern art.
Born to an artist family in Tbilisi, Georgia, Alena is a renowned artist in the creative fashion world for her skilful illustrations. She has worked with some of the most renowned fashion houses and luxury brands such as Guerlain, Dior, Chanel, Lancome, Tiffany's and Montblanc.
The collaborative art project focused on creating contemporary, island-inspired art pieces and presenting the Maldivian heritage to a broader audience. The created artworks will be displayed and auctioned later in the year, with the proceeds being donated to marine conservation efforts in the Maldives.
Ahmed Shuhan, the General Manager of Milaidhoo, comments: "Milaidhoo constantly strives to create new and meaningful experiences for guests while fostering local talent as well as supporting marine conservation efforts. With the visit of Alena Lavdovskaya, our efforts to combine meaningful experiences for our guests and to support an environmental cause is an ideal pursuit towards the future. It is always great to include a creative and educative element in our island activities – as education does not necessarily have to be in a classroom but can be hands-on and entertaining."