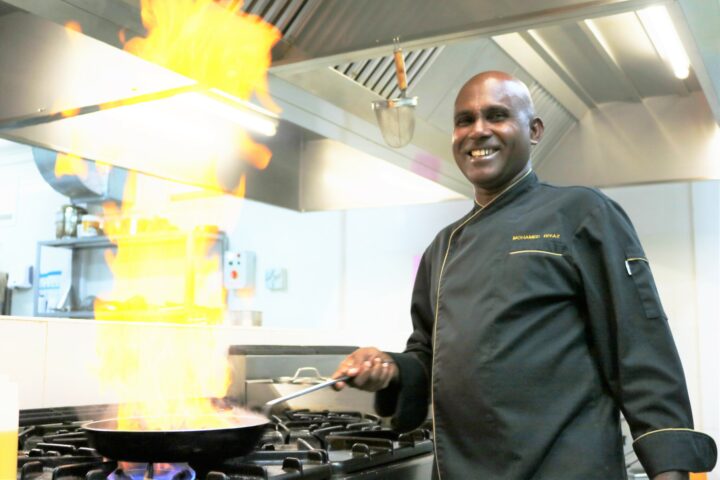 Careers: Mohamed Riyaz, Executive Chef at Furaveri Island Resort & Spa
Mohamed Riyaz is the executive chef and F&B head at Furaveri Island Resort & Spa, a newly opened Raa atoll property.
He's the eldest of six siblings. "I lived in Maradhoo until I was twelve," says Riyaz. "I went to school there, but we weren't taught in English medium so I came to Male to improve my English."
He completed his O' Levels and, wanting to explore opportunities in the growing hospitality industry, enrolled at the Hotel School in Male in 1991. The following year, after graduation, he was hired by Ari Beach (now LUX*) as a sous chef. A year later, Riyaz left for Olhuveli View, which was under Japanese management. He was taken in as a sous chef again but was soon promoted to chef de cuisine. He ran the resort's two kitchens, one focused on Japanese fare and the other on international cuisine.
He then joined Paradise Resort and Spa in 1995, at a time when Villa Hotels were gaining prominence. "A big incentive for me was the Scottish F&B consultant they had, who was a close friend of mine," Riyaz explains. "I'd known him from training programmes that he conducted at Ari Beach. He wanted to really turn around the F&B department at Paradise so I thought, why not?"
Within ten months of working in the resort, Riyaz was promoted to executive chef. "It was the fulfilment of a dream," he says. "I was only 27 and was probably the youngest Maldivian ever to be appointed to that post."
A diligent worker, he also managed to spare time for extra training, completing a UK endorsed bachelor's degree programme at the local Hotel School. He also enrolled in a masters' degree programme but had to bow out due to work commitments.
After ten years with Paradise, Riyaz left for Bandos Island Resort where he held the position of F&B manager. "It was a challenging job," he explains. "I had to run a department for the first time and a lot of renovation was going on. I had to oversee the purchases of equipment for the F&B department and was involved in its design and renovation. It was an eye-opening experience."
That experience proved valuable to him, especially at his present post. "I enjoy my work a lot," he laughs. "I get to try new things, because it's a new resort, to manage projects, and it's immensely satisfying when they come to fruition. Also, I get to meet all kinds of people here and interact with them regularly and that keeps boredom at bay."
Prior to joining Paradise Resort, Riyaz won the coveted Maldivian Chef of the Year award at an exhibition organised by the ministry of tourism and the Hotel School in Male. He considers it a major achievement, along with reaching his goal of becoming an executive chef. He has also trained several local youths who're now chefs in the Maldives and abroad, something that he views as a great accomplishment.
"I think if you are a hard worker, hospitality will be a great field for you because the rewards are great," he says. "You meet all kinds of people and you get to network with them, all sorts of opportunities open up for you in this industry."